Ex-NBA Player at Capitol Rally Calls Riots Part of 'Civil War,' Pushes Conspiracy Theory
A former NBA player believes a "military insurrection" is being prepared to ensure Donald Trump will serve a second term and the U.S. is in the midst of a "civil war" pitting the president against unspecified "dark forces."
David Wood, who played for eight NBA teams between 1988 and 1997, is the man behind the outlandish claims.
"Donald Trump will be the next president of the United States. There are military operations right now to get it [ensure Trump serves a second term]," the 56-year-old said during a lengthy interview with Spanish radio network Cadena Ser.
"A military insurrection is being prepared. Many politicians and judges will be arrested in the coming days. Starting with Hillary Clinton and many others. Bad people will be stopped."
The claims are entirely baseless, but consistent with several of the far-right conspiracy theories that some Trump loyalists have wheeled out since President-elect Joe Biden won the election in November.
"They are censoring everything that has to do with Donald Trump and all those who speak well of him," Wood added.
"We are at war and this is not about Democrats against Republicans. It is light against darkness."
In a separate interview with Spanish sport newspaper Marca, he said: "Before the next president is sworn in, you'll see with shock and surprise that electoral fraud is exposed and President Trump will get four more years."
Since the November 3 election, Trump has repeatedly sought to paint Biden's victory as illegitimate, despite lacking any evidence to do so. On Thursday, however, the president came as close to conceding defeat as he has done at any time since Election Day.
In a statement, he acknowledged Congress had certified the election results and that a "new administration will be inaugurated on January 20," although he indicated that he would not attend Biden's inauguration.
It marked a significant change from the rhetoric of the previous two months, during which Trump repeatedly claimed the Democrats had rigged the election, without ever producing any evidence.
The president had raised the spectre of fraud even before Americans cast their votes in November and continued to do so on election night, when he prematurely claimed victory.
As late as Wednesday last week, Trump had encouraged his supporters to march to the Capitol.
"We will never give up," the president said as he addressed thousands of protesters close to the White House for around 70 minutes.
"We will never concede. It doesn't happen. You don't concede when there's theft involved."
Thousands of rioters, many of whom wore Trump paraphernalia and carried Confederate flags, subsequently forced their way into the heart of American democracy, vandalizing offices and clashing with the police.
Protesters temporarily halted the tallying of Electoral College votes to ratify Biden's victory. Five people died in the riots, including a police officer.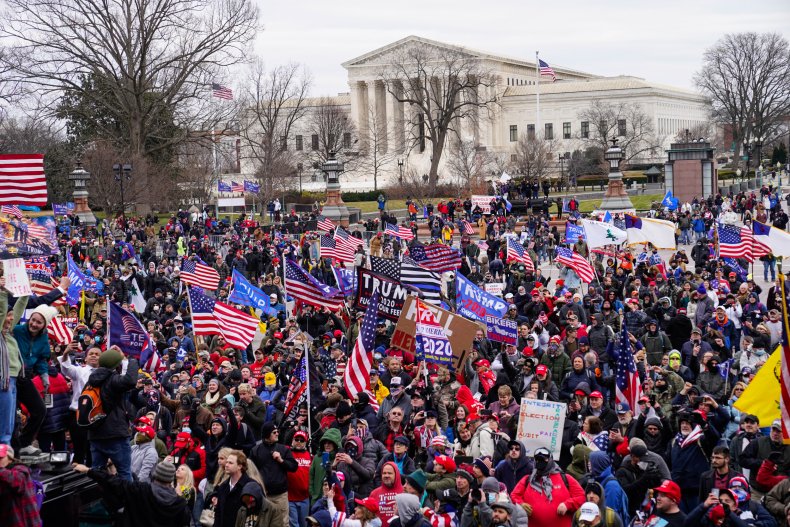 Wood, who played for six Spanish teams during a nomadic career and won the bronze medal at the 1998 basketball world championship, was among the protesters but rejected the suggestion that the mob was violent.
"I was at the rally and it looked like a church or a country concert. There was a very good atmosphere and we were all very happy," he said.
He then wheeled out a baseless conspiracy theory suggesting the peaceful demonstration had been hijacked by members of antifa—a loosely organized group of antifascist activists—and liberal activists masquerading as Trump supporters
"President Trump already warned us that there would be more than 200 infiltrated antifa members.
"Democrats paid the police to let them in safely. There are videos that show it, the police let them in [...] They wanted to create division in our country. For me, this is a civil war. A war between the light of Trump and the darkness of his opponents."
Thousands of posts on Twitter and Facebook pushed conspiracy theories that the rioters were members of antifa. Former Alaska Gov. Sarah Palin, Texas Attorney General Ken Paxton, Rep. Matt Gaetz (R-FL) and Rep. Mo Brooks (R-AL) were among the most high-profile figures sharing the baseless claims on Twitter.
Wood, who live-streamed the protest on his Facebook profile, has only been a Trump supporter for four months.
"I wasn't much of a follower of President Donald Trump until four months ago. It was then that I began to pray for him and for the elections," he said.
"The Lord has turned my heart to him. Now I am an admirer of Trump so God has told me that he has a good heart. Trump really is a very misunderstood man."