Ex-Neighbor Says She Warned Children's Protective Services About Oxford Shooter's Parents
An ex-neighbor of Oxford High School shooter Ethan Crumbley's family said she called Children's Protective Services to complain about the way his parents were raising their son. Crumbley fatally shot four students and injured several others on Tuesday.
Kayla LeMieux said that the Crumbley parents, James and Jennifer, would often leave their son alone at home while they went to bars, the Detroit Free Press reported on Sunday.
On Saturday, the Crumbley parents were arrested and charged with four counts of involuntary manslaughter. Oakland County prosecutor Karen McDonald on Thursday blamed them for their son's actions and said that they should be held accountable as well for the mass shooting.
"The actions on mom and dad's behalf go far beyond negligence," McDonald said.
McDonald also said recently that Crumbley used a gun that his father purchased four days before the mass shooting. In a social media post, his mother Jennifer said it was her son's Christmas present. Ethan also posted about the gun on social media.
LeMieux, who lived in the same residential complex as the Crumbleys, said that she made an anonymous phone complaint to CPS because she was concerned about the boy being left alone at home. But she doesn't know if any action was taken after her complaint.
"When they were gone, [Ethan Crumbley] would come knock on our door," she said, according to the Detroit Free Press. Crumbley would ask LeMieux to call his parents on his behalf because they didn't leave a phone with him, she said.
The former neighbor said she had worked as a restaurant server with Jennifer in 2012, adding that she considered her a friend and they often spent time together at areas downtown.
However, their friendship faded partially because LeMieux was worried about Ethan, according to the ex-neighbor.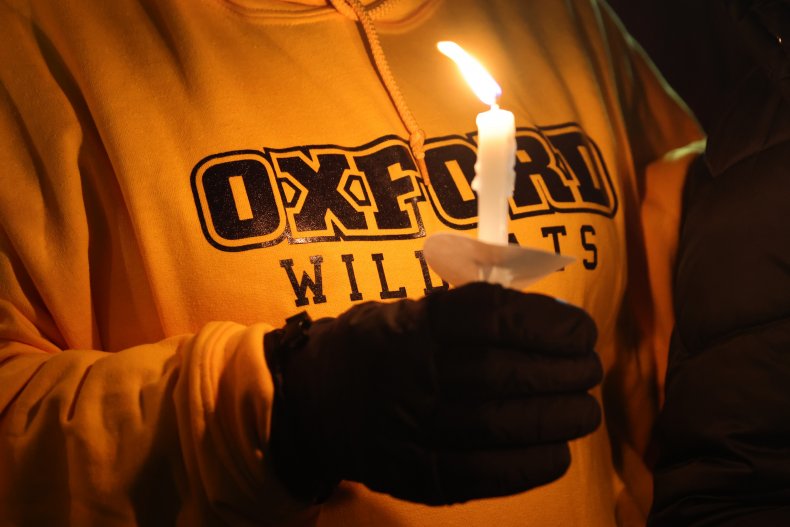 LeMieux reportedly spoke with the Crumbley parents about leaving their son alone while they go out to drink at bars, according to 2015 Facebook messages that were obtained by the news outlet.
Newsweek contacted the Michigan Department of Health and Human Services to inquire about CPS records concerning Crumbley.
The Crumbley parents and their son are all now in jail and are not allowed to be in contact with each other, Oakland County Sheriff Michael Bouchard said Saturday.
The 15-year-old is being treated in this case as an adult due to the severity of his charges, which include terrorism, assault with intent to murder and possession of a firearm in the commission of a felony. He pleaded not guilty to those charges.