Ex-NFL Star Aaron Hernandez Charged in 2013 Shooting of Murder Witness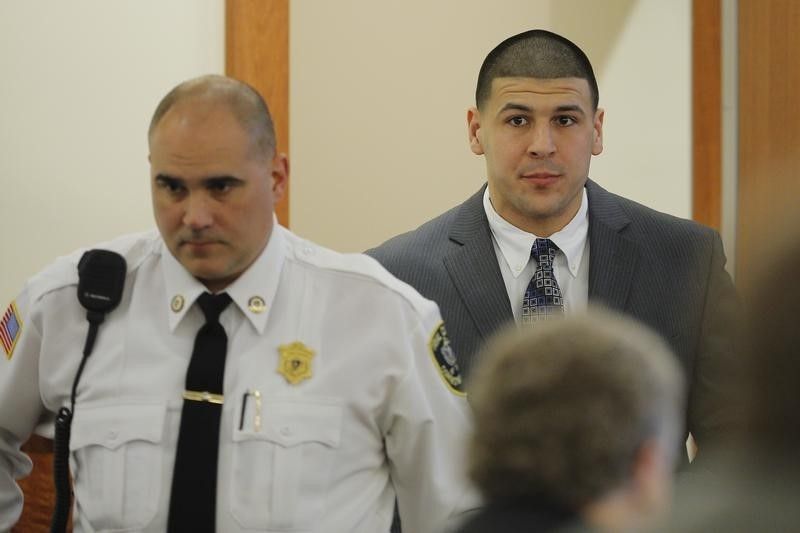 BOSTON (Reuters) - Former New England Patriots player Aaron Hernandez, who was convicted last month of murdering an acquaintance in 2013, was charged on Monday with the non-fatal shooting of a man believed to be a witness to another murder of which Hernandez is accused.
Prosecutors in Boston on Monday charged Hernandez, 25, with violating Massachusetts witness intimidation for shooting a man in the face in February 2013 after the man made a remark about a 2012 double shooting, according to the Suffolk County prosecutor's office.
Hernandez, who was sentenced to life in prison for murdering semiprofessional football player Odin Lloyd, is awaiting trial on charges he shot dead two Cape Verdean nationals outside a Boston nightclub in 2012 after one of them inadvertently spilled a drink on him.
Boston prosecutors declined to identify the person involved in the non-fatal shooting. However, details of the incident match a civil suit filed by Alexander Bradley, a former friend of Hernandez's who claims the ex-National Football League tight end shot him, costing him an eye.
Bradley testified during Hernandez's trial in Fall River, Massachusetts, where he was convicted of murdering Lloyd.
Hernandez had been a rising star in the NFL with a $41 million contract when he was arrested in June 2013 and charged with Lloyd's murder. The Patriots cut him within hours of his arrest.
Additional charges, on the 2012 double murder, followed in May 2014.