Ex-Oath Keeper, 1/6 Protester Lead Push to Change Michigan's Election Audit Process
Two men spearheading a Michigan ballot initiative that would change how the state audits elections were either protesting at the U.S. Capitol on January 6 or affiliated with the far-right Oath Keepers, some of whose members have been charged in connection with the riot.
But both told Newsweek in interviews Thursday that neither faces any charges and are being unfairly associated with others accused of crimes.
Jon Rocha, head of the group sponsoring the initiative, said he was outside the Capitol on January 6 but didn't go inside and wasn't part of the mob that stormed the building as Congress was certifying the 2020 election.
"A member of our group had to leave for work," said Rocha. "We didn't even go near the steps."
Jon-Paul Rutan, who help found Audit MI, the group advancing the ballot initiative, acknowledged having previously been affiliated with the Oath Keepers, which has been characterized as a far-right militia group.
Rutan said that "bad actors" at the January 6 riot should be held accountable, pointing out that violence and looting have accompanied some Black Lives Matter demonstrations.
"I don't think it's right that you should paint everyone in a group with one broad brush stroke," said Rutan, who was unavailable for further comment.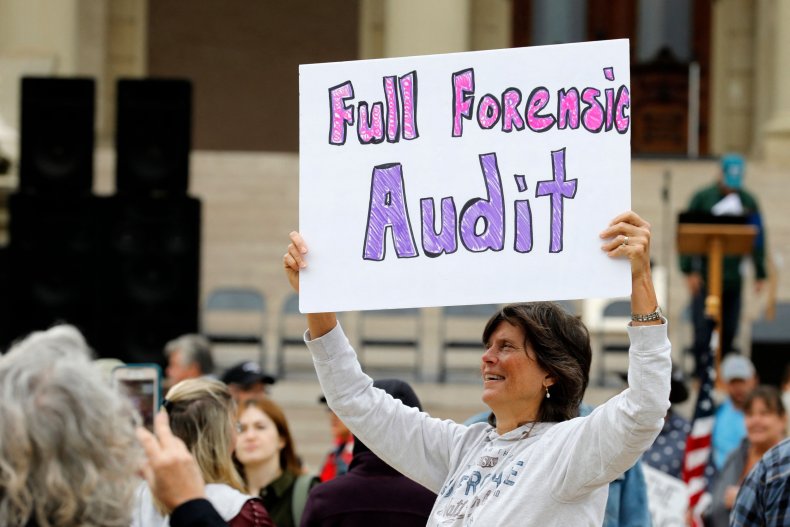 The ballot measure being advanced by Audit MI would bring greater clarity to the state's election auditing procedures, said Rocha, who is also running as a Republican for Michigan's House of Representatives.
The ballot measure would require more in-depth investigations into the eligibility of voters who cast ballots.
"(Audit) laws are written very grayly so lawyers and judges have the leeway to interpret them in any way they desire," he said.
The initiative would transfer election audit authority from the secretary of state and county clerks to a bipartisan board selected by legislative leaders.
Republicans have made baseless claims that there was widespread voter fraud in Michigan and other key swing states in the 2020 election. Rocha said there is evidence of fraud in the 2020 election, but the ballot initiative is nonpartisan and would address issues raised by Democrats in the 2016 election.
A spokeswoman for Michigan Secretary of State Jocelyn Benson referred Newsweek to a previous statement that more than 250 audits, numerous court cases and a report by the Republican-led State Senate Oversight Committee have confirmed the "accuracy and integrity of the 2020 election."
"Yet calls persist from those who have been lied to and taken advantage of by partisan state legislators, national figures, and others for unofficial, illegitimate reviews of the election results," said Benson. "These elites who lie about 2020 without a shred of evidence, who fail to speak the truth, are fueled by opportunism and cowardice."
The Michigan Board of State Canvassers held a meeting on Tuesday to consider the 100-word summary proposed by Audit MI.
Rutan and Rocha's respective links to the Oath Keepers and January 6 were first reported by the Daily Dot using data leaked by DDoSecrets.
Rutan told the news outlet he was contacted last summer by the FBI about his presence at the Capitol on January 6, but he told the agent he asserted his right to remain silent.
Earlier this month, Stewart Rhodes, the Oath Keeper's founder, was charged along with 11 people last week on charges of seditious conspiracy. According to federal prosecutors, the group allegedly set up a "quick reaction force" at a hotel in Arlington, Virginia, with "at least three luggage carts' worth of gun boxes, rifle cases, and suitcases filled with ammunition."