Barack Obama's former doctor, who served the 44th president for over two decades before his presidency, voiced concern for Donald Trump's health after the president's unscheduled weekend visit to a physician placed his well-being under scrutiny.
Trump, 73, took an impromptu trip to the doctor on Saturday, before then announcing that his results from "phase one" of his annual physical exam were "very good."
Later that day, White House press secretary Stephanie Grisham released a statement asserting that the president is "healthy and energetic without complaints," and confirmed he used a relatively "free weekend" to "begin portions of his routine annual physical exam."
Despite her remarks, Washington insiders immediately began speculating about Trump's physical and mental wellbeing, with some experts noting that it is unusual for a sitting president to undergo their medical exam in numerous stages conducted months apart.
Speaking on CNN's Erin Burnett on Monday's Erin Burnett OutFront, Dr. David Scheiner expressed his worries about the president's allegedly failing mental health, which he claims is demonstrated by his occasional inability to string together coherent sentences.
"These aren't words, these are slips of the tongue," Scheiner said. "These are words he can't find and this is happening over and over again. Comedians joke about it, but it's not a joking matter. I think there is a neurological issue that is not being addressed. And if he's having an MRI of his head over there, I would be very pleased because I think he needs it."
"Is that something that could have happened in the two-hour time he was there?" Burnett asked, referring to Trump's Saturday trip to Walter Reed National Military Medical Center in Bethesda.
"Yes it certainly could," the former Obama doctor responded, before going on to speculate about Trump's health.
"The worry that I have is maybe he's having small strokes," Scheiner said. "We've had that once before in the White House when Woodrow Wilson was president. His inability to find words is peculiar and has not been explained, and I think one has to think of it as a possible neurological issue."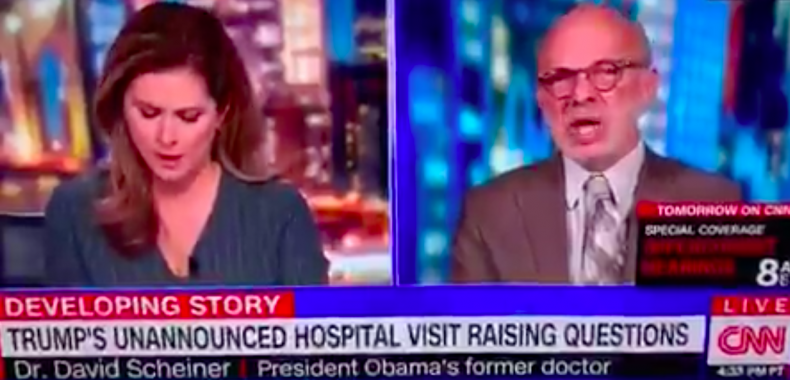 Scheiner's remarks on Monday was not the first time the doctor has commented on Trump's health. In the months leading up to the 2016 presidential election, the doctor appeared on Erin Burnett OutFront and told the anchor that he had been concerned by the Republican nominee's "erratic behavior."
"We know he's got a narcissistic personality disorder at the very least," Scheiner said in September 2016. "But I sometimes wonder if he might even be hypomanic. But I think psychologic testing would be important for him."
Scheiner, however, has not diagnosed Trump himself and is not a psychiatrist.
Following continued speculation about the president's health, the White House on Monday released a note written by Trump's doctor, which said the visit was a "routine, planned interim checkup."
"Despite some of the speculation, the President has not had any chest pain, nor was he evaluated or treated for any urgent or acute issues," Navy Cmdr. Sean Conley, physician to the president, wrote in the letter.