Ex-Police Officer Derek Chauvin Charged With Murder, Manslaughter in George Floyd's Death After Four Days of Protests
A former Minneapolis Police Department officer was charged Friday in the death of George Floyd, four days after a video of him being pinned to the ground went viral.
Floyd's death drew national attention and sparked protests across the country as people demanded the officers involved be held accountable. On Friday, prosecutors announced that Derek Chauvin was charged with third-degree murder and manslaughter.
"We have never charged a case in that kind of time frame, and we can only try a case when we have sufficient admissible evidence to prove the case beyond a reasonable doubt," Hennepin County Attorney Mike Freeman said Friday. "As of right now, we have that."
Newsweek reached out to Thomas Kelly, Chauvin's attorney, for comment but did not receive a response before publication.
Officers handcuffed Floyd after they were called to the scene on Monday night in response to a report of a man trying to use a fraudulent $20 bill at a store. A viral video showed Chauvin pressing his knee against the back of Floyd's neck, pinning the 46-year-old to the ground. Floyd said numerous times that he couldn't breathe and was unable to move when asked to get up from the ground.
After he stopped moving, officers called EMTs around 8:30 p.m. local time. He was unconscious when they arrived, and he was pronounced dead at the hospital at about 9:30 p.m.
Chauvin and three other officers—Thomas Lane, Tou Thao and J. Alexander Kueng—were fired from the Minneapolis Police Department on Tuesday. Lane, Thao and Kueng are all under investigation. Freeman said he anticipated more charges but added that he "wouldn't get into that."
Chauvin's 19-year-career in law enforcement is marked by incidents of suspected abuses of power. In 2006, he was one of six officers who opened fire on Wayne Reyes, a stabbing suspect, after he pointed a sawed-off shotgun at them, according to the Associated Press. Reyes was hit multiple times and died, but a grand jury decided the use of force was justified.
Five years later, Chauvin was among five officers who chased Leroy Martinez, who had been spotted with a pistol, in a housing complex. Another officer shot Martinez, and all of the officers were placed on leave but were absolved of any wrongdoing. City records show 17 complaints against Chauvin, the AP reported, and 16 were closed with no discipline. One complaint resulted in two letters of reprimand.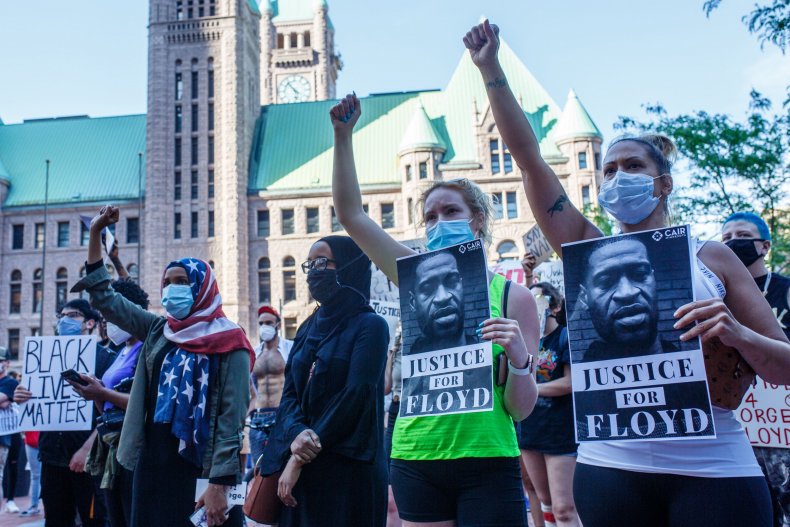 Minnesota's Bureau of Criminal Apprehension took Chauvin into custody on Friday morning after a long night of demonstrations that left Minneapolis still burning later that day.
At a press conference, Governor Tim Walz acknowledged that there was a great deal of pain in the community and that, as a white man, he couldn't relate to the experience of people of color. But he urged an end to the violence so the focus could be on fixing the institutional racism that allowed for Floyd to be pinned down and killed in "broad daylight."
"Thank God a young person had a camera to video it," Walz said. "There isn't a person here or listening today that wonders how many times that camera's not there. These are tough questions. These are things that have been brewing in this country for 400 years."
Walz added that it was his "expectation" that justice would be swift, in a timely manner and fair.
Freeman said his office would conduct an investigation as quickly as possible. Under pressure to bring charges, he urged people to be patient.
During a Thursday press conference, Freeman cited the 2015 Freddie Gray case, in which Baltimore police officers were quickly charged but were either acquitted or had the charges dropped. Freeman said that "justice cannot be rushed" and "I'm going to do this right."
"The question in my business is, Is it criminal?" Freeman said. "That's what I have to prove, and there are cases that you can quickly and easily evaluate. Most cases, particularly cop use-of-force cases, are specifically more complex and have to be done right."
On Thursday, Baltimore City State's Attorney Marilyn Mosby defended her decision to charge the officers in the Gray case when she did. She called it "shameful" for Freeman to use her office to "justify his inaction" and said she didn't have video footage of a murder, "evidence any prosecutor would dream of."
Mosby charged the six officers involved in Gray's death 12 days after he died. Freeman charged Chauvin four days after Floyd died. He acknowledged that the rapid charges seemingly contradicted his earlier statements but said his office had obtained a necessary piece of evidence.
"Even as late as yesterday afternoon, we didn't have all that we needed," Freeman said. "We have now found it, and we felt a responsibility to charge this as soon as possible."
He wouldn't identify the "final piece" of evidence needed to bring the charges but said, "We needed to have it all."