Former Officer Jailed for Breaking Man's Legs after Falsely Accusing Him of Stealing a Tomato
A former Atlanta police officer has been sentenced to five years in jail after he was found guilty of beating a man he wrongfully believed stole a tomato from Walmart. The officer also falsified a report to cover up his actions.
Trevor King, 50, a former sergeant with the Atlanta Police Department, was convicted of using excessive force during an October 2014 arrest after he used his baton to break the leg of Tyrone Carnegay while he was shopping at an Atlanta Walmart.
Prosecutors said that King was working off-duty as security guard at the Walmart store when Carnegay returned to the produce aisle to weigh a tomato—which he believed he had been overcharged for after buying his groceries.
King then spotted Carnegay on the store's security monitor weighing the single tomato before putting it back in his bag and walking out of the store. Believing he had stolen the tomato, King stopped Carnegay by the exit and "within seconds" repeatedly beat him with his baton until he fell to the ground, according to the Department of Justice.
Newsweek subscription offers >
As Carnegay lay on the ground, King delivered a final blow which caused a compound fracture to Carnegay's leg. Following the attack, King then found the receipt in Carnegay's pocket which proved that he had purchased all his groceries only minutes before.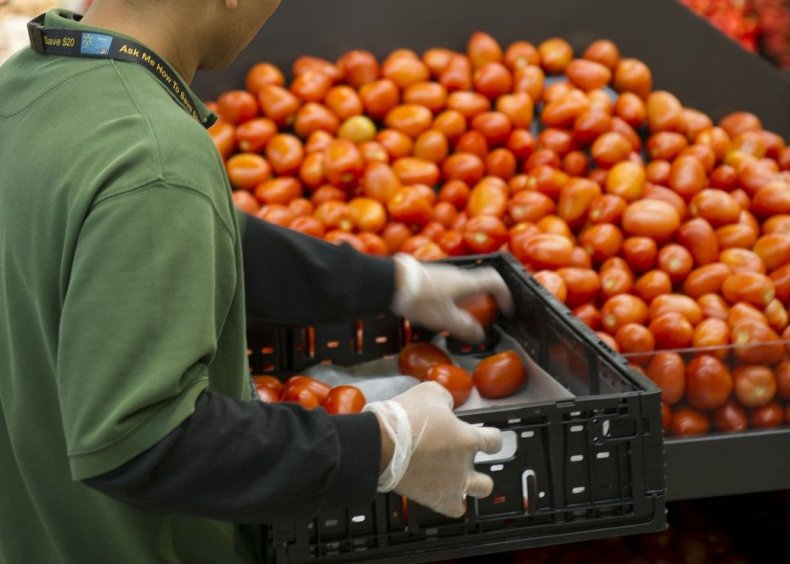 In an attempt to cover up his error, King authored a false police report justifying the beating and charged Carnegay with misdemeanor offenses for allegedly assaulting and obstructing a police officer. According to King's falsified report, the officer began beating Carnegay after he had attempted to push past King and reach for his gun belt.
"Somebody could have come up to him and said, 'Excuse me sir, do you have a receipt for that tomato?' and he would've shown him the receipt," Carnagay's attorney Craig Jones told WSB-TV in 2016. "The officer went into Robocop mode and beat the crap out of him."
Newsweek subscription offers >
King, of Acworth, Georgia, was found guilty of using excessive force and obstructing investigation following a retrial in December 2017. He was sentenced by U.S. District Judge Steve C. Jones to five years in prison, followed by three years supervised release.
"This sentence reflects the Department's commitment to prosecuting official misconduct cases and sends a strong message that any abuse of power will not be tolerated," said Acting Assistant Attorney General John Gore for the Civil Rights Division.
"It is our duty in the FBI to uphold our Constitution and laws, which prohibit law enforcement officers from willfully using excessive force against non-resistant subjects," said David J. LeValley, Special Agent in Charge of FBI Atlanta. "Sergeant King should have respected his authority, like the vast majority of his fellow law enforcement officers who serve and protect."
King retired from the Atlanta Police Department in January of 2017, reports the Atlanta Journal Constitution.
Former Officer Jailed for Breaking Man's Legs after Falsely Accusing Him of Stealing a Tomato | U.S.