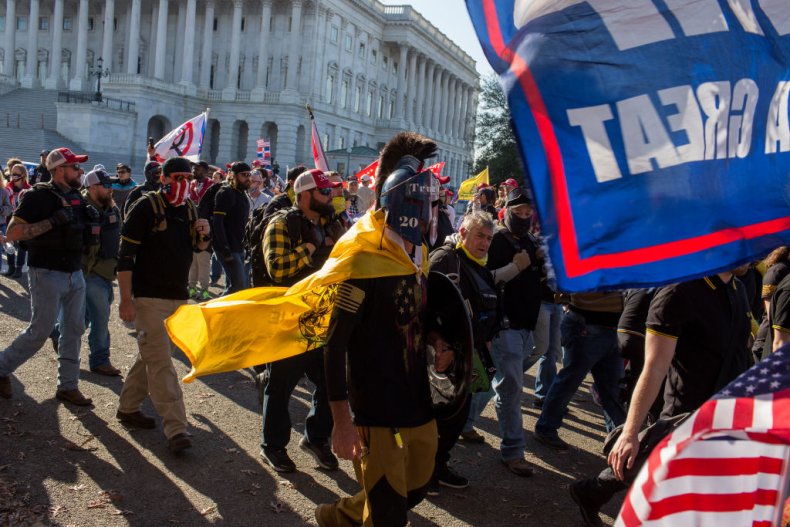 Federal prosecutors are seeking to put a former Proud Boys member charged in the Capitol riot of Jan. 6, 2021, behind bars after he said he might "do it again" during a CNN interview.
U.S. Attorney Matthew Graves asked for the pretrial release of Joshua Pruitt to be revoked in a brief filed on Thursday, the one-year anniversary of the Capitol attack. The document cited repeated violations of the conditions of Pruitt's release one day after the accused rioter said that he did not believe he had done anything "wrong."
"If you ask me if I'd do it again, I want to say yes," Pruitt told CNN on Wednesday. "But then I'd question in the back of my head, would I? ... I don't feel I've done anything wrong but knowing the consequences that came out of it would be the part that would make me question it."
"I was just a patriot out there, you know, protesting against what I think is a stolen election," he added. "Trying to send me to prison for a few years over this I think is a complete joke."
Pruitt, known by the moniker "Jacked Beast" online, has a prior criminal history including 19 arrests and eight convictions. He was wearing a GPS monitor while on probation in multiple states and was already subject to curfew and other release conditions at the time that he allegedly committed crimes related to the Capitol breach.
"The curfew violations here are the last straw," Thursday's brief states. "Pruitt violated both probation and pretrial release conditions the moment he set foot in the Capitol. Breaching the Capitol while being on GPS monitoring displayed a brazen disregard for the rule of law."
"Over the past year, Pruitt has continued to violate his curfew, just as he did the night of January 6," it continues. "The Court has given him multiple chances to improve, and the problem only appears to have gotten worse."
Pruitt was sentenced to 180 suspended days in jail and one year of probation for two violations in November. Pretrial services filed a report with the court on Tuesday detailing seven more alleged violations and recommending that he be placed in custody.
In January 2021, Pruitt was charged with eight criminal counts related to his alleged participation the January 6th attack, including disorderly conduct in the Capitol building, acts of physical violence in the Capitol and destruction of government property.
Video taken during the riot appears to show Pruitt charging into the Capitol alongside other Proud Boys, confronting police officers and violently throwing a sign inside the building. Prosecutors also say that Pruitt bragged about a swollen hand after he said he "dropped" an officer who "came at" him for "no reason."
In the request to revoke his release, prosecutors noted that Pruitt appeared to be "unrepentant" about his actions at the Capitol, citing the CNN interview as evidence that he "cannot abide by conditions of release and poses a danger."
"Pruitt's unrepentant comments to CNN on January 5, 2022, further show that he does not take his case—and the authority of the Court—seriously," the brief states. "Pruitt appears not to grasp that disrupting the peaceful transfer of power and committing violence in the course of doing so is, in fact, a serious crime."
"He cannot even seem to acknowledge that entering the Capitol as windows shattered and throwing things was wrong," it continues. "If he views the charges against him as a 'joke,' then it is no wonder he would defy pretrial restrictions related to those charges."
If the court does not grant the request to put Pruitt behind bars, prosecutors asked that "stricter conditions" be imposed, including banning him from drinking alcohol or using social media.
Pruitt claimed that he was no longer a Proud Boys member during his recent CNN interview. He joined the far-right group during a Washington, D.C., protest in November 2020. Pruitt has claimed that he had been drinking during the initiation, which was delivered by Proud Boys leader Enrique Tarrio and featured in a viral video.
Newsweek reached out to Pruitt's attorney for comment.