Ex-Reagan Adviser: Evangelical Leaders Who Back Trump Do More Harm to Christian Values Than Atheists
During a Saturday interview on CNN, Republican political adviser Peter Wehner voiced his criticism of evangelical Christian support for President Donald Trump, telling host Michael Smerconish that the powerful voting block remains in Trump's corner out of a misguided sense of pragmatism.
"The bottom line is that he will fight for them," Wehner said, referring to Trump. "Not that he himself is of Christian faith. Not even he himself is a manifestation of Christian virtues, but they feel like they're involved in an existential struggle against a malicious enemy that they consider to be the American Left. And Trump will try and vanquish that enemy."
He later added: "They feel like he'll bring a gun to a cultural knife fight...that he hates the same people that they hate. And that he'll employ means that'll get it done."
Wehner, who previously advised Presidents Ronald Reagan and George W. Bush during their stints in the Oval Office, has been a Trump critic in the last few years. Now a prominent commentator and author, Wehner said it was "painful" to watch his fellow Christians support this president.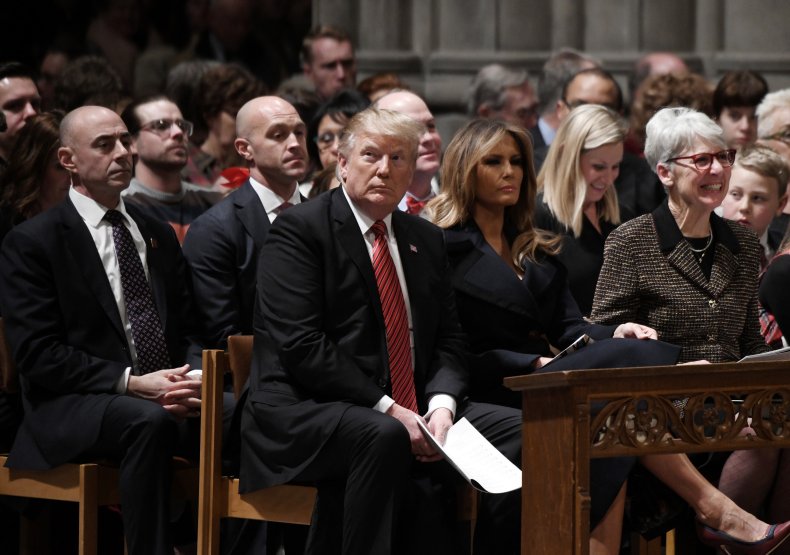 "I think it's been tremendously discrediting to the Christian faith," Wehner said, referring to those who back Trump. "I think it's shown to a watching world a tremendous amount of hypocrisy. After all: this 'character counts' and 'personal integrity' and political leadership was central to what a lot of evangelicals argued when Bill Clinton was president. And now that it's Donald Trump, they've decided to push it aside, which means for them that reality is a means to an end, not an end. It was something to be used as a political weapon."
He continued: "I think a lot of these white evangelical leaders are doing more to hurt Christianity than the so-called New Atheists ever could."
The president's support among evangelical voters has been subject to an enormous amount of political analysis. Over the last three years, the thrice-married businessman has demonstrated a confused understanding of scripture and been dogged by rumors of sexual assault and infidelity. What's more, Trump has embraced and championed policies seemingly at odds with Christian values, from those that show a disregard for the poor to policies that break up family units. Yet staunchly conservative and religious members of the GOP, from Lindsay Graham to Vice President Mike Pence, have continued to be unmoved in their full-throated support. Christian leaders have also embraced Trump, including Texas pastor Jack Graham and Jerry Falwell Jr., the president of Christian-based Liberty University.
Called to defend his support of Trump, Falwell Jr. once remarked that he saw a difference between the personal and the political when it comes to the president.
"There are two kingdoms," he said. "There's the earthly kingdom and the heavenly kingdom. In the heavenly kingdom the responsibility is to treat others as you'd like to be treated. In the earthly kingdom, the responsibility is to choose leaders who will do what's best for your country."
Recent data shows the support hasn't wavered as the country inches closer to the 2020 election. According to a study from the Pew Research Center published in March, seven-in-10 white evangelical protestants say they approve of the way Trump is handling his duties. That support falls when looking at other sects of Christian voters, but the number is still higher than those who don't claim any religious affiliation.
Watch the full interview with Wehner here.