Leah Remini and Other Ex-Scientologists Slam Tom Cruise's COVID-Safety Rant
Tom Cruise was recently caught on tape screaming at Mission: Impossible 7 crew members for violating COVID-19 safety protocols. After the audio leaked and made the rounds online, the actor received praise for protecting the health of those working on the new film. However, not everyone was so quick to dole out the compliments, especially some former members of the Church of Scientology.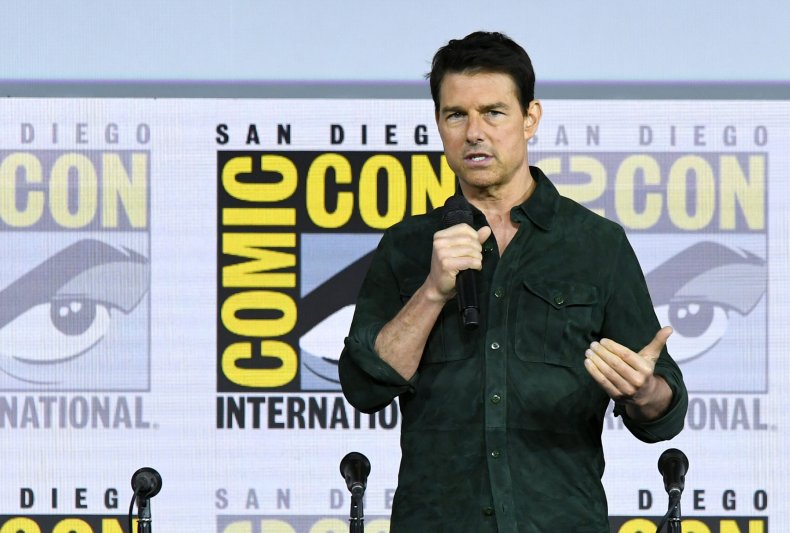 "Tom does not care about the families of his crew; this is all for publicity. Tom does not believe in family values," Leah Remini said in a statement published Wednesday, exclusively on The Underground Bunker, a blog dedicated to monitoring Scientology. Since abandoning the religion, the former King of Queens actress has been one of its most outspoken critics. In her statement, Remini also wrote: "I mean, how anyone is falling for this is just mind-blowing."
Joining her in criticizing Cruise was Mike Rinder, a former senior executive of the Church of Scientology International and the Sea Organization. Since leaving the church in 2007, Rinder has sought to expose some of the alleged offenses of the controversial religion. One of his most high-profile projects was co-hosting the Emmy-winning A&E documentary series Leah Remini: Scientology and the Aftermath.
"This abusive side of TC [Tom Cruise] is not often seen," Rinder tweeted on Wednesday. He then suggested that Cruise was parroting the language Scientology leader David Miscavige allegedly uses when scolding subordinates. "He learned from his buddy David Miscavige. Sounds just like him—same language, same inflection, same 'I have the world on my shoulders and you are f**cking me over' routine...He probably leaked this thinking it makes him sound tough."
The audio of Cruise was obtained by The Sun, a U.K. tabloid. In it, he vents about protocol not being followed: "I don't ever want to see it again! Ever! And if you don't do it, you're fired! If I see you do it again, you're f**king gone. And anyone on this crew does it, that's it! And you, too. And you, too. And you. If you ever do it again, that's it!"
Rinder's tweet was in response to posts from journalist Yashar Ali, who on Tuesday wrote (in part) that people should not praise the actor because "he's the chief enabler of a criminal organization that has destroyed people's lives, bankrupted and separated families, led to people being imprisoned, forced women to have abortions against their will," and "led people to die after being forced to follow dangerous pseudoscience."
Gillian Brockell, a writer for The Washington Post, retweeted Ali's message on Tuesday, and also shared a story on Twitter about her own mother leaving the religion after Gillian's 2-year-old sister's finger was severed in the door of a Scientology nursery. A person on Twitter called the story a lie, which resulted in Gillian's sister, now a fully grown adult, tweeting out a photo of her hand with a partial finger. It's captioned: "She's not lying."
The Daily Beast journalist Marlow Stern wrote on Wednesday that Cruise's rant might be a PR effort by Scientology to portray itself as taking COVID-19 seriously. Remini thinks the same. In her statement, she claims that Scientologists are taught not to react to the global COVID pandemic and other illnesses or disease.
"Anything you see coming from Scientology and Scientologists, such as mask wearing and supposedly humanitarian efforts, is just a show," Remini wrote. "It's for public relations reasons only."