Ex-Senator Laments 'Broken' Congress, Blasts Mitch McConnell for 'Absolutely Destroying Senate Norms'
Former Democratic Senator Claire McCaskill of Missouri lamented on Sunday that Congress is currently "broken," placing blame squarely on Republican Senate Majority Leader Mitch McConnell and accusing him of "absolutely destroying Senate norms."
McCaskill, who served in the Senate for two terms until she was defeated by a GOP challenger last year, raised the criticism during an interview with NBC News Meet the Press. She argued that partisan problems in Congress didn't emerge with the impeachment of President Donald Trump, which passed largely along party lines last Wednesday.
"I think the Senate was broken, Congress was broken before impeachment came along," the former senator argued. McCaskill noted that during her "first year in the Senate" she had voted on more than 300 legislative amendments. "This year, there's fewer than 30," she pointed out.
"Mitch McConnell has presided over absolutely destroying Senate norms," she said, noting the senator from Kentucky's successful efforts to obstruct former President Barack Obama from filling a vacancy on the Supreme Court. The former senator also argued that McConnell was responsible for "killing legislative debate."
"The Senate is no longer what it was and the people of this country are gonna have to be the ones politically to put pressure on this dysfunction and say 'We want unity, want stuff to get done, we want you to quit the partisan food fight,'" McCaskill said.
Democrats have harshly criticized McConnell's leadership in the Senate, accusing him of presiding over a legislative "graveyard." Last week, Democratic Speaker of the House Nancy Pelosi slammed the GOP lawmaker, calling him the "grim reaper" for allowing hundreds of bills to stall on his desk. Senate Democrats also began posting photos of a large stack of papers, symbolizing the 300 some bills that have failed to move forward. According to the Democratic lawmakers, 280 of those bills had at least one Republican backer.
Newsweek has reached out to McConnell's press representatives for comment.
McConnell has appeared completely unbothered by the criticism. He actually has proudly referred to himself as the "grim reaper."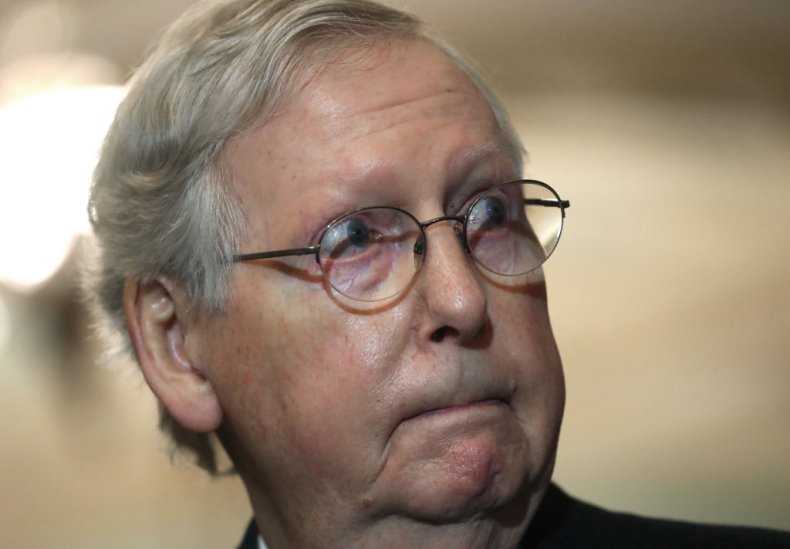 "If I'm still the majority leader in the Senate, think of me as the grim reaper. None of that stuff is going to pass," he said back in April. "I guarantee you that if I'm the last man standing and I'm still the majority leader, it ain't happening. I can promise you."
The Republican leader has drawn additional criticism over the past couple weeks over his vow to not be "impartial" in the pending Senate trial of Trump, following the impeachment vote in the House last Wednesday. McConnell has said he will work closely with White House counsel, which Democrats – and some conservatives – have argued would violate the oath he and other senators will be required to take ahead of the trial.