Where Is Ex-Sergeant Wayne Jenkins Now? Corrupt Cop From 'We Own This City'
The actions of former Baltimore police Sergeant Wayne Jenkins and his team of plain-clothed officers in the Gun Trace Task Force (GTTF) are explored in We Own This City.
HBO's new true-crime drama stars Jon Bernthal as Jenkins, with the show examining Jenkins' rise in the city's police department and eventual arrest after a two-year federal investigation into the GTTF.
Here is everything you need to know about the real Jenkins and where he is now.
Where Is Former Sergeant Wayne Jenkins Now?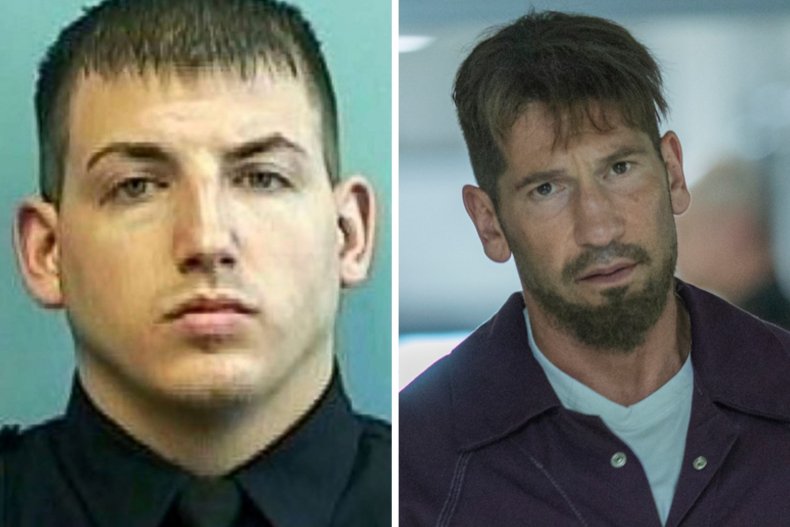 Jenkins joined Baltimore's police department in 2003, first becoming a beat cop and patrolling the streets of Baltimore.
During his time on the streets of Baltimore Jenkins was involved in several arrests that resulted in the injuries of the people he took into custody.
In Justin Fenton's book We Own This City, on which the HBO series is based, the Baltimore Sun journalist explained that Jenkins would often be "caught in a lie" while giving evidence to a jury, but no complaints were put on his record.
For example, in January 2006, Jenkins and Sergeant Michael Fries had an altercation with brothers Charles and Robert Lee after they continued to drink beer on the front step of their grandmother's home when the policemen had told them to stop.
During the altercation, a passerby named George Sneed was assaulted by officer Robert Cirello who broke his jaw, leading Sneed to sue.
At the trial four years later, Jenkins and his fellow officers claimed that the witness had been throwing bottles at them, but security camera footage shown at the trial proved what Jenkins claimed was not true.
Sneed's attorney Michael Pulver concluded, per Fenton, that the officers had "fabricated this story to hide the fact that they intentionally assaulted and falsely arrested and imprisoned Mr. Sneed."
Despite this happening more than once, Jenkins remained in his superiors' good books and when Fries was promoted in 2007 he decided to also give Jenkins a boost because he was "the best officer [he] had working under [his] command."
It was in 2007 that Jenkins became a part of the GTTF, a new unit of plain-clothed officers focused on targeting suspected criminals believed to have big supplies of guns and drugs, in a bid to reduce the city's high murder rate.
However, the focus on quantity rather than quality led Jenkins and the seven other GTTF officers to start planting evidence, take money from the homes they invaded, and even resell the drugs they seized back onto the streets.
A two-year federal investigation into the GTTF resulted in all eight officers, and one Philadelphia officer, getting charged with several offenses, including racketeering, in 2017.
In February 2017, Jenkins was charged with two counts of racketeering conspiracy; racketeering, aiding and abetting; racketeering; two counts of robbery and aiding and abetting; and two counts of possession of a firearm in furtherance of a crime of violence.
Then, in November 2017, he was given further charges of destruction, alteration or falsification of records in federal investigations, and deprivation of rights under color of law.
When his case went to trial on January 5, 2018 Jenkins pled guilty to one count of racketeering, two counts of robbery, one count of destruction, alteration, or falsification of records in a federal investigation, and four counts of deprivation of rights under color of law.
Jenkins was given a 25-year prison sentence on June 7, 2018, which he is currently in the midst of serving at a federal prison in Kentucky.
In September 2021, Jenkins spoke with BBC journalist Jessica Lussenhop from behind bars, and he claimed he never took money from Baltimore citizens.
Jenkins said: "I never had [theft complaints] because I never took money off individuals. I did give drugs to Donny [Stepp, who testified he and Jenkins sold $1 million worth of narcotics] for the last couple of years I was police, but I didn't take people's money because then they would know you were dirty."
Explaining the tactics of the GTTF, he also told the publication: "This is a saying we state: 'Don't let probable cause stand in the way of a good arrest.'
"If you've got to lie about what you've seen or what you heard or what you witnessed, as long as he's dirty, he's got the drugs and he's got the guns and he did the crime—just get him."
We Own This City airs Mondays at 9 p.m. ET on HBO.