Ex-Special Forces Soldier Charged in Capitol Riot May Be Offered Plea Bargain
Jeffrey McKellop, a retired member of the U.S. Army Special Forces, may get a plea bargain in the case in which he's accused of trying to stab a police officer during the January 6 Capitol riot, according to WRC-TV reporter Scott MacFarlane.
McKellop was charged with assaulting an officer with a deadly weapon, entreating restricted grounds with a violent weapon and other charges connected to the January 6 insurrection. In April, he pleaded not guilty to the nine charges facing him.
Police body camera footage showed McKellop pushing uniformed D.C. Metropolitan Police officers and also trying to grab an officer's canister of riot-control spray as the officer tried to use it on the crowd, authorities said.
Footage also showed him picking up a flagpole from the ground and thrusting it at the face of another police officer, like a spear, authorities said. The flagpole had a "Blue Line National" flag and another flag with the words "Trump. Keep America Great." The "Blue Line" flag is often flown to show support for police officers or opposition to the Black Lives Matter movement for racial justice.
The attempted stabbing left the officer with facial lacerations, court documents said.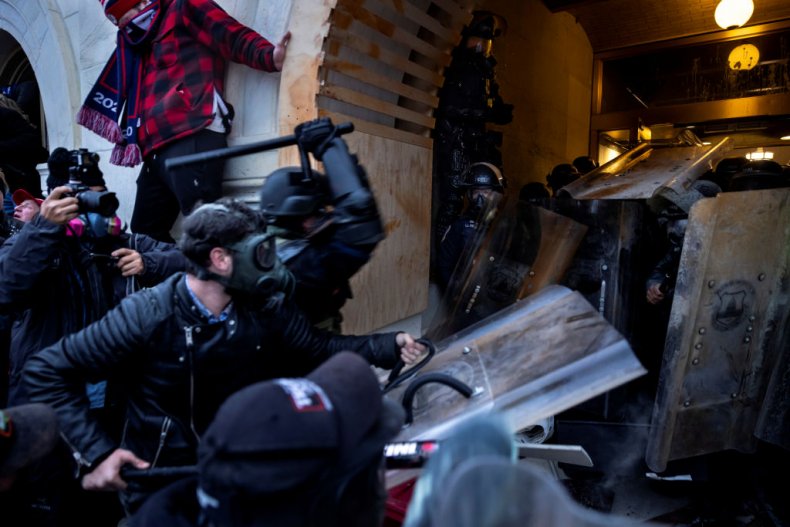 The FBI had asked the public for help identifying McKellop. Video footage showed his full face and gray hair, after he removed his helmet and gas mask during the riots. He was also identified by unique patches on the backpack and bulletproof vest that he wore during the insurrection.
One of the witnesses who helped identify him said that they had served with McKellop in the armed forces from 2001 to 2016.
In October, McKellop argued for a pre-trial release because he had already been jailed for seven months with no trial date set. The cases against alleged January 6 rioters have been delayed as prosecutors look through hours of video footage and photographs to prepare for court.
McKellop's lawyer, Katrina Young, told a federal judge that the indefinite incarceration has "taken a huge toll on McKellop psychologically" because the 55-year-old veteran doesn't know when he'll ever see his children again.
McKellop served in the military for over 22 years, including four tours in Iraq and Afghanistan, according to Courthouse News.