Ex-Surgeon General Jerome Adams Calls on CDC to Promote Masking Again
Jerome Adams, the former U.S. Surgeon General, has expressed concern that the Centers for Disease Control and Prevention (CDC) has moved too quickly in relaxing mask mandates.
Adams, who served during the presidency of Donald Trump, made his worries known in a lengthy Twitter thread posted on Saturday night.
"Last year Tony Fauci and I famously, prematurely, & wrongly advised against masks," Adams said at the start of the thread. "I felt it was the best call at the time, but now regret it. I'm worried the CDC also made a similarly premature, misinterpreted, yet still harmful call on masking in the face of delta variant."
Adams's concerns stem from the ongoing spread of the Delta variant, a mutation of the original strain of COVID-19. This new strain is known to be more infectious than the original and is currently causing cases to spike in parts of the U.S.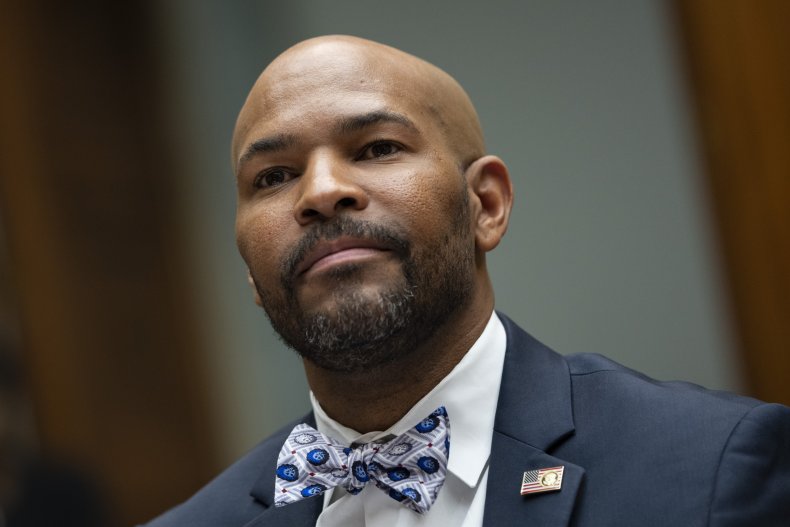 In light of surging case numbers, thanks to this variant, Los Angeles and Las Vegas counties have broken with CDC guidelines and mandated masks indoors. More mandates and guidances could be forthcoming.
"Both the conditions (rising cases) & the science (delta variant) changed, but what people heard and held to was masks were no longer needed..." Adams said. "Now you have health officials, cities & counties (eg LA County), & likely soon states issuing guidance in direct conflict w/ the mask guidance [the CDC] issued a month ago. The sooner CDC says we were wrong, & hits the reset button, the better. Trust me- I know more than anyone."
In the thread, Adams also makes reference to his and Dr. Anthony Fauci's insistence in the early days of the pandemic that masks would not be necessary for all people. He explained that the call was based on their limited knowledge at the time and an effort to preserve the supply of masks for medical professionals who needed it most at the time.
As scientists gained a better understanding of COVID-19 and how it spreads, it was decided to reverse this call and mandate masks for all.
Now Adams believes that the CDC should do the same. Specifically, he mentions mandating masks for all, even the fully vaccinated, in areas with rising case numbers.
The CDC has stated that the current vaccines on offer are able to offer protection from the Delta variant. Reports indicate that the vast majority of recent cases in the U.S. involve unvaccinated patients.
According to the New York Times vaccination tracker, at least 68 percent of U.S. adults have received at least one vaccine dose, while 59.3 percent are fully vaccinated. The U.S. vaccination rate was recently eclipsed by Canada's, despite the neighboring country struggling with availability earlier in the year.
Newsweek reached out to the CDC for comment.