Ex-Trump Adviser Seb Gorka Appointed to National Security Education Board
Sebastian Gorka, who served as the Deputy Assistant to President Donald Trump in 2017, is expected to be appointed to the National Security Education Board (NSEB) according to information released by the White House on Tuesday.
Gorka, a conservative radio program host, is a former Fox News contributor. While Gorka was in the Trump Administration, he was a staunch defender of many of Trump's foreign policy moves. However, in a 2017 letter, Gorka implied Trump's agenda was being undermined from within.
"Given recent events, it is clear to me that forces that do not support the MAGA promise are—for now—ascendant within the White House," Gorka wrote. "As a result, the best and most effective way I can support you, Mr. President, is from outside the People's House."
Gorka's position on the 14-member NSEB the Board allows him to help run the National Security Education Program (NSEP). Established in 1991 by President George H.W. Bush, the NSEP was designed to create a network of U.S. citizens who understand foreign language and culture in order to work with international citizens and governments.
The board is comprised of 8 federal officials and 6 civilians, often with backgrounds in leadership roles at colleges or universities. According to Gorka's biography, he received a doctorate in Political Science in 2007 from Corvinus University in Budapest.
Newsweek reached out to the NSEB for comment.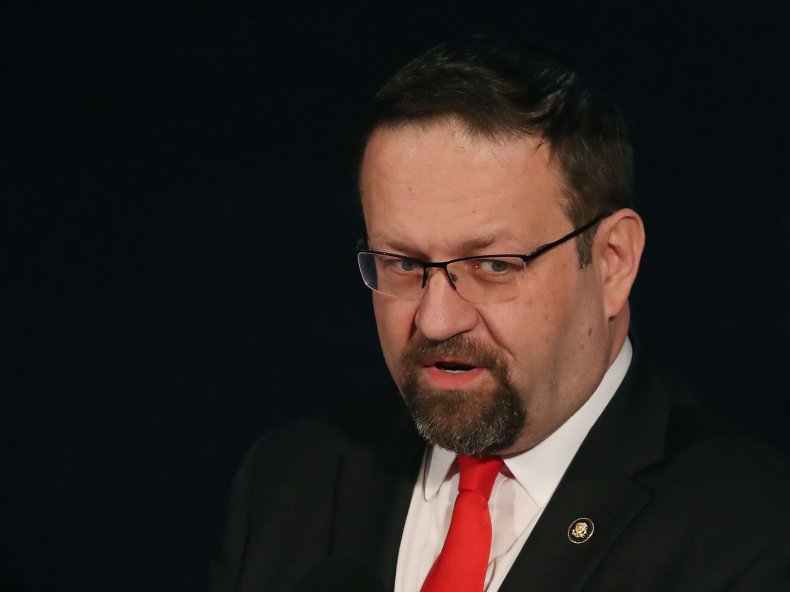 Although Gorka left the Trump Administration, he said during a 2019 interview with public affairs network C-SPAN that he was still in touch with the president. "Things are much better than they were in July 2017," Gorka said.
"He calls me when he needs advice or when he sees me on television," Gorka added.
Gorka drew criticism from Jewish groups after he was spotted wearing a medal from Vitezi Rend, a far-right Hungarian organization. According to the U.S. State Department, Vitezi Rend was complicit with the activities of the Nazis during World War II.
Gorka denied any affiliation with the organization, telling Tablet Magazine in March 2017 that he sometimes wore the medal in order to honor his father and "his struggle against totalitarianism."
While serving in the White House, Gorka was an ally of former chief strategist Steve Bannon. Bannon, the former executive editor of right-wing outlet Breitbart News, was fired in 2017 by President Trump. Known for his nationalistic viewpoint, Bannon allegedly told attendees at a meeting of France's National Front in 2018 that being referred to as a "racist" or a "xenophobe" was a "badge of honor."
After Bannon alleged that Donald Trump, Jr. was "treasonous" and "unpatriotic" in a 2018 book, Trump released a statement saying Bannon had "lost his mind."
"Steve pretends to be at war with the media, which he calls the opposition party, yet he spent his time at the White House leaking false information to the media to make himself seem far more important than he was," Trump wrote. "It is the only thing he does well."