Ex-Trump Adviser Warns of President's Erratic, Bizarre Behavior: 'It's Growing Worse and Worse. I Can't Explain It'
A former Trump pre-transition team adviser this week warned that the president's recent alarming and erratic behavior is "growing worse and worse."
During a segment on CNN's Right Now on Thursday, anchor Brianna Keiler explored a recent New York Times article that reported former Trump administration advisers are growing concerned about the president's erratic and bizarre behavior in recent days.
"Here's the behavior that is so alarming," Keilar said. "In just one single day, President Trump doubled down on accusations that Jews are disloyal or ignorant if they vote for Democrats. He shared clips of a conspiracy theorist who called him the king of Israel or second calling of Christ. He's told reporters that he is the 'chosen one' to take on China on trade and he's attacked the prime minister of Denmark because she called his idea to buy Greenland absurd."
Keiler continued to list the president's almost-daily "alarming and bizarre" controversies. "He's taken an indiscernible stance on background checks for guns while bragging that mass shooting victims love him," the anchor said. "He's threatened to send ISIS fighters to U.S. allies in Europe and he's blamed Obama, the former president, no less than 20 times for virtually all the problems he is facing."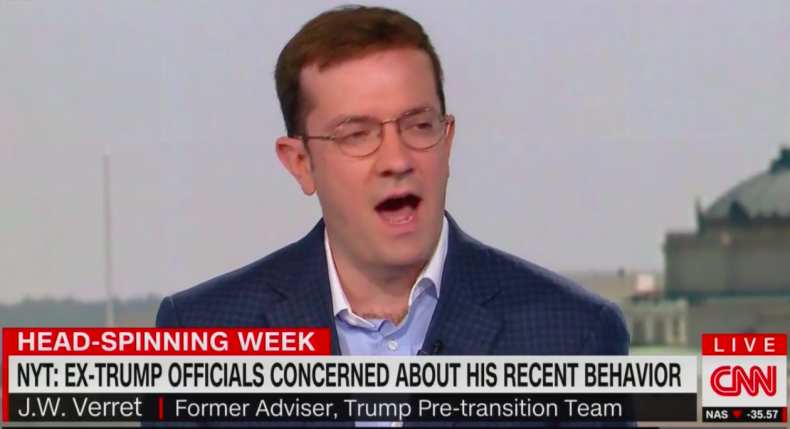 Former Trump pre-transition team adviser J.W. Verret, currently a law professor at George Mason University, said Trump's recent behaviors are "not unexpected."
"The guy's always had problems on his best day," he explained. "I think the hope for the future is Democrats nominate someone who is moderate who can work with Republicans. And we can get together in the post-Trump era."
"It's growing worse and worse," Verret continued. "I can't explain it. Frankly, I don't want to get in this guy's head. I'd rather try to focus on the future. I hope the Democratic Party looks toward a moderate nominee who can work with Republicans like me. I think we can think a bright future working on trade and immigration."
An unnamed former Trump administration official told the New York Times that the president's outbursts may be in response to the weakening economy that's potentially heading into a recession, which could render his chances of being reelected in 2020 slim. Trump has always fallen back on the strong performance of the economy to tout his performance in the Oval Office.
The president dismissed talks of an impending recession on Tuesday, telling reporters that the economy is still strong. He also asserted that if the economy took a downwards turn, it would be worth it to win the trade war against China.