Ex-Trump Attorney Doesn't Think Families Like Pete Buttigieg's Should Exist
Conservative attorney Jenna Ellis said Thursday that children should grow up in a household with an "actual" family of heterosexual parents, commenting on a picture of U.S. Secretary of Transportation Pete Buttigieg with his husband, Chasten, and their daughter.
"This isn't a family," Ellis, who worked as a lawyer for former President Donald Trump, said on Twitter. "It's two sexual perverts and a child that deserves an actual family: a mom and a dad. Children's rights matter. Kids are not commodities."
Ellis retweeted the picture of Buttigieg that was originally posted by Twitter account user @TheRichFromCali, who wrote "I am extremely saddened by the hateful and homophobic comments made by Mike Pence. This is Pete Buttigieg and his family, ♥️ if you support them!"
"Children have rights, which include the right to life, to their mother and father, to sexual innocence [no sex/gender ideology in schools], and to intact bodies [no chemical/surgical mutilation]," Ellis told Newsweek on Friday. "Children are not commodities for people like Pete Buttigieg to buy and use for their own selfish purposes, pretending they can borrow from normal and call themselves a family."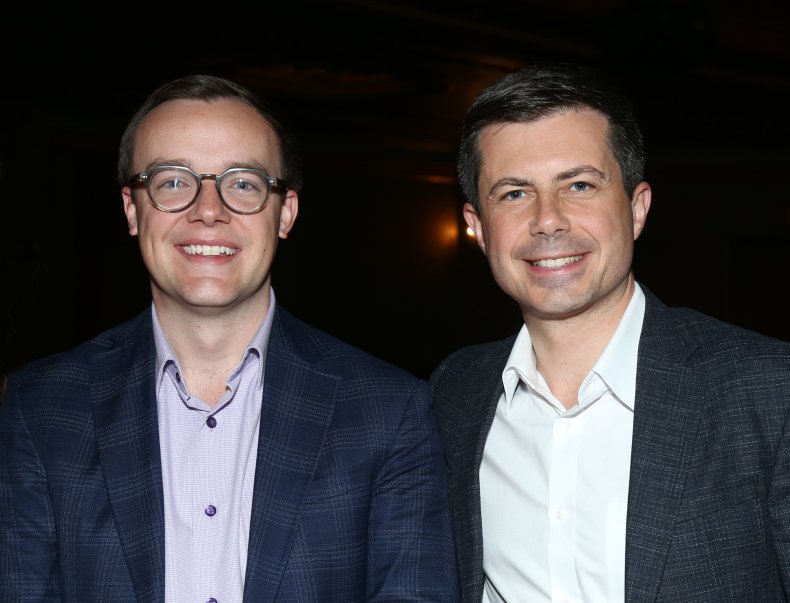 Pence, who served under Trump, mocked Buttigieg at the Gridiron dinner last weekend for taking parental leave in 2021 after he and Chasten adopted their newborn twins.
"Pete is the only person in human history to have a child and everyone else gets postpartum depression," said Pence, referring to the pandemic-related disruptions to travel and supply chain at the time.
Buttigieg, who is the first openly gay U.S. cabinet secretary, has defended his marriage and family against remarks by conservatives as he advocated for LGBTQ+ rights. In July of last year, he criticized Republicans who were against codifying protections against same-sex marriages at a time when the House passed the Respect for Marriage Act, which was signed into law by President Joe Biden.
During the Gridiron dinner, Pence targeted Buttigieg, saying that the transportation secretary took a "maternity leave" at a time when "thousands of travelers were stranded in airports, the air traffic system shut down and airplanes nearly collided on our runways."
Buttigieg and his husband's baby twins were hospitalized in October 2021, prompting the married couple to stay close to take care of the babies.
Chasten on Monday fired back at Pence over his jokes at the dinner, posting a picture of his husband at the hospital with the twins and tweeting: "An honest question for you, @Mike_Pence, after your attempted joke this weekend. If your grandchild was born prematurely and placed on a ventilator at two months old - their tiny fingers wrapped around yours as the monitors beep in the background - where would you be?"
White House Press Secretary Jean-Pierre slammed Pence on Monday for his comments, saying "the former vice president's homophobic joke about Secretary Buttigieg was offensive and inappropriate, all the more so because he treated women suffering from postpartum depression as a punchline."
On Thursday, Ellis engaged in an exchange with the Twitter account user who posted the picture of the Buttigieg family.
"Luckily in America you are allowed your opinion. I want you to know having a 'mom and dad' doesnt mean a healthy family," wrote @TheRichFromCali, who is a political activist, according to his Twitter bio. "I had what you define as a 'proper' family, however, i was beat, burned, and shot at as a child. Those two love their child and that is what matters, those are children's rights, to be raised by those who love you."
Ellis responded: "So because your parents abused you, you would deny the rights of all other children? Not a good argument, Rich."
The poster then wrote back: "No Jenna. I am saying that loving gay parents will always be better than unloving dysfunctional parents."
Ellis' tweet about Buttigieg has drawn criticism from other commentators who seemed outraged about her remarks.
"She's entitled to her opinion. Not, though, to abusing others because of their sexual orientation (& libel is libel). I hope she gets sued," one Twitter user commented. "This hate-filled woman pretends to be Christian. Her disgusting behavior betrays her as being anything but - she's CINO, & to be pitied."
Another wrote: "Dear @JennaEllisEsq : Let's bring you back yo your 'I'm a devout Christian post' AGAIN: Calling to decent & loving human beings 'perverts'— & I'm quite sure of this—goes against the LOVE Christ stood for. Return your Christian card immediately."
"This seems to be happy and loving family," wrote Twitter account user Malcolm Davis. "Two men who love each other very much decided they wanted to raise a child together, there is nothing wrong with that. They are not sexual perverts."
Ellis argued that children should be protected from "choices of adults," including abortion and transgender treatments.
"Our law and policy should protect and defend the most vulnerable in our society: children," she told Newsweek. "We should be standing firm for children's rights instead of preferring the choices of adults who are attacking their rights—mothers who would kill them for convenience, sexual perverts who would exploit them for optics, or woke parents and doctors who would mutilate them for social experiments."
Newsweek reached to the Human Rights Campaign and the non-profit Gay & Lesbian Alliance Against Defamation (GLAAD) for comment.