Ex-Trump Fixer Michael Cohen Says He Helped Jerry Falwell Jr. Bury Racy 'Personal' Photographs: Report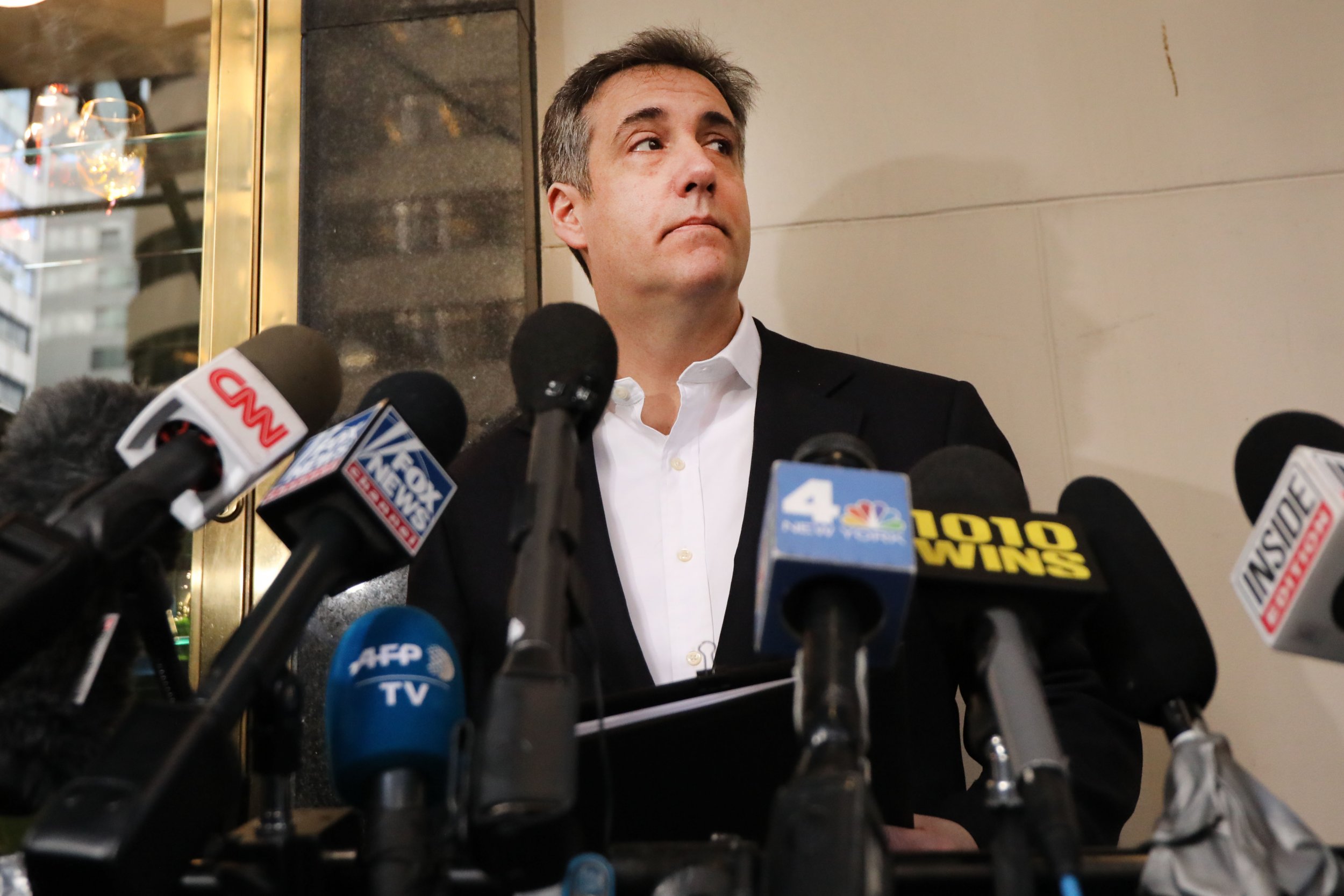 Donald Trump's former attorney and personal fixer Michael Cohen says he assisted Liberty University President Jerry Falwell Jr. bury racy "personal" photographs, months before the Christian university administrator endorsed Trump's 2016 campaign.
Cohen revealed the information in a recorded interview made by comedian Tom Arnold on March 25, reviewed by Reuters. In the taped conversation, Cohen detailed how Falwell Jr.—a vocal support of Trump's presidency—asked him for a personal favor, before confessing that someone had obtained racy photographs of him. Cohen described the materials as "personal" and something that would usually remain "between husband and wife." It is unclear whether the photos were linked to Becki Tilley, Falwell Jr.'s wife since 1987, or with another woman.
Falwell Jr. wanted to prevent "a bunch of photographs, personal photographs" from entering the public sphere, Cohen can be heard telling Arnold in the taped interview. "I actually have one of the photos," he added. "It's terrible."
Cohen obliged Falwell Jr.'s request and shortly after he stepped in, the person holding the photos moved to destroy them, a source with knowledge on Cohen's thinking told Reuters.
The source revealed that Falwell Jr.'s request was made in 2015, when Cohen was working for Trump and the Trump Organization.
Falwell Jr. did not immediately respond to Newsweek's request for comment.
Falwell Jr. threw his support behind Trump just before the Iowa caucuses, a crucial moment of the 2016 presidential campaign. Falwell Jr.'s support helped persuade many devout voters to get on board with a potential Trump presidency, despite his previous behavior considered by many to be un-Christian, including an allegation he engaged in an extramarital affair with adult film star Stormy Daniels.
Since then, Falwell Jr. has remained a vocal supporter of the president, often coming to his defense on issues that have drawn criticism from the public.
Falwell Jr. on Saturday called for Trump's presidential term to be extended by two years as "pay back for time stolen by this corrupt failed coup." "After the best week ever for @realDonaldTrump - no obstruction, no collusion, NYT admits @BarackObama did spy on his campaign, & the economy is soaring. I now support reparations-Trump should have 2 yrs added to his 1st term as pay back for time stolen by this corrupt failed coup," Falwell Jr. tweeted over the weekend, apparently in reference to the controversies surrounding special counsel Robert Mueller's report and other investigations into the president.
Trump retweeted Falwell Jr.'s tweet on Sunday, and then echoed his sentiments in two subsequent tweets. "Despite the tremendous success that I have had as President, including perhaps the greatest ECONOMY and most successful first two years of any President in history, they have stollen [sic] two years of my (our) Presidency (Collusion Delusion) that we will never be able to get back," the president tweeted.
"The Witch Hunt is over but we will never forget. MAKE AMERICA GREAT AGAIN!," Trump added in another post.