Jenna Ellis Says GOP Won't Back Pence Over Vaccine Support After Trump Booed At Rally
Jenna Ellis, who previously worked as former President Donald Trump's attorney, doesn't see former Vice President Mike Pence being able to garner the support of conservatives because of his opinion on vaccines.
On Monday via Twitter, Pence hailed the Food and Drug Administration's (FDA) approval of Pfizer's vaccine for COVID-19, allowing it to be marketed in the United States. He used the "big news," as he phrased it, as an opportunity to champion the Trump administration's financial investment that helped deliver safe and effective vaccines within a year of the start of the pandemic.
Ellis took issue with Pence's celebration of the FDA approval with a tweet of her own, calling it "basically an endorsement of mandates." She added that the "endorsement" was the reason "no conservative will vote for Pence ever again."
Several people responded to Ellis' tweet by questioning how she saw Pence's Twitter post as an endorsement of vaccine mandates. Some considered his tweet to be prideful about the achievement of the Trump administration while others thought it was intended to help convince people to get vaccinated.
Newsweek reached out to Ellis for comment, but did not receive a response in time for publication.
Pence led the White House Coronavirus Task Force during the Trump adminstration. In August, he urged young conservatives to get inoculated. Having received the shot himself, as well as his family, Pence told attendees of the Young America's Foundation's National Conservative Student Conference that anyone who's unsure about the vaccine should talk to their doctor and "get the very best advice you can."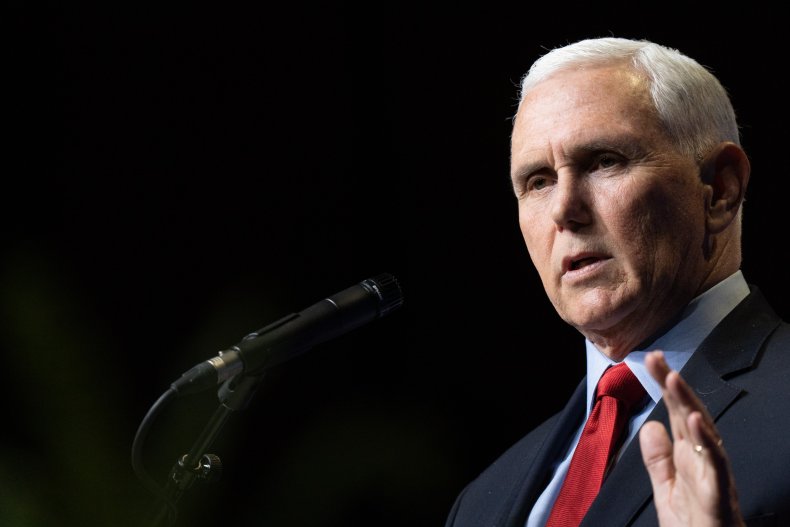 Despite the Trump administration spearheading the development of the vaccine and championing its success, polls show Republicans are more vaccine hesitant than Democrats.
The former president, who was vaccinated himself, tried to encourage his supporters to get the shot at a rally in Alabama on Saturday. Trump told the crowd that while he "believes totally in your freedoms," he also recommended people get vaccinated by saying "it's good. Take the vaccine." His comments were met with some boos, to which Trump responded: "That's all right. You've got your freedom."
However, he reiterated that he got vaccinated and that the vaccine "is working."
Once considered Trump's closest ally, Pence faced the former president's criticism after the certification of the 2020 presidential election results on January 6. Pence rejected pressure from Trump to interfere with the certification by sending the results back to states on the basis that he didn't believe that was in line with his constitutional duty.
While Trump still commands a strong following from the GOP, the same is not true for his former vice president. A March straw poll from the Conservative Political Action Conference (CPAC) found 55 percent of people would support Trump as the 2024 GOP presidential nominee. Pence earned only 1 percent support.
Months later, Pence's stock dropped even lower. CPAC's July straw poll gave Pence zero percent support while Trump saw a boost to 70 percent support.