Ex-Trump Lawyer Sidney Powell Quotes Buzz Lightyear in Latest Legal Filing
Former Trump campaign attorney Sidney Powell filed an opposition to Wisconsin Governor Tony Evers' motion to sanction her and others associated with disputing the 2020 presidential election on Thursday—and the legal document quotes Toy Story's Buzz Lightyear.
Powell filed the motion on Thursday after Evers asked a Wisconsin court last month to force former President Donald Trump, his lawyers, and Powell to pay thousands of dollars in legal fees over their 2020 election lawsuits.
In court documents that were filed on March 31, Evers said litigation from each lawsuit cost "needless" taxpayer dollars, and called for $106,000 in sanctions against Powell and $144,000 against Trump and his attorneys, Business Insider reported.
"Those costs were needless, because Trump's suit never had any merit, this litigation was precluded by exclusive state-court proceedings, and the costs were exacerbated by strategic choices made by Trump and his lawyers," the court documents said.
In response, Powell's Thursday opposition aimed to dispute Evers by stating that his motion was filed without jurisdiction and in an untimely manner.
In their argument, Powell and her legal team also said that the motion was unprecedented and used the quote "to infinity and beyond," which Buzz Lightyear says in Toy Story, to back their claim.
"Defendant would have this Court make new law, create an exception for a baseless and untimely motion, which—with no precedent in the case law or any rule—could extend the time for filing a sanctions motion 'to infinity and beyond' to harass a plaintiff in what amounts to nothing more than political grandstanding," the document says.
"The Defendant's motion for sanctions should be struck in its entirety as filed out of time in a closed case over which there is no longer jurisdiction. Defendant has given this Court no basis or authority for exercising jurisdiction in these circumstances, and the law provides none," the document adds.
When reached for comment about including the famous Toy Story quote, Powell told Newsweek: "Despite the ridiculous, relentless attacks against me, I still have a sense of humor. It fit."
Powell's latest court filing comes after she spent months attempting to overturn the results of the 2020 presidential election through pushing baseless conspiracy theories and unsubstantiated claims of voter fraud.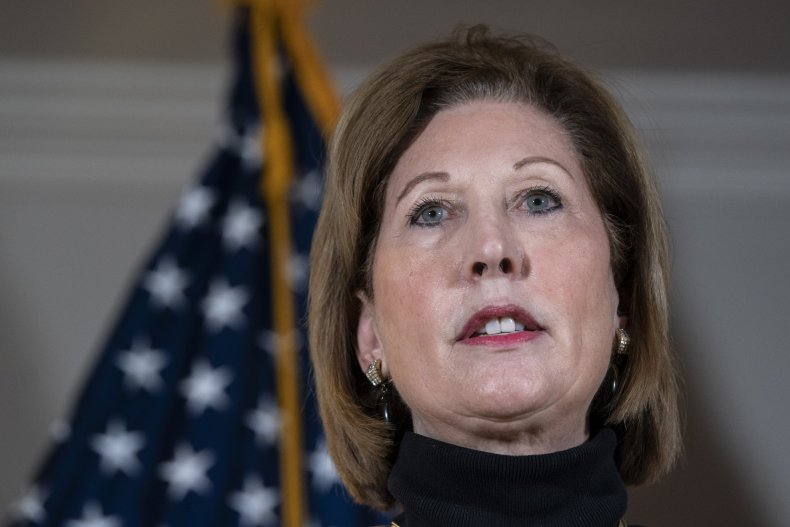 Powell has since faced a defamation lawsuit from the ballot infrastructure company Dominion Voting Systems, after she and other Trump backers accused them of running a sophisticated fraud campaign with help from the socialist regime in Venezuela and election officials in Georgia.
Last month, Powell's attorneys submitted a filing in response arguing that "no reasonable person" would believe that conspiracy theory. The document said Powell's claims about Dominion were only her "opinion" on which the public could reach "their own conclusions."
But after that filing sparked confusion, anger and concern among her devotees online—many of which support the QAnon conspiracy theory—Powell doubled down on her beliefs and promised to continue the fight.
"My position has not changed. We will be taking them to the mat. Sidney," Powell posted on Telegram on March 23.
Powell is now scheduled to speak at an upcoming event organized by QAnon supports on Memorial Day weekend in Dallas, Texas.
Updated 4/10/21,10:33 AM ET, with a comment from Powell.