Ex-Trump Official Calls for Kevin Faulconer to Quit California Recall
The former acting director of national intelligence under former President Donald Trump said Kevin Faulconer should leave the race to unseat sitting California Governor Gavin Newsom so that more votes can go to a "solid conservative."
Faulconer, a Republican and former mayor of San Diego, is one of 46 candidates running in the September 14 California gubernatorial recall election. If more than 50 percent of voters elect to remove Newsom, a Democrat, from office before the official end of his term, the recall candidate who receives the greatest number of votes will replace him.
Faulconer launched his gubernatorial campaign in February. He has been open about his decision to vote for Trump in the 2020 presidential election and is a strong critic of Newsom's. But Richard Grenell, the former U.S. ambassador to Germany whom Trump appointed in early 2020 to become the acting director of national intelligence, suggested Faulconer was not the right person to lead California if Newsom is recalled.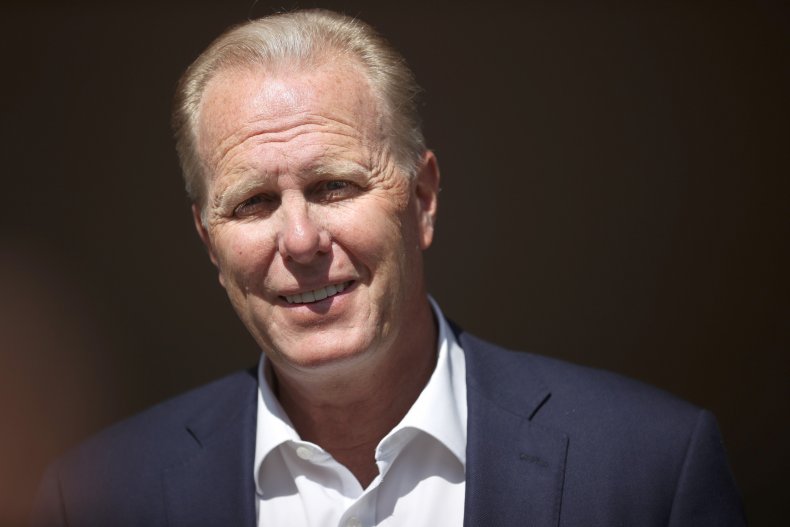 In a statement shared earlier this week with California Globe, Grenell said Faulconer's "vision" for the state "is not a conservative one" and suggested the former mayor may be "unable to embrace the broad type of change we need."
"He's a politician at a time when we need bold solutions," Grenell said. "Kevin Faulconer should drop out of the race, so a solid conservative can garner enough votes to replace Newsom."
Grenell later shared a link to the California Globe article containing his statement on Twitter and reiterated his position with a reference to recent calls Faulconer has made for Larry Elder, another recall candidate, to step down.
"Faulconer called for @larryelder to drop out, and now Grenell calls for @Kevin_Faulconer to drop out," Grenell's tweet said.
Elder, a conservative radio host who announced his gubernatorial campaign last month, has led his fellow Republicans in recent polls surveying voter support of recall candidates. Before Elder jumped into the race, Faulconer was one of the top polling Republicans alongside businessman John Cox. But surveys conducted in recent weeks have shown Faulconer polling below 15 percent, several points behind Elder.
In the last couple of weeks, Elder has come under fire for comments he made in the past about women. Faulconer was one of the first recall candidates to call out Elder's comments. By August 20, Faulconer had called upon Elder to drop out of the recall, as had reality television personality Caitlyn Jenner, who is also listed as a Republican on the recall ballot.
John Burke, the communications director for Faulconer's campaign, said Faulconer is "committed to standing up for California's working women and families" when contacted Tuesday about Grenell's comments.
"He will call out attacks on them whether they come from Republicans or Democrats," Burke said in a statement shared with Newsweek. "This goes beyond party loyalty, Larry Elder's actions and statements show that he is unfit to be Governor. Anyone who would ask voters to overlook that is doing a disservice to the people of our state and to this historic recall movement."
Burke continued: "Mayor Faulconer is the only candidate for Governor with the experience, judgment and vision needed to get our state back on track."