Ex-Trump Official Praises Republicans Facing Former President's Criticism: 'Badge of Honor'
Chris Krebs, a former official during President Donald Trump's administration, praised Republicans who are now receiving backlash from the ex-commander-in-chief, describing it as a "badge of honor" for them.
Krebs served as the director of Cybersecurity and Infrastructure Security Agency (CISA) in Trump's Department of Homeland Security from November 2018 to November 2020. He was fired by Trump after he released a statement asserting that the 2020 presidential election was the "most secure in American history."
Late Saturday, Krebs tweeted his praise of Republicans facing primary challengers —or threats of primary challengers—endorsed by Trump. The former Trump administration official's comments come after the ex-president released a statement backing challengers to 13 Republican lawmakers who voted in favor of President Joe Biden's bipartisan infrastructure bill and/or Trump's second impeachment.
"This is a badge of honor for the listed Republicans. But there should be more. Yet many are glad they're not listed. Others ashamed they're not because didn't step up," Krebs wrote.
The former CISA director has repeatedly pushed back against Trump's false claim that the 2020 election was "rigged" or "stolen," asserting that there is "no evidence" to support the extraordinary allegation.
In Trump's Saturday statement, which was shared by spokesperson Liz Harrington, the former president asked if there was "any interest from good and SMART America First Republican Patriots to run primary campaigns" against GOP lawmakers he opposes.
"You will have my backing!" he promised.
While Trump listed the House Republicans who supported his impeachment, he also included the GOP House members who voted in favor of the bipartisan $1.2 trillion infrastructure bill. He said he'd back primary challengers to GOP Representatives Tom Rice, John Katko, Don Bacon, Don Young, Fred Upton, Andrew Garbarino, Peter Meijer, David McKinley, Nancy Mace, Jaime Herrera Beutler, Chris Smith and Liz Cheney, as well as Republican Senator Lisa Murkowski.
He noted that in several instances, his challenge had already been "accepted" by pro-Trump candidates. The former president also mocked GOP Representatives Adam Kinzinger and Anthony Gonzalez who already said they will not seek reelection in 2022 after facing significant backlash from conservatives.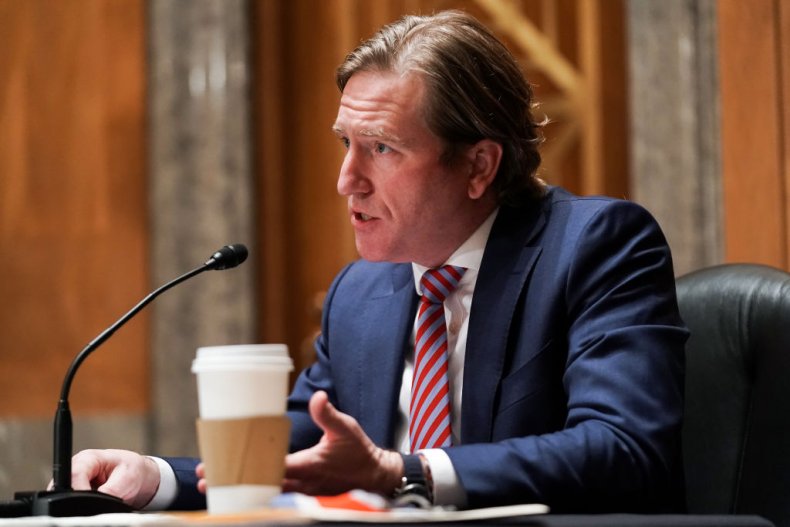 Kinzinger, who has become one of Trump's most frequent critics, knocked the former president's statement.
"Latest dispatch from Worriedville," the GOP congressman tweeted.
Whether Trump's endorsement or opposition will shift the balance in the Republican primaries remains to be seen. But polls have consistently shown that the former president remains widely popular among GOP voters. Survey results published by Morning Consult in October showed that 63 percent of Republicans believe Trump should continue to play a "major role" in their political party going forward.