Ex-Trump Official Pushes GOP 'Moral Primary' After Eric Greitens Accusation
Alyssa Farah Griffin, the White House's director of strategic communications during the Trump administration, called for the Republican Party to have a "moral primary"—where candidates are vetted by their character—after a leading Republican Senate candidate in Missouri was accused of abuse by his ex-wife.
"Eric Greitens should drop out of the race immediately. In fact, he never should have run after his previous, well-documented cases of abuse," Farah Griffin tweeted on Monday. "The GOP needs to start having a 'Moral Primary' where we vet candidates not just on their policy positions, but on their character."
New court records filed on Monday allege that former Missouri Governor Eric Greitens was physically abusive toward his ex-wife, Sheena, and their children, and that he demonstrated such "unstable and coercive behavior" that multiple people allegedly "were worried enough to intervene" in his access to firearms.
Greitens—who has kept a relatively low profile since resigning from governorship in 2018 after being charged with campaign-related offense and facing allegations of sexually assaulted a woman—is the leading Republican candidate in the race to replace Senator Roy Blunt, who has held the seat for more than a decade but is not seeking re-election.
Missouri's primary, which will determine the GOP nominee, is on August 2.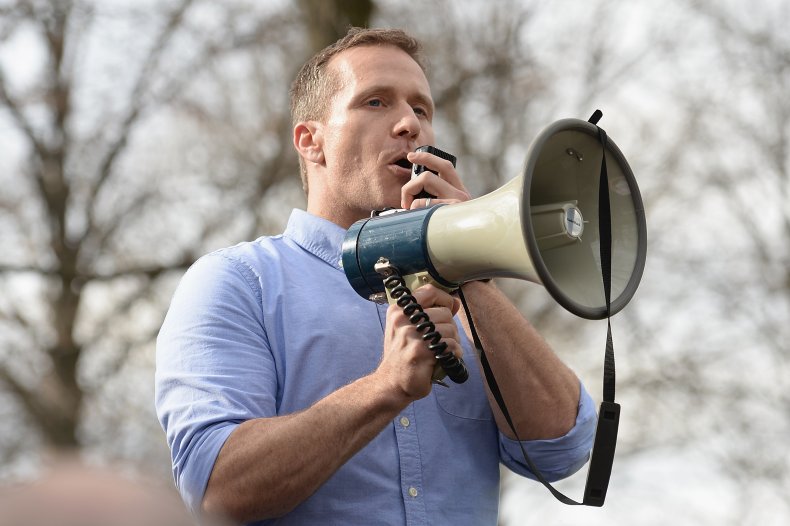 The allegations have jeopardized a relatively safe seat for the GOP, which was not anticipating a real challenge from a Democrat in the Republican stronghold.
Politico reported that while Greitens had been initially reluctant to embrace Donald Trump, he quickly became close with the former president after Trump was elected to the White House and has cast himself as a MAGA candidate in his political comeback.
In the new affidavit, Greitens' ex-wife claimed that threatened to use his political influence and connections to win custody of their children.
"Eric threatened to accuse me of child abuse if I did not delete the emails and convince the therapist to delete them," she wrote in court filings about emails she had sent seeking help about her husband.
She also alleged that Greitens threatened to kill himself, "unless I provided specific public political support" and that he was physically violent to their children, "such as cuffing our then-3-year-old son across the face at the dinner table in front of me and yanking him around by his hair."
"Now that Eric is a candidate for federal office, public interest in my life, my relationship with Eric and the breakdown thereof, and the existence of issues of custody between Eric and me are being re-kindled and brought back into central public discussion," the sworn affidavit reads.
Newsweek reached out to Greitens' campaign for comment but did not hear back before publication.