Ex-Trump Official Sery Kim Rejects Chinese Immigrants, Believes It's OK to Say as a Korean
Ex-Trump official and GOP congressional candidate Sery Kim said she's allowed to say that the U.S. should reject Chinese immigrants because she is Korean.
She told attendees at a political forum on Wednesday that Chinese immigrants should not be allowed to enter the country because they would bring COVID-19 with them—rhetoric that has been condemned by activists combating a surge in racism against Asian Americans.
"I don't want them here at all. They steal our intellectual property, they give us coronavirus, they don't hold themselves accountable," Kim said, according to The Dallas Morning News.
"And quite frankly, I can say that because I'm Korean," she added.
In a statement sent to Newsweek, Kim said, "I am shocked that in an effort to counter Asian-American hate the liberal media is targeting me, an Asian and an immigrant, in an effort to paint me as anti-Asian and anti-immigrant just for speaking against the oppressive Chinese Communist Party."
Kim was born in South Korea and immigrated with her family to the U.S. at a young age. Her family settled in Texas, where she is among 11 Republicans running for the seat left vacant by Representative Ron Wright, who died of complications from COVID-19 in February. She also served served as assistant administrator for the Small Business Administration under former President Donald Trump.
Kim also argued that the rise in violent attacks against Asian Americans have always existed but are only now being covered by the media.
"The biggest difference right now is people are filming it—and the media choosing to report it," she told The Dallas Morning News. "Asians have always faced violence. It's not worse than before."
"I am Asian American, and I have never felt discrimination, because I blame China for the problems they have actually created," Kim said at the forum.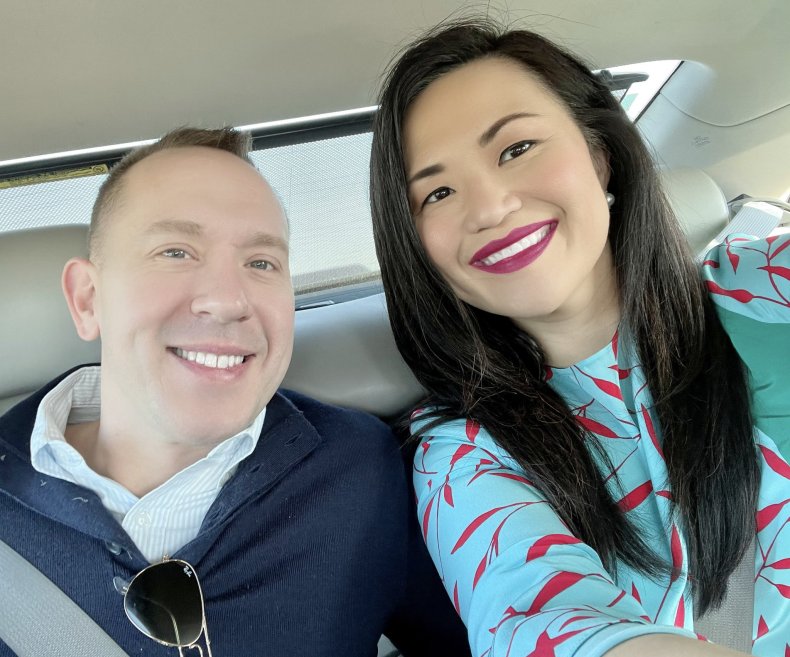 Her comments come amid a wave of attacks and threats against Asian Americans, including last monthly's deadly shooting in Atlanta that left eight dead, six of them Asian women.
A study from the Center for the Study of Hate and Extremism at California State University, San Bernardino reported last month that anti-Asian hate crimes surged 145 percent from 2019 to 2020.
Trump's anti-China rhetoric about the coronavirus pandemic has been linked by some to the rise in violence. Trump repeatedly referred to the virus as the "China virus" and "kung flu," a decision the World Health Organization (WHO) had previously recommended against.
The WHO has advised government and media organizations to refrain from "attach[ing] locations or ethnicity to the disease, this is not a 'Wuhan Virus,' 'Chinese Virus' or 'Asian Virus.'"
"The official name for the disease was deliberately chosen to avoid stigmatization—the 'co' stands for Corona, 'vi' for virus and 'd' for disease, 19 is because the disease emerged in 2019," the WHO said.
Kim's remarks faced blowback from two other Asian-American Republican members of Congress. GOP Representatives Young Kim and Michelle Steel, both from California, had previously endorsed Sery Kim in early March but rescinded their support on Friday.
In a statement shared with Newsweek, the congresswomen wrote: "As the first Korean American Republican women to serve in Congress, we want to empower and lift up fellow members of the AAPI community who want to serve their communities."
"We talked with Sery Kim yesterday about her hurtful and untrue comments about Chinese immigrants, and made clear that her comments were unacceptable. We urged her to apologize and clarify her remarks, especially as hate against the AAPI community is on the rise," the statement read. "However, she has not publicly shown remorse, and her words were contrary to what we stand for. We cannot in good conscience continue to support her candidacy. We will continue to speak out in support of our AAPI community."
Young Kim and Steel had previously condemned Kim's comments but had not retracted their endorsement of the former Trump official.
In a joint statement, the congresswomen told CNN on Thursday: "Sery's comments were unacceptable and hurtful, especially at a time when hate targeting the [Asian Americans and Pacific Islanders] community is on the rise, and we made that clear to her today."
"Chinese Americans, and all Asian Americans, are Americans and are contributing to our communities each day. As we have said, discrimination and violence against Asians and Asian Americans has to stop. Covid does not discriminate, and no American of any race or ethnic group is responsible for spreading the virus," the statement continued.
Sery Kim defended her remarks to CNN on Wednesday, saying her remarks "were directed at the Communist Party of China, and were not directed at Asian Americans, especially Chinese immigrants fleeing this oppressive regime." She said she would not retract her remarks.
Updated 7:34 p.m. ET, 4/2/2021, with comments from Sery Kim.
Update 11:46 a.m. ET, 4/3/202, with comments from Young Kim and Steel.