Ex-U.S. Attorney Under Barr Accuses DOJ and Trump of Engaging in 'Conspiracy in Plain View'
A former U.S. attorney who worked under Attorney General William Barr on Thursday accused the Department of Justice of engaging in a "conspiracy in plain view" with President Donald Trump.
Barr has faced significant criticism over the past few days from Democrats and Trump critics over the DOJ's handling of Roger Stone's criminal case. Hours after four DOJ prosecutors recommended a seven to nine year sentence for the longtime Trump associate, the president railed against their decision in a tweet, calling it "horrible and unfair." Shortly after his remarks, the DOJ publicly announced their intention to back away from the lengthy recommendation and instead seek a lesser sentence.
During an appearance on MSNBC Thursday, former U.S. Attorney Patrick Cotter told host Ali Velshi that the alleged DOJ interference is unlike anything he's ever seen during his time serving the department.
"I will tell you the attorney general is appointed to administer the law fairly and impartially, and that's the line that I see has been rolled over like a tank by the president who has clearly, clearly applied enormous pressure to the DOJ in favor of a personal friend of his. That is simply unacceptable," Cotter said.
When asked Velshi whether it was "typical when you were prosecuting a case for the attorney general to have been involved in the sentencing stage," Cotter replied: "Absolutely not. Absolutely not."
"I worked on some very high profile cases," he continued, "I was part of the team that prosecuted John Gotti, and we never heard from main Justice about our sentencing recommendation or any other part of that case except when we submitted the case and said we wanted to prosecute."
"That's when DOJ had a voice, and they should, but the line attorneys are the ones that know the case, and sentencing recommendations are determined by the sentencing guidelines and the facts of the case," he added. "The attorney general should and traditionally has no role in that process whatsoever."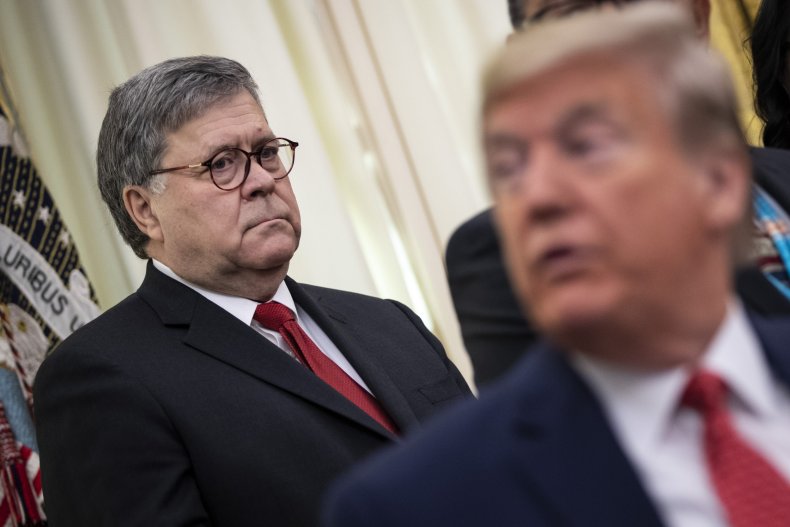 Amid growing backlash, Barr called Trump out for tweeting about DOJ criminal cases and said that the president's remarks online "makes it impossible for me to do my job." In the preview of an interview with ABC's Pierre Thomas airing Thursday, the attorney general also asserted that he makes decisions for the DOJ "based on what I think is the right thing to do."
"And I'm not gonna be bullied or influenced by anybody—whether it's Congress, newspaper editorial boards or the president. I'm gonna do what I think is right," he added.
Cotter disagreed with Barr's remarks. "Bill Barr doesn't have to read the Donald Trump mind, Donald Trump tweets exactly what he wants. And within hours William Barr does it," he said, before accusing the two men of engaging in a "conspiracy in plain view."
Trump on Wednesday insisted that his tweets did not amount to political interference and said that he had not discussed the matter with the DOJ.
The president's remarks came after all four career prosecutors in Stone's case—Jonathan Kravis, Aaron S.J. Zelinsky, Adam Jed and Michael Marando—requested to withdraw from the proceedings after the DOJ's announcement to overturn their recommendation.
Newsweek reached out to the Justice Department and White House for comment.
Ex-U.S. Attorney Under Barr Accuses DOJ and Trump of Engaging in 'Conspiracy in Plain View' | U.S.