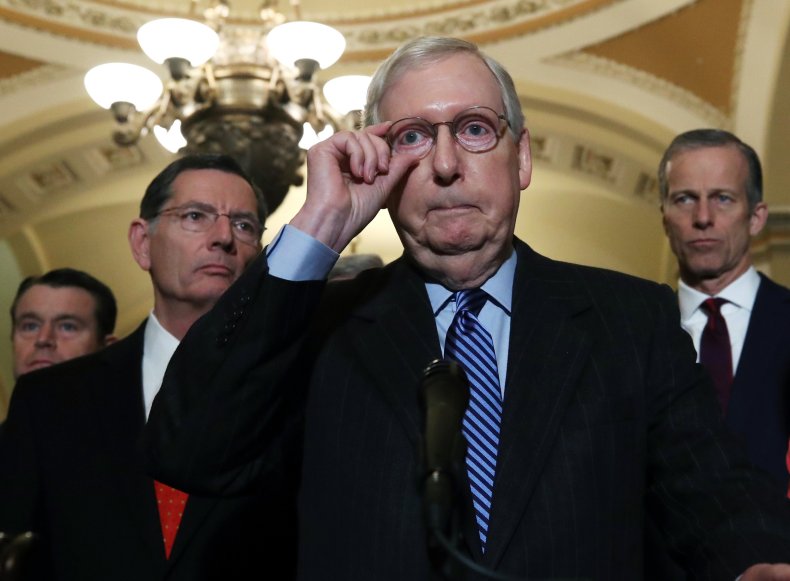 Senate Majority Leader Mitch McConnell was branded a "perjurer" Thursday by former President George W. Bush's ethics chief, after the Republican senator took an oath swearing impartiality in the impeachment trial of President Donald Trump.
McConnell has explicitly indicated he has no intention of being impartial, vowing to work closely with White House counsel and Trump as the trial approached. Richard Painter, Bush's chief ethics lawyer from 2005 to 2007, denounced the senator on Twitter for contradicting himself by taking the oath.
"This man just swore an oath saying the exact opposite. This man is a perjurer," Painter tweeted, accompanied by a December NPR article featuring McConnell vowing to be anything but partial in the trial.
"I'm not an impartial juror. This is a political process. There's not anything judicial about it," McConnell told reporters on December 17, according to the article. "The House made a partisan political decision to impeach. I would anticipate we will have a largely partisan outcome in the Senate. I'm not impartial about this at all."
Newsweek contacted Painter for additional comments but did not receive a response in time for publication.
The text of the oath McConnell took Thursday, which was administered by Supreme Court Chief Justice John Roberts, offers a clear pledge to remain impartial: "I solemnly swear that in all things appertaining to the trial of the impeachment of President Donald J. Trump, now pending, I will do impartial justice according to the Constitution and laws, So help me God."
Painter is a longtime Trump critic and one of several legal experts who have been critical of McConnell's actions and statements regarding the impeachment trial. He voiced his displeasure with the majority leader when he announced he would refuse to be impartial shortly after Trump was impeached in December.
"For Mitch McConnell to say he's working with the White House, coordinating with the defendant in this trial before the trial has even begun is atrocious," said Painter during a CNN panel discussion. "He may think he's a judge impaneling an all-white jury for a Klansman trial in Mississippi in 1965. That's not the kind of trial we have."
"It shouldn't be partisan. It should be about America. Our loyalty is to the United States of America, and senators take an oath to their country," Painter added.
McConnell is one of several Republicans who have indicated that they feel no obligation to remain impartial, due to the partisan and non-judicial nature of the House impeachment proceedings. The Constitution mandates that impeachment trials are the exclusive domain of the Senate.
In the lead up to the trial, senators of both parties have come under fire for publicly announcing their conclusion before the trial begins. Although the specifics remain to be seen, observers largely agree that Trump is unlikely to become the first president to be convicted in an impeachment trial.
Newsweek reached out to McConnell for comment but did not receive a response in time for publication.