A-level students in England are coming together to attempt a legal challenge against the country's exams regulator Ofqual, after a controversial algorithm was used to award results this year led to 39 percent of grades being lowered.
Students from poor and disadvantaged backgrounds were particularly impacted, while those attending private schools were most likely to have grades that remained unchanged.
A total of 35.6 percent of marks were adjusted down by one grade, 3.3 percent were brought down by two, and 0.2 percent came down by three.
Nearly 160,000 people have now signed a petition demanding the government ensure that there is "no marking down" of grades and that more weight is given to teachers' assessments, "as they are better placed than an algorithm to judge us as individuals."
Schools and colleges were shut in a nationwide lockdown imposed by Prime Minister Boris Johnson on March 23 which meant thousands of students were unable to prepare for or sit exams.
Teachers were asked to submit the grades they thought each student would get, had they sat the exams. The results were then adjusted by an algorithm to ensure consistency between different schools, according to the exams regulator Ofqual.
The algorithm took into account factors such as a school's previous results and a pupils' prior attainment.
The petition was organized by student Curtis Parfitt-Ford, who is demanding the government and Ofqual act or face the possibility of going to court.
He tells Newsweek: "My results were really good, they matched exactly what I was predicted, but at the same time I saw that when I was at school to collect my results, many people who had not had that experience, who had huge downgrades from what they were predicted by school and that's resulted in them not being able to go to their university."
The plight of his friends motivated him to contact Foxglove, a not for profit comprised of lawyers, technology experts and communication specialists who hold those who are accused of misusing technology to account.
School leaders in England described a great deal of volatility in exams. According to Ofqual's own data, 85 percent of candidates classed as having a "low" socio-economic status had been predicted to achieve a C and above by their schools.
The figure fell to 74.6 percent once final grades were calculated under this year's algorithm, with thousands of students missing out on their first choice of university as a result.
This is unlike the situation in the U.S., where a number of leading selective colleges and universities, including Harvard, have said that they will no longer require SAT and ACT tests which for years have been sat by students and are used in conjunction with high school grades and letters of recommendation to determine acceptance.
In Scotland, a similar system to England was in place but after results were published and given to students, Scotland's First Minister Nicola Sturgeon said the method focused on the "overall system" rather on individual pupils, apologized and changed how results were calculated.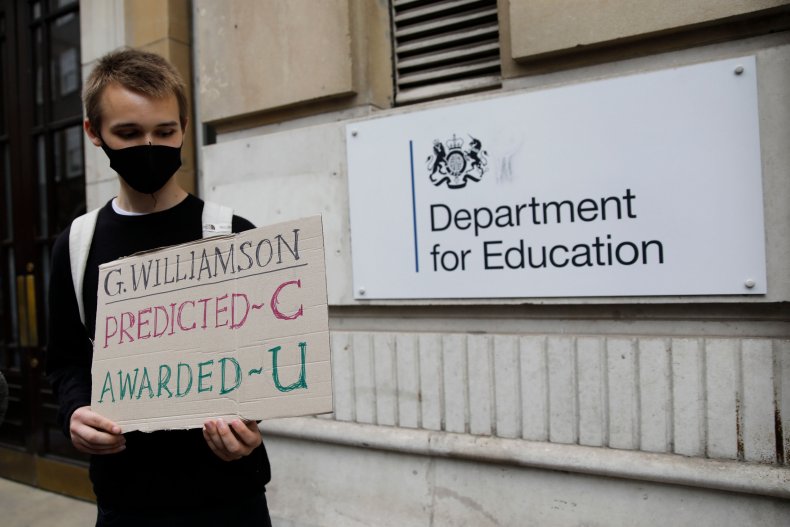 Curtis believes that there are two grounds to launch a legal challenge.
He claims that the manner in which the algorithm used students' data to downgrade them breaches article 21 of the General Data Protection Regulation (GDPR).
GDPR is a regulation in European Union law that applies to the U.K., which protects data and privacy and aims to give individuals control over their personal data.
Article 21 states: "The data subject shall have the right not to be subject to a decision based solely on automated processing, including profiling, which produces legal effects concerning him or her or similarly significantly affects him or her".
Curtis believes that the manner in which the algorithm decided results subjected students to a form of profiling and automated processing that breaches the regulation.
The second challenge rests on Ofqual's remit.
He said: "Ofqual's statutory remit, as defined by law, to make an individual achievement [on one person]. It's not what this algorithm does. It is very much measuring something other than that, it's measuring effectively the grade the school should get rather than the grade the student should get, which is possibly outside the realm of what the organization can do."
He highlighted how one of his friends had been severely marked down by the algorithm.
"Somebody who I have known for my entire school career who got good results at GCSE was predicted good grades, and for who an A-grade prediction was sent off to Ofqual and who opened up his envelope on results day and it turns out Ofqual's algorithm has spat out a C for him.
"He can't explain that, his teachers can't explain that he doesn't deserve that, his teachers don't think he deserves that."
Curtis says that he can't put a timescale on when to launch the legal challenge, which he says has been told by lawyers has a strong case, but hopes the government comes up with changes acceptable to students in the next few days.
"We absolutely hope we won't need to [go to court]," he says.
We hope that the government will see the huge public outcry which is the result of the decisions they made and go actually 'yeah, we own up, we got it wrong this time and we'll change things and make it better'.
"If they don't do that, if they do stick to their guns and refuse to change anything, we are absolutely prepared to take it to court and we believe we have a significant case, a relatively strong case in fact."
He says students and parents are hoping to cover the legal fees using a crowdfunding campaign.
An Ofqual spokesperson said they believed the arrangements to be fair.
They said: "The arrangements we put in place this summer are the fairest possible to facilitate students progressing on to further study or employment as planned.
"We have been transparent about the principles of our standardization model since April, and the data it would make use of. The precise detail of the model has been published today.
"Schools and colleges can appeal if they believe there has been an error or that the moderation process has not produced a reliable result. Students will also be able to take an exam in the autumn, if they would like an opportunity to improve their grade."
British Education Secretary Gavin Williamson said the government had put in place a triple lock process, meaning students will be able to accept their calculated grade, appeal on the basis of a valid mock result or sit an exam in the autumn.
He said: "Hundreds of thousands of students have received a calculated grade today that will see them progress to the next stage of their education or into work with a record number of 18-year-olds in England securing a place at their first-choice university.
"This year, we've seen an increase of 2.5 percentage points in A* and A grades and more than 96 percent of grades are either the same as the one submitted by schools or colleges or within one grade. Standardization ensures grades are fair for students - without it, we would see results that were substantially inflated, significantly undermining their value.
"I know there are some really difficult cases, and we have already put support in place to help those students, including an enhanced appeal process."