Excedrin Recalls 433,000 Bottles for Child Safety Problems, but Not Because of the Cap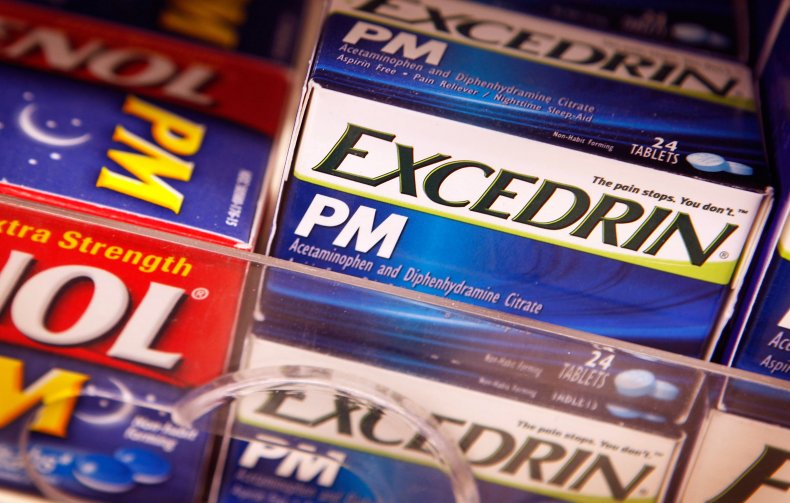 Excedrin maker GlaxoSmithKline has recalled five different varieties of the common headache medication due to holes in packaging that could pose a potential poisoning risk to children.
Approximately 433,600 bottles sold under the names Excedrin Extra Strength Caplets, Excedrin Tension Headache Caplets, Excedrin Migraine Caplets, Excedrin Migraine Geltabs and Excedrin PM Headache Caplets are involved in the recall, which was announced Wednesday.
"Some of the bottles containing the over-the-counter drug can have a hole in the bottom," a recall notice from the U.S. Consumer Product Safety Commission explains. "If there is a hole, children could access and swallow the contents, posing a risk of poisoning. These products contain the substances aspirin and acetaminophen which must be in child resistant packaging as required by the Poison Prevention Packaging Act (PPPA)."
The recalled medications, in child-resistant bottles containing between 50 and 300 pills each, were sold at stores across the country and online between March 2018 and September 2020. GlaxoSmithKline issued a notification to stop sales of all five products on October 7 over concerns about the packaging. Excedrin Extra Strength Caplets and Excedrin Migraine Geltabs in bottles containing 24 pills each were not affected.
No injuries or incidents related to the recalled products have been reported. Despite the bottles potentially having holes, the recall does not indicate that the pills within pose any other kind of health risk. Excedrin is sold in cardboard boxes that contain the bottles, likely limiting the possibility that the exposed bottles could easily be tampered with.
GlaxoSmithKline says that the recall is not a "consumer level recall," while noting that not all 433,600 of the potentially affected bottles are likely to have holes. However, the company has asked consumers to check for products with the possibly defective packaging and contact them for a refund.
"While the likelihood there are bottles on the market with holes is low, we are asking anyone who has purchased large-sized Excedrin (50 count and above) to check their Excedrin products and if there is a visible issue, contact GSK Consumer Relations at 1-800-468-7746 for a full refund," a statement obtained by Newsweek, which also appears on the Excedrin website reads. "If your Excedrin bottle is not damaged, the product is safe to use as directed on the label."
"We take product safety very seriously at GSK and while we have not received any complaints or safety concerns to date on this potential problem, we are still letting consumers know so they can check their Excedrin bottles themselves," it continues. "We sincerely apologize for any inconvenience, and please be assured we are working closely with the bottle manufacturer to fix this problem as quickly as we can."
Although the PPPA regulation requiring child-resistant caps is aimed at preventing poisoning in children, ingredients in many common pain relief products can also pose serious health risks to adults who take more than the recommended dose.
One ingredient in particular, acetaminophen, often known in the U.S. under the popular brand name Tylenol, can cause liver damage when exceeding the recommended dosage by an even relatively modest amount. Acetaminophen poisoning is the most common cause of acute liver failure in the U.S. and the second most common cause of liver failure requiring a liver transplant.
Newsweek reached out to GlaxoSmithKline for comment.