Excelsior Pass App Frustrates New Yorkers as NYC Announces New Vaccine Proof Requirements
New York City Mayor Bill de Blasio announced on Tuesday the city will soon require proof of vaccination against COVID-19 for many indoor activities, such as dining, exercising in gyms and attending performances.
Vaccinated residents not wanting to carry around their paper card record will be forced (for now at least) to rely on the Excelsior Pass Wallet, an app which has proved glitchy for some and completely unusable by others, or a new city-exclusive app.
As of now, Excelsior Pass Wallet remains the better-known of the apps, as well as the one which receives the most complaints. Also, there's the issue that it may leak private information.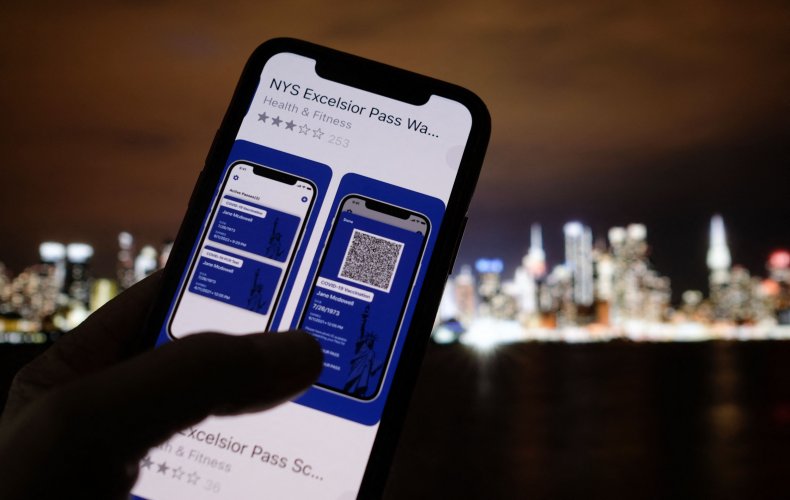 The statewide Excelsior Pass allows residents to sign up for digital proof of their vaccine status and gives a scannable QR code to use where applicable. The QR code and Pass can be saved digitally on smartphones with the Excelsior Pass Wallet app, which is free from the Apple App Store and Google Play Store.
However, not everyone can download the app. An operating system of iOS 13 or higher is required for the Excelsior Pass Wallet, which means anyone using anything older than an iPhone 6's will not be able to access the app.
Residents with an iPhone 6 or older won't be able to turn to New York City's own NYC COVID SAFE vaccine-verification app that debuted on July 29. That app also only works for iOS 13 or higher.
The Excelsior Pass was introduced in New York not long after the COVID-19 vaccinations became available, and complaints about it not working for some people—even those with newer phones—immediately emerged.
Many complained about a delay on the app registering their vaccine proof, while others had incorrect information imported into the app. Clerical errors for mistakes as common as information for another person with an identical name were cited, as well as technical glitches.
Recent negative reviews on the Apple App Store and Google Play Store for the app are still plentiful, and social media users were quick to point out the issues with Excelsior Pass following de Blasio's Tuesday announcement.
Michael Gold, a metro reporter for The New York Times, voiced an oft-cited complaint on Twitter: New York residents vaccinated in another state can't transfer their information into the Excelsior Pass program.
The website for Excelsior Pass explains there is a somewhat complicated way of accessing the Pass for those with out-of-state vaccines. It states that if you received your vaccine from elsewhere, you "can contact your NYS healthcare provider directly to input your vaccine information into the secure New York State and New York City immunization databases—so long as your healthcare provider is administering the COVID-19 vaccine. Once your provider has confirmed that your information has been entered, you should be able to retrieve your Pass."
But a bigger issue for many may be securing their private information. In early July, MIT Technology Review did an extensive report of the Excelsior Pass Wallet and uncovered some potential privacy issues. First, a user must provide personal information to get the QR code, including their name, date of birth, zip code and phone number.
While the New York State website claims the data is safe with the Pass, MIT Technology Review pointed out that businesses use a separate app to scan the QR code, which could then track a Excelsior Pass user's location.
For New Yorkers hesitant about using an app, or not wanting to risk losing their original paper vaccine record, they also have the option of getting an Excelsior Pass QR code assigned to them, which they can then print.