Excerpt From 'The Autobiography of Mark Twain'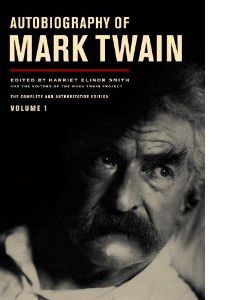 About once a year some pious public library banishes Huck Finn from its children's department, and on the same plea always—that Huck, the neglected and untaught son of a town drunkard, is given to lying, when in difficulty and hard pressed, and is therefore a bad example for young people, and a damager of their morals.
Two or three years ago I was near by when one of these banishments was decreed and advertised, and I went over and asked the librarian about it, and he said yes, Huck was banished for lying. I asked,
"Is there nothing else against him?"
"No, I think not."
"Do you banish all books that are likely to defile young morals, or do you stop with Huck?"
"We do not discriminate; we banish all that are hurtful to young morals."
I picked up a book, and said—
"I see several copies of this book lying around. Are the young forbidden to read it?"
"The Bible? Of course not."
"Why not?"
"That is a strange question to ask."
"Very well, then I withdraw it. Are you acquainted with the passages in Huck which are held to be objectionable?"
He said he was; and at my request he took pen and paper and proceeded to write them down for me. Meantime I stepped to a desk and wrote down some extracts from the Bible. I showed them to him and said I would take it as a favor if he would attach his extracts to mine and post them on the wall, so that the people could examine them and see which of the two sets they would prefer to have their young boys and girls read.
He replied coldly that he was willing to post the extracts which he had made, but not those which I had made.
"Why?"
He replied—still coldly—that he did not wish to discuss the matter. I asked if he had some boys and girls in his family, and he said he had. I asked—
"Do you ever read to them these extracts which I have made?"
"Of course not!"
"You don't need to. They read them to themselves, clandestinely. All Protestant children of both sexes do it, and have been doing it for several centuries. You did it yourself when you were a boy. Isn't it so?"
He hesitated, then said no. I said—
"You have lied, and you know it. I think you have been reading Huck Finn, yourself, and damaging your morals."
From "Huck Finn—Banned Book" by Mark Twain, © 2001 by the Mark Twain Foundation. All rights reserved. Transcription, reconstruction, and emendation © 2010 by the Regents of the University of California. Reprinted by permission of University of California Press on behalf of the Mark Twain Foundation.