Excerpts From Our David Duchovny 'Aquarius' Interview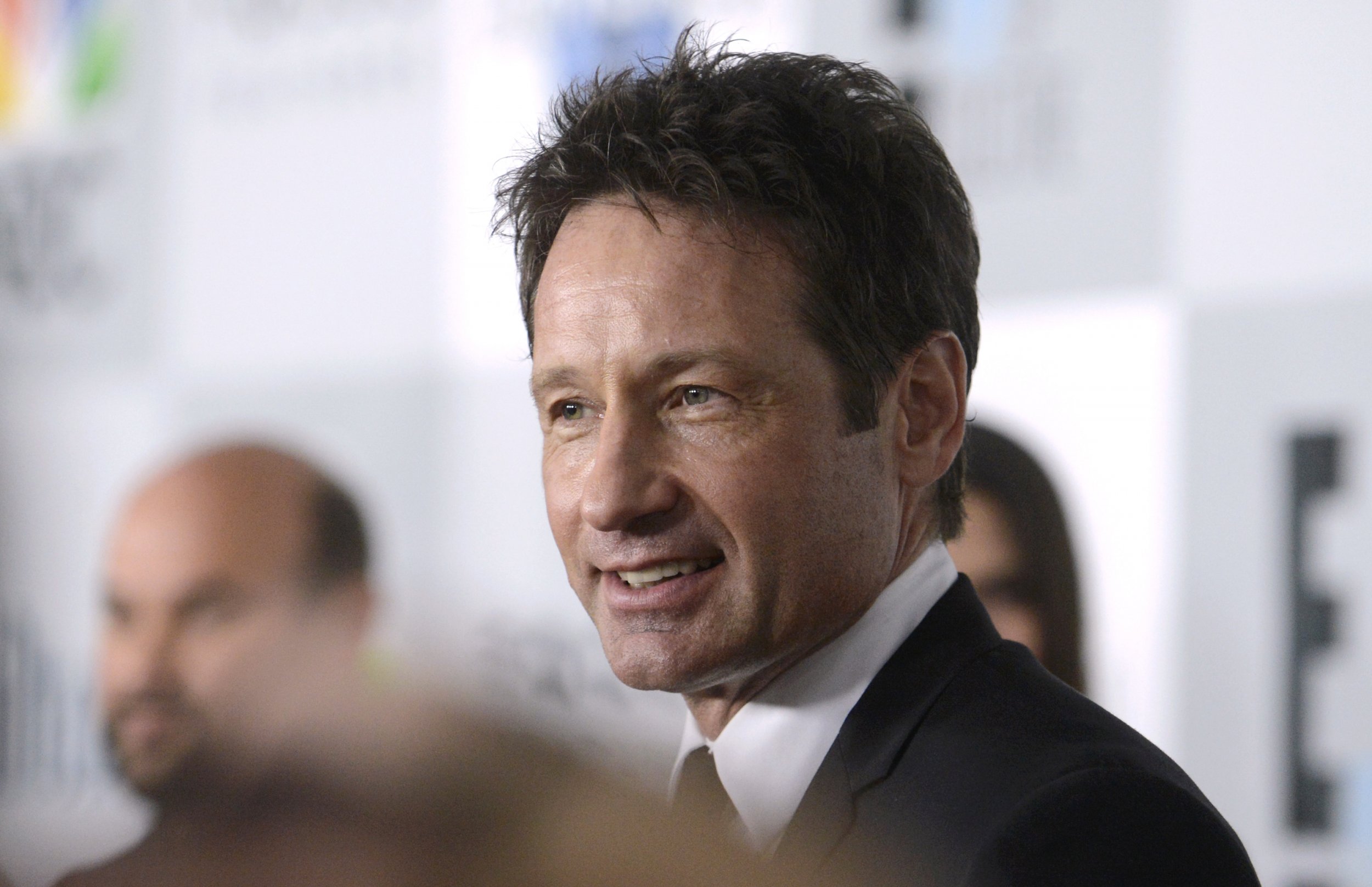 Actor David Duchovny has either sleuthed out the answer to 'round-the-clock productivity or has found a way to clone himself. How else could one human lead the reboot of one of the most successful cult television shows of all time (The X-Files), write a satirical novel about pop-culture-spurting cows, record a rock album, and produce/star in a new drama, NBC's Aquarius, all in the same year?
This level of productivity would be spooky even for Fox Mulder. "I had a creative period about a year ago in which I was feeling productive," he says. "It seems like I'm really busy right now, but it's all these things I started about a year and a half ago coming to fruition." As for today? "I'm a lazy piece of shit," he says, drawing the last word out a bit over the phone.
It's mid-April, and Duchovny is calling from California. He's doing the first round of press interviews leading up to the premiere of Aquarius, the period piece drama from NBC that had its premiere on Thursday. The series, which begins in 1967, analyzes cultural shifts during this storied time through the kaleidoscopic lens focusing on infamous cult-leader-turned-killer Charles Manson. Duchovny, who shares production credits and acts as a lead in the new series as LAPD Sgt. Sam Hodiak, chatted with Newsweek about his many of projects, the lore of Charles Manson, gardening and other oddities.
On his history with Charles Manson:
We dated in college, he wanted a commitment and I wasn't ready to commit…. No, like many boys [back then] I was into crime. I remember being into the '20s and '30s, [John] Dillinger and all that stuff. And then Manson was one of those crime of the century guys, later on O.J. Simpson. But to a kid—which is what I was—he was the devil. The boogeyman. And that's how he was sold to the American public. And kids think, Oh my god. The devil? That's kind of cool. Scary cool.
On serial killers:
Charles Manson was the first guy out there in the papers killing for no reason. He wasn't like HH Holmes, who was killing because he's a crazy person. Manson doesn't even have a good reason! Holmes can't help himself. Manson is just...I don't know. He had a bad day. Makes no sense.
On his Aquarius character, Sam Hodiak:
[Hodiak] is not a sympathetic observer of the '60s. He's a guy who's not down with peace, love and Black Power. He's from a different age; he's a dinosaur. So I thought, OK, it'll be interesting to tell the story through this guy's eyes. It's not the thing where bell bottoms are cool to him. He's got a flat top and he's wearing highwaters. We're going to watch the '60s through this guy's eyes, and his world is kind of going to get lost. He's on the losing end of history. He's fighting for his world. He's already gone and he doesn't know it.
On acting and producing Aquarius simultaneously:
If I'm acting and producing, I take it as my responsibility to make the set a place where actors can do their best work. I'm going to make sure that everybody that comes on the set is going to feel as free and uninhibited and as respected and as professional as possible, and demand that so these actors come in and have a great place to do whatever work they need to do. That is, if you like the kind of set I like! I said to the other producers, don't come on set and look at your watch. It's going to get done, we know what we're doing. Go look at your watch somewhere else.
On the upcoming X-Files reboot:
In the beginning it's going to be weird, you know? Gillian and I are going to be on set as Mulder and Scully, and I'm sure after the first take we're going to go, What the fuck are we doing? And then we'll get it. And it's going to be like practicing a song. Assuming we'll find the song.
On the value of being clueless:
I have no clue [how I'm going to get back into Mulder's idealism]! That's kind of the fun part, not having a clue. If I had a clue I'd probably be bored and do a crappy job. Not having a clue will make me nervous and do my work hard. It'll all be fine.
On Charles Manson's failed music career:
I think maybe I've listened to [Manson's music]? Axl Rose did a cover of it? The Beach Boys did one of his songs, then didn't give him credit, which kind of pissed him off. He did the song, changed it, then they didn't give him credit for it. I haven't really listened to much of Manson's music though. Is it good?
On gardening:
Look at the earth. If you know anything about planting, which I don't know much about, you have to let the land lie fallow. You can't just harvest a crop every year. We are of the earth, there's no reason to think we're not like soil, so I'm sure we have to have fallow periods where we regenerate.
On literature:
I can't even think what I've been reading lately. Damn it! Makes me seem like I don't read. I was writing [Holy Cow!] the last couple of months, and I don't tend to read when I do that. I tend to rip off whoever I'm reading when I do that.