Exclusive: Amber Rose on Breaking the Taboo Around Sex Toys, Slut-Shaming and the Troubles of #MeToo
Over the last five years, Amber Rose has transformed from maligned video vixen and former stripper to an empowered activist for the social media age.
In 2015, Rose, tired of being criticized and demeaned for her sexual proclivities, launched the SlutWalk—a Los Angeles march fighting back against gender inequality, sexual violence and slut-shaming. SlutWalk, so named because of the model and activist's determination to reclaim the word "slut" from those who use it to denigrate her, is now an annual event. In 2017, 20,000 marched with Rose through the streets of LA.
For Rose, her transition to doyenne of millennial women's empowerment is an unlikely progression. But the 34-year-old star has been speaking out about gender equality and women's rights for years, long before the #MeToo movement and Time's Up campaign, backed by Hollywood's elite, sought to rebalance the gender paradigm in the entertainment industry.
Rose tells Newsweek she's frustrated that it has taken the likes of Harvey Weinstein's famous, rich accusers to bring the conversation about sexual misconduct to a national—and global—platform. "It's not the rich white women I'm mad at, because they deserve to get justice as well. But the mainstream media doesn't give a fuck enough when it's poor minorities," says Rose.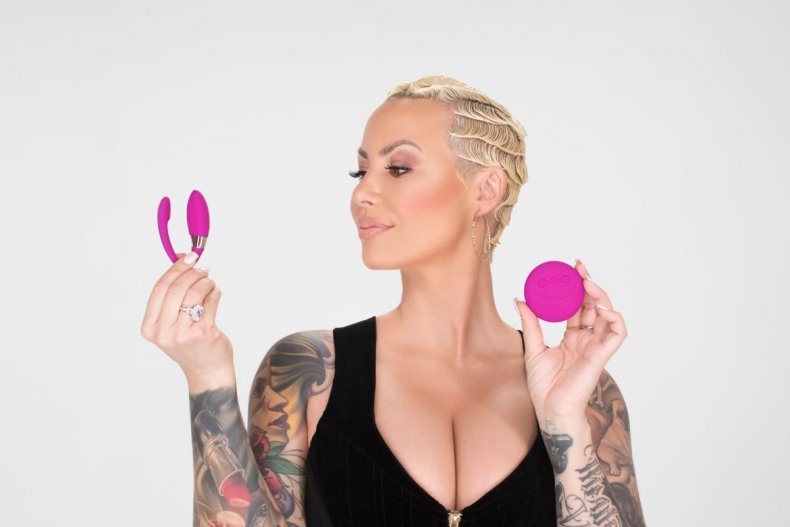 While the fight for gender parity continues, Rose is also on another mission: To break the taboo about sex toys. Rose has teamed up with Swedish sex toy manufacturer LELO to curate a line of toys that she feels women and men can enjoy—and says they shouldn't be afraid to vocalize their pleasure.
Rose speaks to Newsweek about her LELO line and addresses the troubles with #MeToo:
Where in the world do you think is most open about sex?
I don't travel as much as I used to before I had my son [Sebastian, aged five], and I wasn't as sexually liberated as before that. I would have to circle back and think about all the different countries I've been to and figure that out. I would say Europe in general is more free.
Do you think Americans are prudish or shy about sex?
I don't think Americans are shy. I think they're just judgmental. I think a lot of people use sex toys, they just don't want to admit it because they think people will frown upon it. But I think people actually do use them. I'm here to make people feel more comfortable with sex toys and masturbation, because it is the safest sex in the world.
What advice would you share with other women about embracing sex toys?
It's OK if you don't want to announce that you use sex toys. It's OK if you don't want to put it on Instagram, but don't judge the next person if they're more vocal than you are.
We seem to live in a culture where people are quick to criticize over a racy Instagram photo, for example. Do you think it'll be a challenge to even begin a conversation about sex toys?
Look, I feel like a lot of people will be judgmental and go to the sex shop and buy the toys, but talk shit about the next person. But as humans we are sexual beings. It feels good, unless you're asexual. If you're a sexual person, you want to have an orgasm, you want to feel good, and there's nothing disgusting, raunchy or slutty ... there's nothing wrong with it. I think people put a stigma on sex toys, especially for women, that we're nasty girls. But penetration for us, most of the time, doesn't do the job. And we need a little extra help. There's nothing wrong with that.
Do you think part of the issue is women being judgmental of other women?
Yeah. I would say that, for sure. But I would also say it's not their fault for being judgmental. I feel like society taught all of us to be judgmental—from how we grew up, from our parents, from our grandparents. They lived in a different time. They taught us to be judgmental. But it's up to us as we grow older and as we grow to be better people and be less judgmental.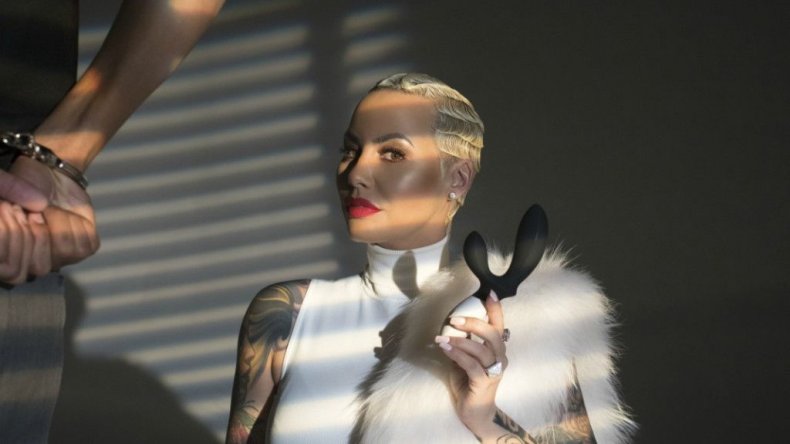 How many sex toys are in your bedside table?
I definitely have my whole line. I'd say six, at least.
How did your collaboration with LELO come about?
LELO already had these toys available. I became obsessed with LELO's toys. I wanted to have my own selection of toys so I picked out my favorites. Hopefully, moving forward, I'll be able to design my own.
Which of the toys in your LELO collection is your favorite?
I can't just pick one. I'd say they are all my favorite. I love them all equally. When it comes to sex toys, you have to dive right in and it depends what you want. If you want penetration and clitoral stimulation at the same time, we have a couple of [toys] for those. We have the Gigi, which is supposed to hit the G-spot. The Ora makes you feel like you're stimulating oral sex. It depends what you're into.
I want to talk to you about the SlutWalk and the way you've really become a modern-day activist for women, sexual discrimination and gender equality. It's a fascinating evolution...
I never really wanted to be famous. It just happened for me. When it happened, people were making their own assumptions of me because they assumed they knew my sexual history, they assumed they knew my past because I was a stripper. They assumed a lot of things without knowing anything about me. When I constantly got slut-shamed, it was very difficult in the beginning. But then I was like, one, I'm getting slut-shamed for a lot of things I've never done, and, two, I'm not going to give you the satisfaction of saying I never did it—I'm just going to embrace it to piss you off and it's going to make me feel better. When people were like, "You're such a whore," I'm like, "Yeah, I am. So?" It really helped me get through those times. In the beginning I'd be like, "No, I didn't date that guy." And I was like, why am I explaining myself to stupid people that are bullying me? That's why I reclaimed the word "slut" and I refer to myself as a slut. I really like to piss slut-shamers off. It makes me happy.
Also, it gives a lot of my fans, and the girls that follow me, confidence to do the same thing and not let that get you down.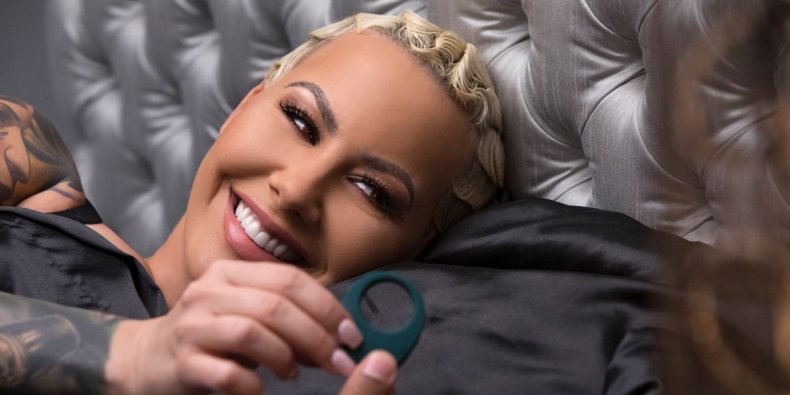 You have been speaking about issues of sexual discrimination for some time now. How did you feel when the whole #MeToo movement bloomed late last year?
An article just came out and it said that I slammed #MeToo and I'm against it. I'm totally not against the #MeToo movement at all. I personally said that I feel like the mainstream media won't pick it up unless really rich white people talk about it. I think it's unfortunate. All the minorities, [people in] poverty, strippers, sex workers, college kids ... this has been going on for so long. Not that it doesn't happen to rich white women at all. Every person that ever came out against Harvey Weinstein and others, I believe them 100 percent. But it's just frustrating that I've been screaming this from the rooftops. And I have way more followers than any of those other women. I've been screaming about this for four years now and no one wanted to listen, except the women that came to my SlutWalk. It's not about who's getting recognition for what. I could care less. I want justice for people. That's all I want. It's just unfortunate that it always takes ... even when a black kid is missing versus a white kid that's missing. People just don't give a fuck enough to make it mainstream. The mainstream news isn't going to pick it up.
Do you feel like you've been done an injustice that you weren't taken seriously when you first raised these issues and it has taken #MeToo to make this global issue?
No. I don't feel like that at all. I don't want people to think I'm blaming these women, because I'm not. It's not their fault. It's media, it's news, it's what people want to talk about. It's almost as if we don't matter. We get treated as social misfits—not just minorities. Gay people get raped all the time, victimized all the time, and nobody really talks about that. It's not the rich white women I'm mad at, because they deserve to get justice as well. But the mainstream media doesn't give a fuck enough when it's poor minorities.
I know that I get a lot of shit because I bring it up and it's uncomfortable but somebody has to talk about it. Or we'll all going to sit there and act like it isn't going on. If no one else is going to talk about it, then I will.
Amber Rose's collaboration with LELO is available now