Exclusive: Anti-Taliban Resistance Seeks Power-Sharing Deal to Limit Sharia Law in Afghanistan
The brother of a famed slain Afghan militia leader whose son now leads a coalition of militias resisting the Taliban takeover of Afghanistan is calling for a power-sharing agreement that would limit the spread of the group's interpretation of Islamic Sharia law across the country.
The Taliban's rapid takeover of a nation it lost to a U.S.-led intervention two decades ago has shocked the international community. But amid the ongoing U.S. evacuations and the collapse of the Afghan government, one province has refused to give in and raise the flag of the Islamic Emirate.
And while the Taliban, officially the Islamic Emirate of Afghanistan, has sent hundreds of fighters to surround this last bastion of resistance, it is seeking to talk rather than risk a new war erupting.
In Panjshir, a naturally fortified valley in north-central Afghanistan, Ahmad Massoud has taken after his famed father, Ahmad Shah Massoud, in leading an anti-Taliban resistance. The elder, late Massoud was dubbed "the lion of Panjshir" in his time for defending the province not only from the Taliban during its last takeover 25 years ago, but the Soviet Union as well throughout a decade-long war that ended in 1989.
Now, his brother, the uncle of Ahmad Massoud, has shared with Newsweek Panjshir's hopes for an arrangement with the Taliban that would decentralize its governance.
"Panjshir has always been the symbol of the resistance," Ahmad Wali Massoud, who once served as Afghanistan's ambassador to the United Kingdom and today sits as chairman of his family's Massoud Foundation, told Newsweek, "during the resistance against the Russian invasion, and also during the resistance against terrorism, Taliban."
"But right, now at this moment," he added, "everybody, including in Panjshir, we are all trying to see whether we can reach a peace deal based on power-sharing."
He argued such a deal would show respect not only for the Taliban but for other factions as well.
"We hope that we can go for a decentralized system so different people like Taliban or non-Taliban can live with their own values wherever they want to live," Ahmad Wali Massoud said, "and they should not kind of impose their own values on some others."
He said all the people of Afghanistan should be able to live they way they choose.
"For example, if the Taliban wants to have a Sharia law, their own interpretation of Sharia, they can do so where people are accepting them," Ahmad Wali Massoud said. "But they should not impose it in cities like Kabul. Or if Kabul has something like democracy, election, human rights, women's rights, media freedom, then they should not impose on the Taliban either."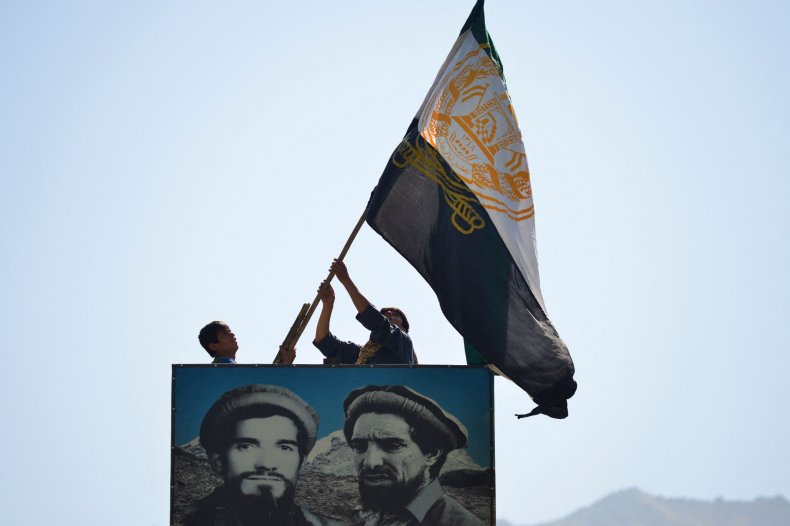 Ahmad Wali Massoud outlined what such a system would have to look like in Afghanistan, a diverse nation host to an array of dozens of ethnic groups, the top four of which are Pashtuns, Tajiks, Hazaras and Uzbeks.
"The structure of the power should be as such, and in a decentralized way, that every ethnicity can reach an inclusive government so that it could represent all the ethnicities of Afghanistan," Ahmad Wali Massoud said.
"If sort of power-sharing is reached, in principle based on the ethnicity as well as decentralization of the structure of the power," he added, "then, of course, that is the key for the peace in Afghanistan, there is no doubt about this one."
While the Western world has tended to look at Afghanistan in the prism of religious versus secular rule, most of the country's rulers from first President Mohammed Daoud Khan to former President Hamid Karzai and the recently fled President Ashraf Ghani have been Pashtuns. The Taliban is also a predominantly Pashtun group.
Ahmad Wali Massoud, who is of Tajik descent, argued that one of the main reasons no robust political system developed despite two decades of U.S.-led military presence was that Karzai and Ghani largely "took the power for themselves" and only distributed posts to other ethnicities for political purposes.
"And each time when they wanted to take it back, they took it back," Ahmad Wali Massoud said.
While Ghani's political future remains in question since his sudden escape as the Taliban entered Kabul, largely peacefully, last week, Karzai, who served from after the 2001 U.S. intervention through 2014, continues to play an influential role in the country. Now, he's joined others such as Abdullah Abdullah, former Chief Executive Officer for Afghanistan and head of the High Council for National Reconciliation, and Islamic Party chief Gulbuddin Hekmatyar in an attempt to discuss peace with the Taliban.
These talks have played out in the Qatari capital of Doha, the same place where former President Donald Trump's administration and the Taliban signed the February 2020 peace accord that ultimately facilitated the withdrawal of U.S. forces from Afghanistan.
Ahmad Wali Massoud felt the Doha conference hosting Afghan parties searching for a political solution was "almost finished" as a result of the Afghan government's collapse, though he said, "probably some people may try still to see if they can find a way for peace."
"The reality is one side is Taliban and the other side is the leaders who have been anti-Taliban," Ahmad Wali Massoud said, "so they are the two main forces which really reach an agreement."
Speaking to his personal views and not those of his institution, Massoud Foundation Australia President Bilal Waheed said he felt that the Taliban was "not interested in negotiation."
"The current process in Kabul looks more like a transfer of power than negotiating," Waheed said. "At this point, it seems that the Taliban may not consider power-sharing with any groups."
But he, like Ahmad Wali Massoud, too expressed hope that Afghan factions come "come to a political settlement where it is inclusive and the governing system is decentralized."
"Otherwise," he added, "Panjshir might refuse to buckle to the Taliban and another resistance will be formed similar to the mid-90s."
Will Semmes, who sits on the board of the Massoud Foundation's branch in the United States, expressed hope that non-Taliban Afghan leaders such as Abdullah "will be able to negotiate some autonomy for the Panjshir along with rights for the women of Afghanistan."
"Dr. Abdullah remained in Kabul, despite President Ghani's cowardly flight," Semmes told Newsweek, adding that the president left "with carloads of cash of course" in a "despicable" fashion.
But Semmes also noted that "trust in the Taliban is low" and expected both Pakistan, a traditional supporter of the Taliban, and its strategic partner, China, to play leading roles in how the new government is formed.
And meanwhile, on the ground, tensions continue to mount as the Taliban reinforced the areas surrounding the Panjshir valley, and the resistance there appealed for international support.
"Our sponsor, Ahmad Massoud, son of Ahmad Shah Massoud, has regrouped in Afghanistan's strategic Panjshir Valley, where he aims to defend the province from the Taliban," Semmes said.
The younger Massoud has joined forces with Ghani's former deputy, Afghan Vice President Amrullah Saleh, who has declared himself the rightful president of the country given his former boss' flight to the United Arab Emirates. Saleh, who is also a member of Afghanistan's Tajik community, is relying on the Massoud family's clout in the province to keep the Taliban away.
"Considering Ahmad's focus on the Panjshir, we would naturally encourage a resistance to Taliban rule. The Northern Alliance survived from 1996-2001 and can do so again," Semmes added. "So we are campaigning for an airlift of medical supplies and food to the Valley, much like American pilots bravely sustained Berlin in 1948."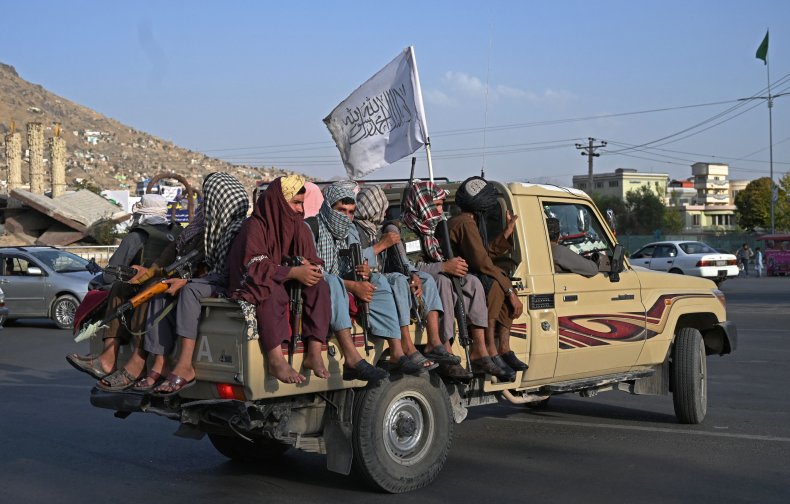 But during the days of the Northern Alliance, it was not the U.S., but a grouping of regional countries including India, Iran, Russia, Tajikistan, Turkey and Uzbekistan that sustained support for embattled anti-Taliban forces. It wasn't until 9/11 that the U.S. entered in full force, turning the tables of the conflict.
While reports have emerged in Russian media of covert Tajik support for the Panjshir valley, Moscow itself has pledged non-intervention and discussed this stance in the context of its Collective Security Treaty Organization allies as well, which include Armenia, Belarus, Kazakhstan, Kyrgyzstan and Tajikistan.
Iran has also pushed instead for a diplomatic solution, offering to host additional rounds of talks among the rival factions in Afghanistan, while China is already seeking new opportunities to provide assistance to Afghanistan once the situation stabilizes.
And, while no country has yet recognized the group's rule over Afghanistan, nations have not precluded such a decision, either.
Among the assurances countries, including the U.S., are seeking from the Taliban is that it not host transnational militant groups such as Al-Qaeda, the Islamic State (ISIS) and other forces pushing separatist goals in Central Asia.
The Taliban has vowed to live up to this commitment, and, at the same time, warned against any external interference in Afghanistan.
"Our policy is that we will not allow anyone to threaten the security of others from our soil, and neither will we allow others to interfere in our own internal affairs," Abdul Qahar Balkhi, a member of the Taliban's Cultural Commission, told Newsweek.
When it came to the situation in Panjshir, Balkhi said he hoped this too could be solved through diplomacy rather than yet another conflict in a country already distraught after four decades of war.
"We hope to resolve the minor issue of Panjshir through dialogue and hope there will not be any need to use force," Abdul Qahar Balkhi, a member of the Taliban's Cultural Commission, told Newsweek. "Our communication channels remain open with all parties."