Exclusive: Biden Ready to Make Deal with Taliban for Last U.S. Hostage, But Needs Proof of Life
President Joe Biden's administration is prepared to pardon an influential Afghan tribal leader, who has been sitting in a U.S. federal prison for 16 years, in exchange for the last American hostage abducted last year in Afghanistan.
But Washington is insisting that the Taliban first provide proof of life for the U.S. hostage, a U.S. government official told Newsweek.
Bashir Noorzai, a top figure in the Pashtun tribe that shares his surname, the same tribe to which elusive Taliban Supreme Commander Hibatullah Akhundzada belongs, was arrested in New York City on drug trafficking charges in April 2005 during a trip in which he sought to advance diplomacy as the U.S.-led war in his home country grew even more violent. Today, he's serving a life sentence at a federal prison in New Hampshire.
Mark Frerichs is a U.S. contractor who was abducted in late January 2020 by elements believed to be tied to the Haqqani network, a Taliban-aligned militia operating across the border of Afghanistan and Pakistan. Newsweek was the first to report on his kidnapping days later, and has made contact with his family and former U.S. officials regarding his case, as well as the prospect of an exchange of Noorzai for Frerichs.
Now there appears to be movement.
"We are eager to explore ways to bring Frerichs back," a U.S. government official who requested anonymity has told Newsweek. "But these explorations are predicated on receiving a recent proof of life. The bottom line is that any progress moving forward lies in receiving a proof of life."
Such an arrangement is supported by Frerichs' sister, Charlene Cakora, who said that despite Noorzai's reputation as an alleged drug kingpin, Frerichs' freedom was worth far more than the captivity of a man already behind bars for 16 years.
"The Taliban clearly have wanted Noorzai for years, and I can tell you that our family wants Mark back," Cakora said in a statement sent to Newsweek. "While I don't like the idea of letting a drug trafficker go, I can understand that the war is ending and they deserve to have him back the way we deserve to have Mark. If that is what it will take, then I support it."
Cakora, who shared with Newsweek a statement addressed to the Haqqani network head Sirajuddin Haqqani, acknowledged not only Noorzai's importance to the Haqqani network and the Taliban but also an appreciation of their reasoning for securing his return.
"The guy came to the U.S. voluntarily," Cakora said. "It sounds like they feel he was coming here to negotiate a peace deal and was then arrested. I can understand why they want him back."
She urged the Biden administration to move as quickly as possible in an attempt to secure the necessary materials to advance the negotiation process.
"The U.S. government needs to get over its hang-ups on steps and process and meetings," Cakora said. "The Taliban have been clear about what they wanted since last summer and we need to act on it while the window is open to get Mark home.
"Why can't we just take 'yes' for an answer?" she added.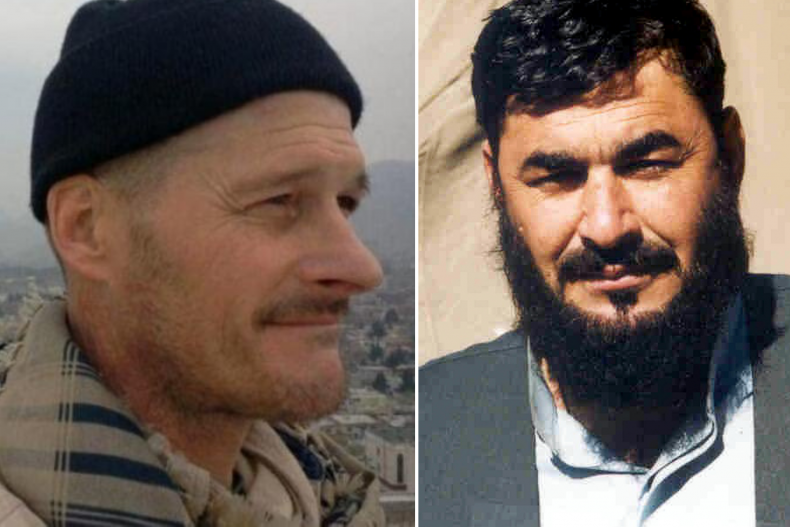 In late June, four months after the peace accord signed by former President Donald Trump's administration and the Taliban in the Qatar capital of Doha, Taliban spokesperson Suhail Shaheen revealed to Radio Free Afghanistan that Taliban political leader Abdul Ghani Baradar had called for Noorzai's release, along with the freedom of others detained in Guantanamo Bay, during a virtual meeting with then-U.S. Secretary of State Mike Pompeo.
The Taliban's continued interest in the release of prisoners abroad was confirmed to Newsweek by Abdul Qahar Balkhi, a member of the Taliban's Cultural Commission.
"We urge the United States and all other countries to promptly release all prisoners that have been unjustly detained, thrown into notorious prisons, charged without receiving a fair trial and whose fates are still hanging in a limbo," Balkhi said. "We would welcome such a just move with open arms."
The latest developments come about a week before the deadline announced months ago by the Biden administration for ending all U.S. military operations in Afghanistan. The steady withdrawal of U.S. forces, however, was accompanied by rapid Taliban gains that eventually reached Kabul, whose government collapsed without a fight as Afghan President Ashraf Ghani fled to the United Arab Emirates.
With the Taliban now in control of the capital, U.S. officials have been in regular contact with the group in hopes of securing the continued evacuation of tens of thousands of people, including U.S. citizens and allied Afghan personnel who served the two-decade U.S. war effort in the country.
The chaotic exit has exacerbated the urgency of Frerichs' case, and the need to ensure he is still alive.
"The foundation of all hostage deals is the proof of life," a former senior U.S. official told Newsweek.
The former senior official said there is an established process for obtaining such proof.
"I'm sure you can find an exception somewhere, somehow but I don't know of any competent people in this area that undertake a trade without very solid proof of life of some kind," the former senior official said. "And the type of proof of life you ask for and how you verify it, that in and of itself is sort of its own art form."
The former senior official emphasized the importance of this step, especially in the unique instance when the president would have to grant a pardon to secure the U.S. hostage's release.
"When you have the credibility of the United States on the line, it's all the more important that we do this correctly," the former senior official added.
The White House did not immediately respond to Newsweek's request for comment.
Biden has yet to publicly discuss Frerichs or Noorzai, though his special representative for Afghanistan reconciliation, Zalmay Khalilzad, discussed the missing U.S. national earlier this month during a virtual discussion hosted by the Aspen Security Forum, where he was asked if the U.S. should agree to trade for Noorzai.
"We want to get [Mark] home safely," Khalilzad said at the August 3 event. "I and my colleagues talked to the family and I raised it repeatedly and continue to raise it with the Taliban whenever I see them. We also raise the issue with countries with influence on the Taliban."
While he said he did "not want to get into the exact details of the negotiations and discussions that we have with them," he did acknowledge that the countries with which he was in contact on the subject included Pakistan and Qatar.
"Suffice to say, we are very focused on this," Khalilzad said at the time, "this is a very high priority for the United States, to bring Mark home safely and as soon as possible."