The powerful new documentary Viral: Antisemitism in Four Mutations will be released in theaters later this month, and Newsweek has an exclusive clip to share.
In the clip, Bill Clinton discusses how anti-Semitism can spread over the internet through continued reinforcement. "In any group like that, promoting any sort of racism, any sort of religious bigotry, any sort of paranoia, if you do it long enough, you'll pick up, eventually, somebody crazy enough to do what was done in Pittsburgh," Clinton said.
Former FBI agent Brad Orsini spoke about a community training session before the 2018 shooting at Pittsburgh's Tree of Life synagogue, which left 11 dead, and how that training may have prevented more people from being killed. Rabbi Jeffrey Myers, he said, had a cellphone and was able to keep the police on the line.
"He got other people in the front row out and they lived, and I see them all the time," Orsini said. "And, when I see them, I'm incredibly happy, because they're alive."
Watch the exclusive clip from Viral: Antisemitism in Four Mutations, above.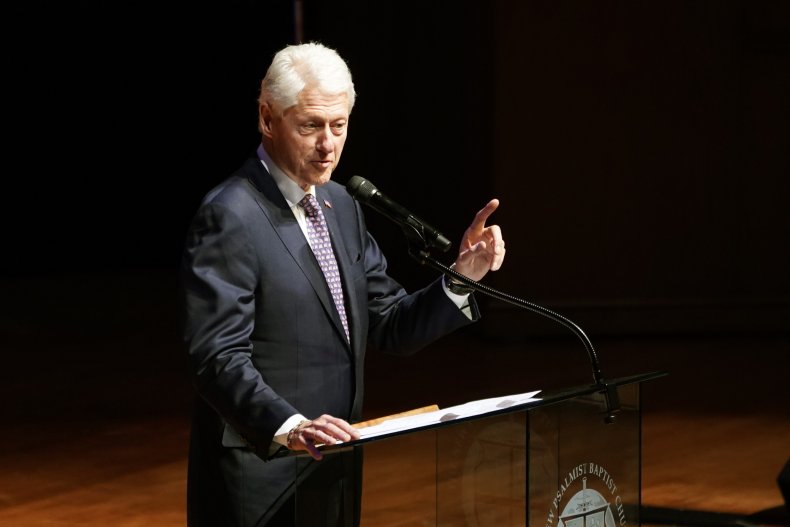 Director Andrew Goldberg told Newsweek that Orsini's account of the training at the Tree of Life synagogue was unexpected. "In terms of storytelling, he was probably not the person that we expected to make the centerpiece [of this clip]," he said.
"I could not get Brad to take responsibility for saving lives, but as a person in the room interviewing him, I got the sense that the information he gave the congregation helped," Goldberg said. He added that members of some Orthodox communities don't use electronics during Shabbat, the Jewish Sabbath.
Viral tracks the ways that anti-Semitism has risen in the United States and Europe. Goldberg examines the Tree of Life shooting, the campaign against Holocaust survivor and billionaire George Soros by Hungarian Prime Minister Viktor Orbán, England's Labour Party's criticism of Israel increasing toward antisemitisml, and violent attacks against Jews by Islamists and radicals in France.
While other forms of anti-Semitism exist in other parts of the world, Goldberg said these four instances were meant to demonstrate "the four most extreme current examples." But he also cited Germany and Poland as places he would've liked to have covered because of their histories of anti-Semitism dating back to World War II, as well as current issues with the far right in those countries.
Asked if he was optimistic or pessimistic about anti-Semitism coming to an end, Goldberg said the internet and social media have not made him hopeful.
"I'm pessimistic in today's political climate," he said. "I see today's society becoming more fractured and angrier. The eruption of anger is at an all-time high. I don't think we'd be at the level of anti-Semitism now without Facebook, Twitter and Instagram. All these communities give people a sense of alignment with one another."
Viral is intended to educate. While the film does not offer a call to action, partially because of the complicated and varied nature of anti-Semitism, Goldberg hopes the film can inform people. "I have always believed that a well-educated populace is where we need to begin for people to make the best decisions," he said in a press release.
Viral: Antisemitism in Four Mutations arrives in theaters on February 21.