Exclusive: Comprehensive Map Shows the Numbers and Locations of U.S. Military Bases with Coronavirus Cases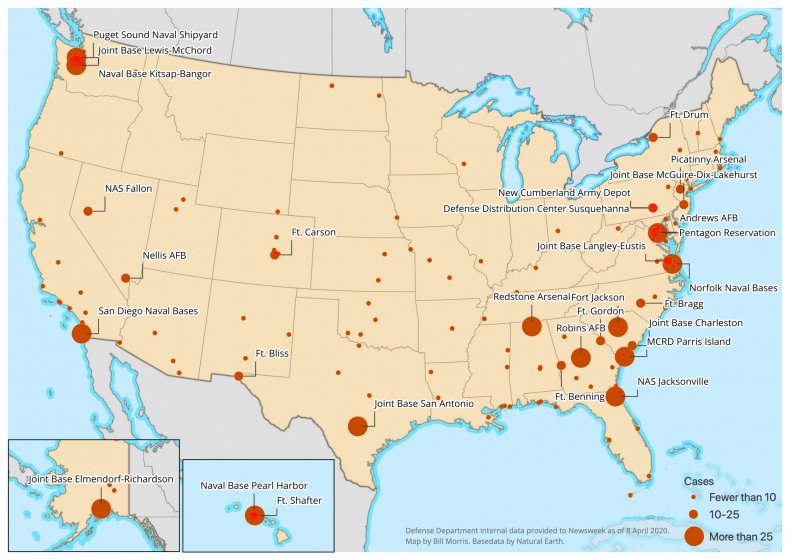 Like the rest of the country, the U.S. military is confronting the spreading coronavirus epidemic, with cases on 41 bases. But military leaders are also struggling to strike a balance between the competing needs for transparency and secrecy.
According to data from the Defense Department, 2,120 men and women in uniform have tested positive for the COVID-19 virus. The U.S. Navy has the highest number of cases, followed by the Army, Air Force and the Marine Corps. Civilians working for the department are the second largest overall group after those in uniform; the next hardest-hit groups are military dependents, and private contractors at military facilities.
The Pentagon's secrecy around these numbers, intended to keep fears about health and readiness under control, has instead increased suspicion and sparked controversy.
"I think the military should release the numbers broken down by bases," Republican Rep. Adam Kinzinger told Newsweek.
As of April 8, these are the military bases with cases of coronavirus.
(Correction 4/9; 3:50: The map labels for Ft. Bragg and Norfolk have been corrected.)
Alabama
Anniston Army Depot
Dannelly Field
Maxwell Air Force Base (AFB)
Redstone Arsenal
Alaska
Eielson AFB
Ft. Greely
Ft. Wainwright
Joint Base Elmendorf-Richardson (multiple bases)
Arizona
Davis-Monthan AFB
Ft. Huachuca
Luke AFB
Marine Corps Air Station (MCAS) Yuma
Yuma Proving Ground
Arkansas
Little Rock AFB
Pine Bluff Arsenal
California
Marine Corps Base (MCB) Camp Pendleton
Edwards AFB
Los Angeles AFB
March Air Reserve Base (ARB)
MCAS Miramar
Naval Base Coronado
Naval Air Station (NAS) Lemoore
Naval Base Ventura County Point Mugu
Naval Base Port Hueneme
Naval Base San Diego (multiple bases)
Travis AFB
Vandenberg AFB
Colorado
Buckley AFB
Ft. Carson
Peterson AFB
Schriever AFB
U.S. Air Force Academy
Delaware
Florida
Eglin AFB
Homestead ARB
Hurlburt Field
MacDill AFB
NAS Jacksonville
NAS Key West
Naval Station Mayport
Patrick AFB
Tyndall AFB
Georgia
Naval Base Atlanta
Ft. Benning
Ft. Gordon
Ft. Stewart
Marine Corps Logistics Base Albany
Moody AFB
Naval Submarine Base Kings Bay
Robins AFB
Hawaii
Camp H.M. Smith
Ft. Shafter
Marine Corps Base Hawaii
Naval Base Pearl Harbor (multiple bases)
Schofield Barracks
Illinois
Naval Base Great Lakes
Rock Island Arsenal
Scott AFB
Kansas
Ft. Riley
Ft. Leavenworth
McConnell AFB
Kentucky
Louisiana
Barksdale AFB
Ft. Polk
Naval Base New Orleans (multiple bases)
Maryland
Aberdeen Proving Ground
Andrews AFB (multiple bases)
Ft. Meade
NAS Patuxent River
Naval Support Activity Bethesda
U.S. Naval Academy
Massachusetts
Army Corps of Engineers Concord
Mississippi
Columbus AFB
Keesler AFB
Naval Construction Battalion Center Gulfport
NAS Meridian
Naval Base Pascagoula
Missouri
Ft. Leonard Wood
Whiteman AFB
Nebraska
Nevada
New Hampshire
Army Cold Regions Research and Engineering Laboratory
New Jersey
Joint Base McGuire-Dix-Lakehurst
Picatinny Arsenal
New Mexico
Cannon AFB
Holloman AFB
Kirtland AFB
New York
Ft. Drum
Naval Operational Support Center New York City
U.S. Military Academy
North Carolina
Ft. Bragg
MCB Camp Lejeune
Seymour Johnson AFB
North Dakota
Ohio
Oklahoma
Altus AFB
Ft. Sill
Tinker AFB
Vance AFB
Oregon
Pennsylvania
Defense Distribution Center Susquehanna
New Cumberland Army Depot
Tobyhanna Army Depot
Rhode Island
South Carolina
Fort Jackson
Joint Base Charleston (multiple bases)
MCAS Beaufort
MCAS Cherry Point
MCB Parris Island
Shaw AFB
South Dakota
Tennessee
Naval Base Memphis
Navy Personnel Command Millington
Texas
Dyess AFB
Ft. Bliss
Ft. Hood
Goodfellow AFB
Joint Base San Antonio (multiple bases)
Sheppard AFB
Utah
Hill AFB
Tooele Army Depot
Virginia
Joint Base Langley-Eustis (multiple bases)
Ft. Belvoir
Ft. Lee
Naval Base Newport News (multiple bases)
Naval Base Norfolk (multiple bases)
MCB Quantico
Pentagon Reservation and Buildings (multiple bases)
Washington
Fairchild AFB
Joint Base Lewis-McChord (JBLM) (multiple bases)
Naval Base Kitsap-Bangor (multiple bases)
Naval Station Everett
Puget Sound Naval Shipyard
West Virginia
Wisconsin
Wyoming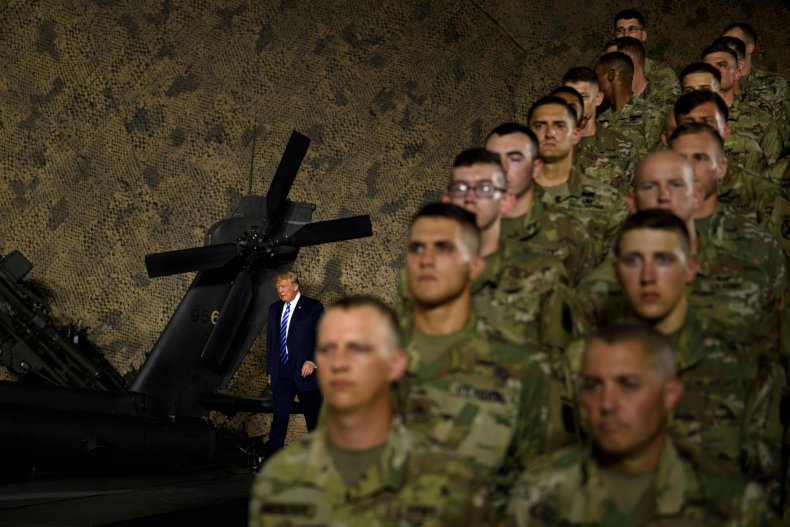 Exclusive: Comprehensive Map Shows the Numbers and Locations of U.S. Military Bases with Coronavirus Cases | U.S.