Exclusive: In Counties That Flipped from Obama to Trump, Just 26% Say They're Worse Off Now Than 4 Years Ago
In a poll conducted for Newsweek released on Wednesday, 32% of registered voters surveyed said they're better off than four years ago, 31% said they're about the same, and 26% said they're worse off. An additional 10% said they don't know how their current situation compares to 2016.
The economy was the most important issue for voters surveyed in more than 200 counties that Barack Obama won in 2008 and 2012 but Donald Trump captured in 2016.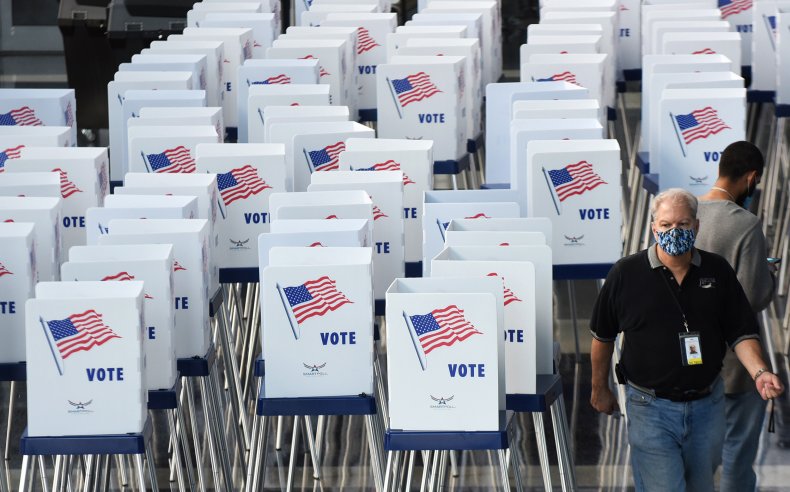 In those counties, 40% named the economy as most important, while 28% said that healthcare was No. 1. Just 4% said law and order is their top issue, according to the Redfield & Wilton Strategies survey, which was conducted October 25-27.
Recently released government statistics show that these voters have reason for concern.
The Department of Labor on Thursday, in its final report before Election Day, said 751,000 workers filed for first-time unemployment benefits last week, down 40,000 from the previous week. The September unemployment rate was 7.9%, and the next report is due out November 6.
"The unemployment rate is still way too high," Beth Ann Bovino, chief U.S. economist at S&P Global Ratings, told Newsweek. "At 7.9%, that is either higher or equal to the peak unemployment rate during eight of the last 11 recessions going back to 1948."
The U.S. Commerce Department reported today that third quarter U.S. gross domestic product (GDP), a broad measure of economic activity, grew by 7.4%, from the second quarter. That growth followed a GDP decrease of 9% from the first quarter, January to March, to the second quarter, April through June.
Third quarter GDP grew at annual rate of 33.1% between July and September, the highest growth on record, according to today's announcement. But that growth follows a decline of 31.4% in the second quarter, the Commerce Department said in a revised report in September.
But Bovino said the economy hasn't come all the way back.
"It still only recovers about two-thirds of the drop that we saw from the COVID-19 recession," Bovino said. "It's just going to get harder to get back to normal. The third quarter bounce, a lot of it was, essentially, picking some low hanging fruit tied to lockdown figure. People got out and spent."
Bovino added that the strength of the housing market, with low interest rates and flight from crowded cities, has been beneficial in the third quarter.
After the GDP data was released, President Trump took to Twitter to celebrate the numbers.
"Biggest and Best in the History of our Country, and not even close," the president tweeted. "Next year will be FANTASTIC!!! However, Sleepy Joe Biden and his proposed record setting tax increase, would kill it all. So glad this great GDP number came out before November 3rd."
Trump inherited an economy that was in its 91st month of expansion, according to the Center on Budget and Policy Priorities (CBPP), a research and policy institute. The longest U.S. economic expansion on record lasted from mid-2009 early in the Obama administration through 2019 during Trump's presidency, but ended with the contraction in economic activity due to the COVID-19 pandemic,
Scott Hoyt, head of Consumer Economic Research at Moody's Analytics, wrote in a note to clients obtained by Newsweek that "the damage had been done" to the economy in the first-quarter and second-quarter recession.
"The COVID-19 recession was the shortest but most severe on record," Hoyt wrote. "The initial recovery in GDP was similarly historic, though most signs point to the strong growth also being very brief and not fully reversing the decline."
Growth will remain weak into next year, he told clients.
"The economy will sputter until it receives further support from fiscal stimulus," he said, "and may struggle again if that support fades before a vaccine or effective treatment for COVID-19 is widely available. At that point, a stronger and more sustained recovery will come."
In additional findings, the survey found that 59% of the respondents who said they're better off than four years ago felt Trump's policies have contributed to their improved status, and 34% said the Republican president's policies did not.
Among those who told pollsters they're worse off than four years ago, 59% said the president's policies contributed to the deterioration in their lives, with 31% saying his policies didn't.
Redfield & Wilton Strategies conducted an online web survey from October 25 to October 27 of 1,700 registered voters in counties that switched from Obama in 2008 and 2012 to Trump in 2016. The survey's results have a margin of error of 2.38%.