Exclusive: Doctor Who Cleared WWE's Daniel Bryan For Wrestling Return Says He Shows No Evidence of Prior Brain Injury
The unlikely comeback story of World Wrestling Entertainment (WWE) favorite Daniel Bryan shook the grappling world this week.
Two years after emotionally announcing his retirement from the ring, WWE said Tuesday the former world heavyweight champion, real name Bryan Danielson, has been cleared to compete again.
Like his underdog character on WWE shows Raw and SmackDown Live, the real-life Danielson has seemingly overcome insurmountable odds. Upon retiring in February 2016, Danielson told ESPN he had suffered at least 10 documented concussions during his 16-year career and had even experienced post-concussion seizures "that I hid for a long time."
But three top neurological doctors, and WWE's own medical director Dr. Joseph Maroon, have given the veteran grappler the all-clear.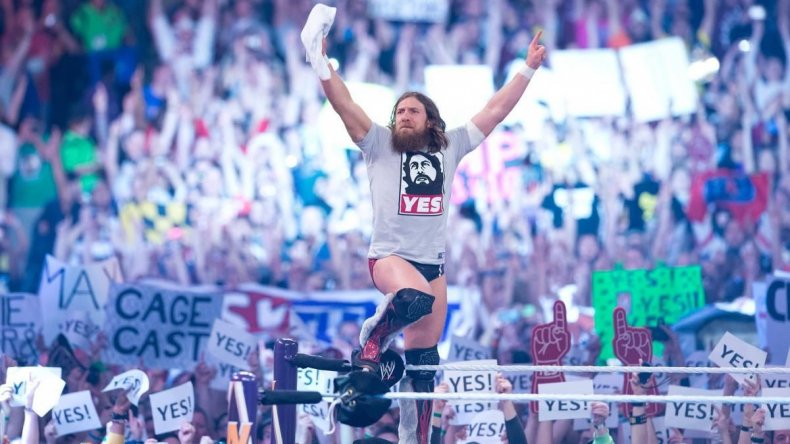 WWE said in a statement Tuesday that Danielson, 36, underwent "extensive evaluations" during his two years of retirement. "[Danielson] underwent a full review of his medical history and received comprehensive neurological and physical evaluations independent of WWE."
One of the doctors that greenlit Danielson for an in-ring return is no stranger to dealing with athletes. Neurosurgeon Dr. Robert Cantu is a leading expert in concussions who consults with teams across the National Football League (NFL), National Basketball Association (NBA) and National Hockey League (NHL). He also has his own concussion treatment center at Emerson Hospital in Concord, Massachusetts.
Cantu tells Newsweek that upon evaluation of Danielson's medical records in February, he found no sign of concussion-related injuries precluding the wrestler from returning to the ring.
"I evaluated Bryan for a neurological opinion on return to WWE on February 26, 2018. Included in his medical records were multiple evaluations by renowned concussion clinicians," says Cantu by email.
"I determined that Bryan is currently asymptomatic, has a normal detailed neurological and cognitive neuropsychological examination, normal EEG, and an MRI that showed no definite evidence of a prior brain injury. It is my medical opinion that there is no absolute contraindication to his return to in-ring action in WWE."
Cantu is also one of the foremost experts in chronic traumatic encephalopathy (CTE), a brain disease that has been found in athletes and army veterans who are at risk of repeat head trauma. Currently, the most definitive diagnosis of CTE is during an autopsy of the brain after death. However, symptoms of CTE can be diagnosed in the living, including depression, aggressive behavior and dementia.
In 2007, Cantu was one of three neurological experts who diagnosed what is said to be the first case of CTE in professional wrestling in Chris Benoit.