Exclusive: Documents Show U.S. Military Allowed To Shoot At Moving Vehicles At U.S.-Mexico Ports Of Entry
New Pentagon documents obtained by Newsweek reveal that U.S. forces deployed to the southern border have had broader permissions for the use of lethal force than previously thought, including the ability to shoot at moving vehicles.
The Defense Department guidelines indicate that military members can use lethal force when there is a "reasonable belief" that the vehicle is an imminent threat that will cause death or bodily harm to civilians in the immediate area. However, it is unclear what the Pentagon considers to be reasonable belief, raising concerns among legal experts and former government officials.
The documents, which offer legal guidance, were issued in July, just three days after President Donald Trump's new Defense Secretary, Mark T. Esper, was sworn into office. They were a portion of a larger operations order for the U.S. Army North, the primary unit charged with overseeing the Pentagon's mission at the U.S.-Mexico border. As many as 5,500 service members are authorized to serve at the border.
The guidance was obtained by Newsweek through a Defense Department source who requested anonymity due to fear of reprisal from Pentagon brass. Two other U.S. military sources confirmed the document's authenticity. You can read the entire document at the bottom of this story.
The document suggests that some designated service members have, for months, been exempt from a rule that had previously ensured military members would have "no contact with migrants" during the border mission. In a statement to Newsweek, Army Lieutenant Colonel Chris Mitchell, a Pentagon spokesman, confirmed that on November 20, 2018, Trump authorized the Pentagon to "use military personnel to protect CBP personnel performing their Federal functions within property controlled by CBP at or adjacent to one or more CBP-designated [ports of entry]."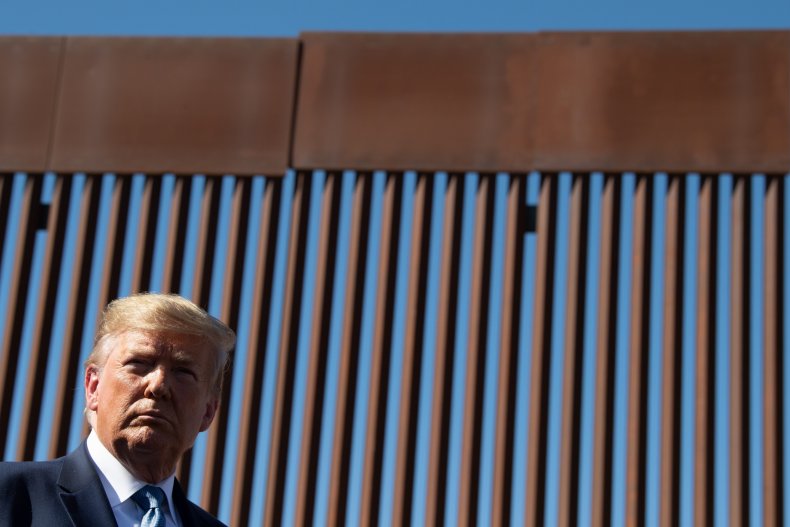 Mitchell said the authorization had come "following sporadic incidents of violence at the border."
The Trump administration's justification for adding protective troops at the ports of entry was based on what the government called "credible evidence and intelligence," which showed migrant caravans trudging from Central America to the U.S.-Mexico border could prompt "incidents of violence and disorder that could threaten" U.S. government personnel and compromise the security and integrity of the southern border.
At the time, clashes between immigration officials and members of a caravan making its way to the U.S. border had been widely reported. However, those clashes appear to have mostly taken place between asylum seekers and Mexican enforcement at the Mexico-Guatemala border.
While Mitchell said DoD personnel "were prepared to protect CBP personnel" at the U.S. border following the order, they were never "requested to do so."
However, he said, with the DoD recently greenlighting an extension of the border deployment through to the end of Fiscal Year ending September 30, 2020, "DHS has requested, and DoD has approved, an extension of support for a DoD force protection capability, if needed."
All missions that were granted the exception to the "no contact with migrants" policy, he said, however, would be concluding on November 15 of this year.
Some experts say the revelation that military officials have had these expanded permissions to use lethal force all this time is "incredibly dangerous."
Hina Shamsi, the director of the National Security Project at the American Civil Liberties Union said, in particular, she's distressed that weapons can be fired at moving vehicles, an action banned by many local law enforcement departments across the U.S. outside of extraordinary circumstances. She added: "The U.S. military (is) perilously closer to violating the spirit, if not the letter of Posse Comitatus prohibitions, resulting in harm to civilians and legal jeopardy for military service."
The Posse Comitatus Act is an 1878 federal statute that restricts the government's ability to use the U.S. military as a police force.
The approved guidance states that "weapons may be fired at a moving vehicle or watercraft when DoD forces have a reasonable belief that the vehicle or watercraft posing an imminent threat of death or serious bodily harm to non-DoD persons in the vicinity when doing so is directly related to the assigned mission."
Asked by Newsweek how "reasonable belief" would be established, Mitchell said the Pentagon could not comment on operational guidance.
"That permission is incredibly dangerous," Shamsi warned. "Generally speaking, the trend for decades with respect to law enforcement agencies is a ban against officers shooting at a moving vehicle because it is likely to be ineffective and carries a high risk of lethal harm, including to bystanders."
Despite the policy being largely widespread, according to a The Washington Post database, which tracks fatal police shootings, between January 2015 and May 2017, police killed more than 190 people nationwide who were inside vehicles at the time they were shot.
While some experts were already alarmed by reporting from The New York Times and The Washington Post that Trump had proposed border officials be allowed to "shoot migrants in the legs" and build an alligator-filled moat to prevent asylum seekers from crossing the southern border, they say the revelation that military officials have had these expanded permissions to use lethal force all this time is "incredibly dangerous."
The idea of alligator-filled moats, said David Lapan, a retired DoD and DHS spokesman under Trump and former President Barack Obama, may be "titillating and interesting, but it's not important in the larger context."
"Those are not being done, what's important is what is being done and I think the things that have been done at the border have been under scrutinized," said Lapan.
Lapan, a former Marine officer noted that military members have been authorized to shoot at moving vehicles in combat zones, including in the recent wars of Iraq and Afghanistan, where they have faced the threat of vehicles rigged with explosives. However, Lapan said, those are extremely different situations from the southern border.
"It's another reason I point out the use of active-duty forces. Not everybody who's deployed to the border has been in combat but there's probably a good chance some of them have served in Iraq or Afghanistan or Syria where a vehicle-borne IED is a threat and where the escalation of force procedures have been developed and deployed and trained to over the years," he said. "Now, you potentially have active-duty forces who have been given the authority to engage moving vehicles. Do they still have the mindset that they had when they were in Iraq or Afghanistan?"
Todd Rosenblum, a former senior-level executive with both the Defense Department and Department of Homeland Security, told Newsweek that he agreed that any authorizing allowing military members to shoot at moving vehicles was "inappropriate." The border deployment had been a "messy ugly mission" to begin with, Rosenblum said, but to authorize military members to do "straight law enforcement" represents a "terrible escalation."
The origins of the approved legal guidance within the U.S. Northern Command document come straight from the Oval Office. Last November, Newsweek exclusively reported that Trump had expanded the parameters governing when U.S. forces could use lethal force on the U.S.-Mexico border. The "decision memorandum" obtained by Newsweek and signed by Trump directed the defense secretary to deploy U.S. troops to temporarily protect U.S. Customs and Border Protection personnel at the ports of entry.
It gave the secretary of defense the ability to direct U.S. forces to perform "traditional civilian law enforcement activities, such as arrest, search and seizure in connection with the enforcement of the laws," and required the defense secretary to only withdraw U.S. forces from ports of entry once consulting with the attorney general and the secretary for homeland security.
"Given the nature of the mission, if they're talking about troops deployed to the ports of entry those are operated by Homeland Security," Lapan said. "So it seems very odd that the attorney general would be involved in any decision to put military forces at ports of entry, which is the responsibility of the Department of Homeland Security or to remove them from those ports of entry, which is a DHS role."
When contacted by Newsweek, no reply was returned from the Department of Justice on why the attorney general would need to be consulted before the Defense Department withdraws U.S. forces from ports of entry.
Correction (10/22, 3:44 p.m.): This article has been updated to remove references to asylum seekers and migrants in the lede and second paragraph, and to offer clarity regarding the process with which military members will respond to moving vehicles with lethal force. The reference to asylum seekers and migrants was incorrectly added during the editing process.