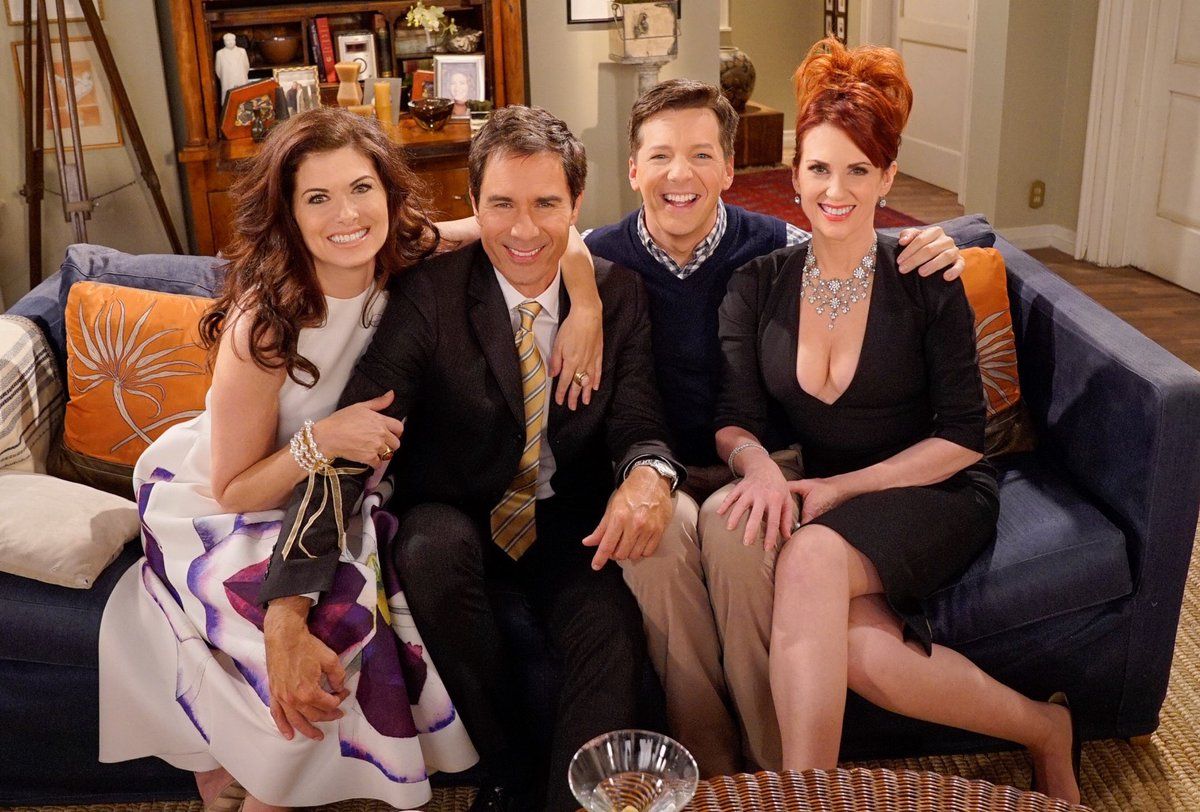 There were many voices weighing in on the first presidential debate between Donald Trump and Hillary Clinton across social media Monday night. But amid the hubbub about the barbed exchanges between the candidates, four beloved sitcom stars joined the fray with a simple message: "Vote, honey."
Following a weekend of mysterious teasers on Twitter, the cast of classic NBC comedy Will & Grace returned for a mini reunion episode, released on YouTube Monday, to firmly wave a rainbow-colored flag in support of Clinton. The result? Well, this reunion could easily double as a sequel to Comedy Central's Roast of Donald Trump. (If you haven't watched it yet, check it out below.)
Debra Messing, Eric McCormack, Sean Hayes and Megan Mullally all reprised their roles as Will, Grace, Jack and Karen for the 10-minute nostalgia trip that coincided with the 18th anniversary of the sitcom's premiere in 1998 and the 10th anniversary of its conclusion in 2006.
Newsweek spoke with McCormack on Tuesday to find out exactly how the show's cast and crew pulled off the reunion and whether this could be a precursor to a new season.
How did you manage to recreate Will and Grace's apartment just for this shoot?
The crazy story is that the apartment has existed at our creator's alma mater—Max Mutchnick went to Emerson College in Boston. For some reason, when we finished the show, he got it in his contract that he could have the set for 10 years. It's been sitting behind glass for 10 years in Emerson College in the library—every detail intact.
Emerson said, "OK, we're giving it back to you." That was when he called us and said, "I've got this crazy idea, but nobody can know." So the set was chopped up into little pieces, brought across the country, recreated in a basement on the same lot [in Los Angeles] that we shot for eight years.
When we arrived, with a secret script on a secret day, and we stood on that set, it was pretty emotional.
So the idea came from Max?
Yeah. We're all big Hillary supporters. He thought, What can we contribute to this? And at the same time, What do I do with this set? He realized if the show was still on the air, this is what we'd be talking about—it's not a stretch. We'd be doing political stuff, and Karen would be for Trump, and the rest of us would be insulting her. It fit right into it.
He contacted us in mid-August. It was like a month that we knew. He had to write it, and we had to find a date [to film], particularly for Megan and her husband, Nick [Offerman], who are touring their [comedy show]. Their dates were limited, so it was amazing we found one.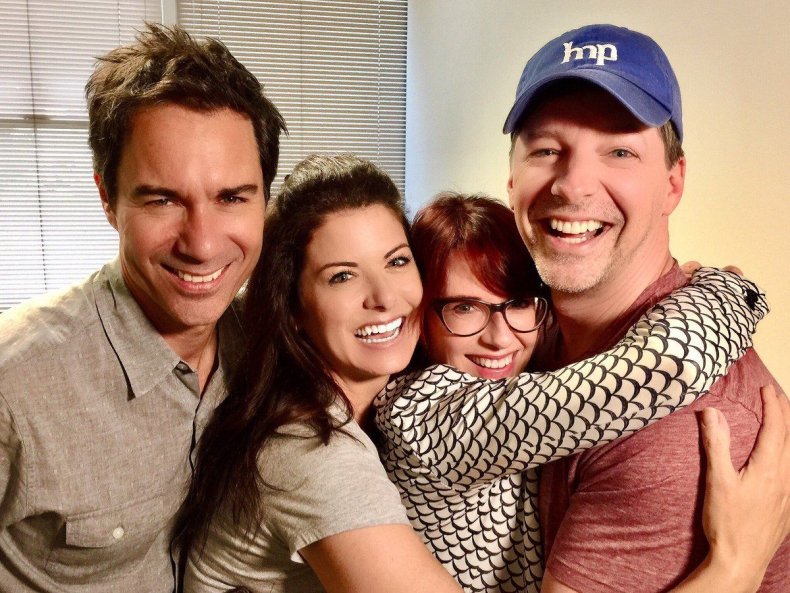 What was it like walking back onto the set after all that time?
The weird thing was somebody was recording it.... Someday, the record of what happened in those two days will be shown to the world.
I felt like I was on a reality show—it was weird.
Like any sitcom, there's other sets, but that main set was where they wrote most of the stuff for us. Often Jimmy Burrows, our director, if there was a scene in the garage, he would say, "Put it in the apartment. It's funnier in the apartment." That apartment is like a sandbox for the four of us. It's where we'd play. It felt like home. It felt safe. It was always a safe place, even in front of an audience of 300.
Was it just like old times, the four of you coming back together?
Totally, yeah. Everyone's gone on to other things—our crew has gone on to other sitcoms, but they don't all have the same magic. It was really emotional to sit and read [the script].... The read-through before any episode was always as much fun as shooting. It was amazing, the four of us to sit there and do it again, and to watch the face of everybody else going, "Goddamn, this is fun."
You all still inhabit the characters perfectly, and the comedic timing was as good as I remember. Did you worry at all that you might have lost "it"?
I don't think any of us worried that it wouldn't be there. It's not like we're so elderly that we couldn't get up the energy. It's like riding a big gay bicycle. [Laughs] It was easy for us to get back in sync with each other.
During the show's original run, the cast was known for inappropriate behavior on set, and NBC even had sexual harassment seminars. Was there inappropriate behavior this time?
[Laughs] Oh, absolutely. I don't think we'd know how to be appropriate.... We don't have the ability. It was nothing but laughter from the beginning. We knew we were putting out something political at a crucial time in this country's political history, but also we were having a reunion. It was always fun.
There is obviously a more serious message to this reunion. What do you want to say to the American voting public?
You're not going to change minds necessarily. In this country, you see a lot of millennials thinking their vote doesn't matter, thinking there isn't a difference between these two old people running for office, thinking that it's not going to affect them. A lot of those people grew up on reruns of Will & Grace—they're 20 now, and they trust us to deliver a message in a way that they might not trust politicians. So I'm hoping what they walk away with is that your vote matters; your future matters. For me, there's only one candidate that can deliver that.
Is it worrying to you that some people out there do share some of the views of pro-Trump Karen?
That was always the strange thing about the Karen character.... If you really stopped and listened to her, she's a horrific person. That's why Will would have those [outraged] responses to her. I had one response that didn't make it into the 10 minutes; she said something outrageous, and I say: "How have you not been killed?"
Hopefully, when people hear these opinions that have been going on for months and months out of the mouth of Karen Walker, the absurdity of it all will land. That was part of the intention.
There are some zingers that you probably couldn't have gotten away with NBC, like Karen calling Will a "pussy, gay Muslim." What didn't make it?
We didn't have to cut anything because it was intended for [the internet]. Unfortunately, though, the thing is actually twice as long as what you saw. I'm hoping now that it exists, the full scope [version] will be released at some point. There was a lot more. Rosario [Karen's long-suffering maid played by Shelley Morrison] comes in at one point. Max was afraid that if it was too long it wouldn't land, so he wanted to keep it at 10 minutes. Really, it's about 20 minutes. There's definitely some inappropriate stuff that didn't make it.
What has it been like seeing all of the positive reaction to the reunion today?
It's amazing that it's intertwined with all the reaction to the debate last night. It's very surreal. I'm delighted.
The internet tends to build things up very quickly, so I think within the 24 hours before everybody was convinced that we were coming back for 11 seasons on four different networks. That's bound to create some disappointment. But this was our reunion and it was the best way, 10 years later, that we could contribute.
Unlike shows like Friends, Will & Grace doesn't seem readily available to stream on the likes of Netflix and other services. Why do you think that is?
It's incredibly easy to find it in America because it's on all day long on Saturday and Sunday, but you have to actually go to a channel and have cable. In a very short period of time, society has gone from the way we always watch television to "I can't find it because it's not on Netflix." There are other ways.
I'd love for it to be on Netflix, but I don't know the ins and outs of it. But sometimes the good stuff is worth looking for. It's out there.
Will & Grace is noted for being a cultural landmark in the LGBT rights movement. We now see more inclusiveness on television than ever before. Looking back, how impactful has this show been?
It's an obvious touchstone for what finally happened with marriage equality. Even the vice president [Joe Biden] said that a couple of years ago.
I'm incredibly proud of what it was when it was on the air, but I'm also very proud of the life it's had in the last 10 years. When I was a kid, the shows that had the most impact on me, some of them weren't on anymore—I was watching reruns. A lot of young gay men, women and transgender people were too young for Will & Grace for the first run, but their model has been a lot of what they've seen in the reruns in the last 10 years. I've got 19-year-olds coming up to me and saying, "Will & Grace is everything." And I'm like, "You're 19? How do you even know it?" But it's because it's had this other life. We're all proud that something that was silly fun had a whole lot of depth underneath that and a whole lot of impact.
Could this lead to a longer comeback, like Gilmore Girls? A limited series somewhere?
I'd be the last to know probably. That'd have to start with whoever is interested in paying for it. We'd talk about it.... I'd never say never. But there is no talk at this moment.