Exclusive: Official at Center of Armenia, Azerbaijan Conflict Calls It Fight to Death
A senior official representing the self-declared separatist state at the heart of the conflict between Armenia and Azerbaijan has characterized it as a fight to the death.
For this tiny de facto republic, defeat could mean the end of his internationally unrecognized government, and perhaps worse for its constituents.
"This is an existential fight," said Robert Avetisyan, permanent representative to the United States from the Artsakh Republic, known to the world as Nagorno-Karabakh.
Avetisyan was born and raised in the land that has for about a century been the center of an ethnic and territorial dispute between South Caucasus rivals Armenia and Azerbaijan. Home to a majority of Christian Armenians who lead the Artsakh Republic, Nagorno-Karabakh is considered by the United Nations to be part of Azerbaijan, a larger, mostly Shiite Muslim nation that entirely surrounds the breakaway region.
Armenia believes that it should be up to the locals themselves to decide, a stance that has long divided Yerevan and Baku.
Armenia and Azerbaijan first fought after the collapse of the Russian Empire during World War I, and then again as the Soviet Union fell apart in the 1980s and 1990s, when tens of thousands died in their deadliest-yet clash. They've sparred sporadically since, but have witnessed their worst violence in decades since new fighting broke out last Saturday.
The following day, Avetisyan returned to his hometown from Washington.
Avetisyan described the situation to Newsweek from the Nagorno-Karabakh capital of Stepanakert as air raid sirens wailed in the background.
"If the world is considering involvement 'before the fighting escalates into a large-scale war,'" he said, "this is the large-scale war, and the civilized world's practical involvement and the reaction is long overdue."
Rockets rained down moments later, as he recounted, forcing him to take shelter.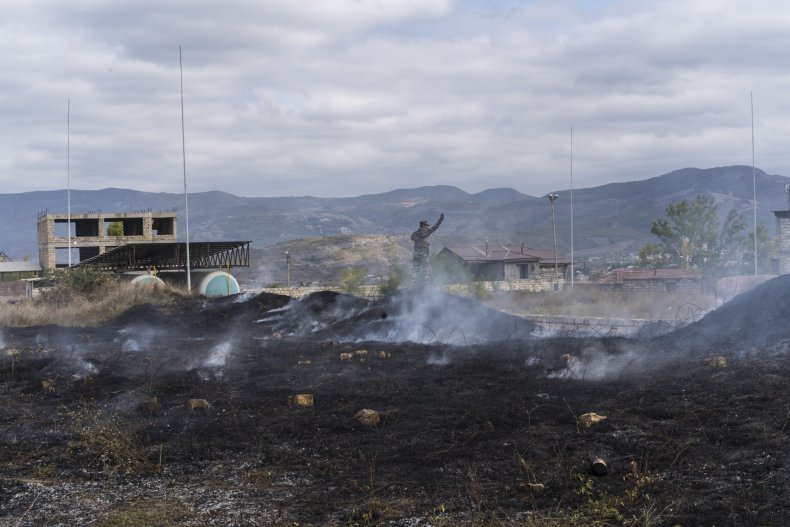 France, Russia and the United States are tasked with maintaining peace and stability in the area as co-chairs of the Organization for Security and Co-operation in Europe's Minsk Group, formed in 1992 in an effort to halt their last all-out war.
On Thursday, the trio issued a statement to "condemn in the strongest terms the recent escalation of violence along the Line of Contact in the Nagorno-Karabakh conflict zone."
They called "for an immediate cessation of hostilities between the relevant military forces" and a return to negotiations.
But Avetisyan said this would not be enough as long as Turkey was backing Azerbaijan.
"We don't think that Turkey, or even Azerbaijan instigated by Turkey, is a country that you can deal with only by statements, or expressing concerns or expressing your aspirations," Avetisyan told Newsweek.
"Turkey should be built with much firmer political, economic actions, and we're sure that the United States, as one of the major players in the region in the world—in every aspect of life—has the leverage to push Turkey," he added.
Turkey has a troubled history with Armenians, who during and after World War I were subjected by the Ottoman Empire to a systematic ethnic cleansing campaign that a number of countries now consider a genocide. Turkey and Azerbaijan do not.
And they also vehemently reject any allegations that the current conflict was ethnically-motivated.
"Armenian groups' unfounded accusations against Turkey, by distorting historical and legal facts, are not something new," the Turkish embassy in Washington said in a statement sent to Newsweek.
"The latest smear campaign of Armenia against Turkey is yet another futile attempt to hide Armenia's violent behavior in the region, while breaching multiple international laws," the statement added, pledging support for Azerbaijan and calling for an immediate withdrawal of Armenian forces from Nagorno-Karabakh.
Ankara's embassy also blamed Armenia for the latest round of escalations and pointing to past examples of Armenian forces allegedly killing Azerbaijani citizens during their last major war to counterclaim against what Avetisyan called "another genocide" being orchestrated today by Turkey.
President Donald Trump did briefly hit Turkey, a NATO ally, with sanctions last year over its role in leading a Syrian insurgent takeover of parts of northern Syria against Pentagon-backed Kurdish forces, who have also accused Turkey of ethnic cleansing. With reports of these same Syrian rebels being sent to Azerbaijan to fight—reports strongly denied by both Turkey and Azerbaijan—Avetisyan said it's time for the international community, especially the U.S., to act.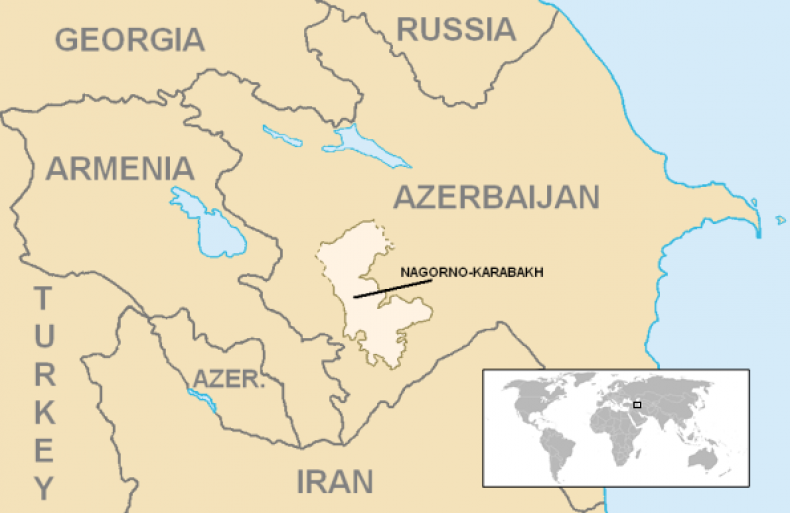 Asked about the alleged presence of Turkey-backed Syrian fighters in Azerbaijan, Secretary of State Mike Pompeo told reporters Friday he was aware of the reports but could neither confirm nor deny their veracity.
He did, however, note that such practice would likely prove destabilizing as it had in other regions where Turkey has intervened.
"I hope it's not the case," Pompeo said. " We saw Syrian fighters taken from the battlefields in Syria to Libya. That created more instability, more turbulence, more conflict, more fighting, less peace. I think it would do the same thing in the conflict in and around Nagorno-Karabakh as well. So I hope that reporting proves inaccurate."
Pompeo echoed the Minsk Group statement in urging for ceasefire and dialogue. Avetisyan had another, more radical solution: recognize the Artsakh Republic.
"It's long overdue," Avetisyan told Newsweek. "The United States should have recognized the Artsakh Republic very long ago because our historical, our legal, and, after so many attacks against us by aggressors, our moral preconditions for sovereignty are absolutely strong."
Not one of the 193 U.N. member states recognize the Artsakh Republic, not even Armenia. But this could soon change.
"Definitely, Armenia is considering such a possibility in light of the ongoing aggression," Armenian ambassador to the U.S. Varuzhan Nersesyan told Newsweek.
"As not to have a prejudice towards the outcome of the negotiation in the past, Armenia refrained from that step," he said. "But right now, that's one of the possible options, of course, if this aggression goes on."
He called on the U.S. to pursue negotiations based on the "fundamental issue of the right to self-determination" of Nagorno-Karabakh.
Baku's representative held the opposite view. He suggested Washington double down on denying the autonomy of the 1,700-square mile region home to some 150,000 people.
"All we need for the United States to do is to look at the map, look at the reality and understand that it is in the best interest of the United States to help Azerbaijan and Armenia to solve this conflict by ending this illegal occupation," Azerbaijani ambassador to the U.S. Elin Suleymanov told Newsweek.
"That's as simple as that," he said. "It's not about us, but it is actually about the long-term interests of the United States."
Shalala Valiyeva, a representative of Baku's embassy in Washington, accused Avetisyan of being a lobbyist impersonating a diplomat.
"Just as the gentleman misrepresents his status in the U.S., he also provides a false narrative about Armenia," she said. "There is no Nagorno-Karabakh Republic, this is just a proxy group established on Azerbaijani lands as a result of Armenia's illegal occupation."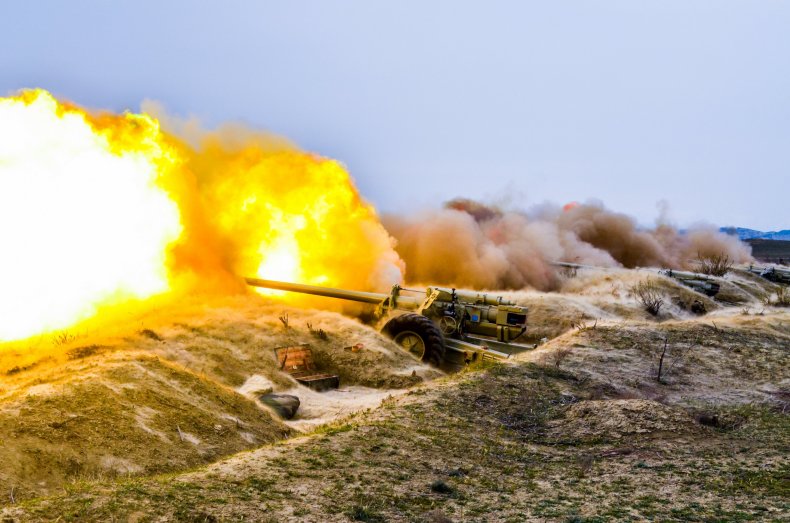 When the issue was brought to the State Department, a spokesperson referred to the Minsk Group statement and told Newsweek, "Our position has been clear and has not changed."
The spokesperson reiterated the stated U.S. policy.
"Both sides must cease hostilities immediately and work with the Minsk Group Co-Chairs to return to substantive negotiations as soon as possible," the spokesperson said. "As a Co-Chair of the OSCE Minsk Group, the United States remains committed to helping the sides achieve a peaceful and sustainable settlement to the conflict."
Back in Stepanakert, Avetisyan said the Artsakh forces were capable of intercepting the Azerbaijani assault with or without any international support.
"I can assure you that as of now, we're relying on our own forces. We are not panicking," Avetisyan told Newsweek. "We're very confident Azerbaijan's blitzkrieg has failed. They cannot achieve anything militarily and politically, they just dug themselves into a deeper hole."
But, recalling past atrocities attributed to the Ottomans against Armenian populations in the region, he acknowledged what he felt was at stake.
Asked if he feared for his safety, he said, "I'm a human being, of course I am."
But he emphasized the determination of his people to hold their ground.
"It's not only me, there is a big team of people who are fighting on the front," Avetisyan told Newsweek. "We've been here our whole life, and we are staying here to do what we can. It would be wrong not to worry, but it would be wrong to panic and leave your post."
This article has been updated to include remarks by Azerbaijan's embassy in Washington.