Exclusive: Fallen Iraq War Soldier on Track to Be First Black Medal of Honor Recipient since Vietnam
A U.S. soldier who sacrificed his life to save his comrades from their burning vehicle after it was struck by roadside bomb in Iraq is soon set to become the first Black servicemember to receive the U.S. government's most prestigious award for valor since the Vietnam War after a years-long battle for recognition, Newsweek has learned.
Two sources familiar with the process have confirmed to Newsweek that Defense Secretary Lloyd Austin, who is the first Black Pentagon chief, has signed off on Army Sergeant 1st Class Alwyn C. Cashe receiving the Medal of Honor. A third source aware of the proceedings has confirmed that the White House is working to set a date for the award ceremony and that Cashe's family has been notified.
Cashe, 35, was serving with Company A, 1st Battalion, 15th Infantry Regiment, 3rd Infantry Division outside Samarra city in central Iraq on October 17, 2005, when his Bradley Fighting Vehicle ran over an improvised explosive device that tore through the BFV and ignited its fuel cell.
"Without regard for his personal safety," his posthumous Silver Star award citation reads, Cashe pulled the driver from the vehicle after having already suffered minor injuries, and then rushed back inside three times to extract six trapped soldiers and their Iraqi interpreter as his own fuel-soaked uniform caught fire.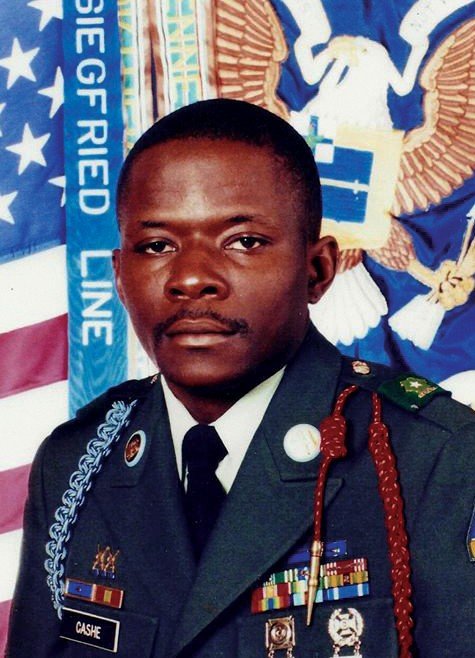 "Without regard for his personal safety," his posthumous Silver Star award citation reads, "Cashe pulled the driver from the vehicle after having already suffered minor injuries, and then rushed back inside to extract six trapped soldiers and their Iraqi interpreter as his own fuel-soaked uniform caught fire." U.S. Army Sergeant 1st Class Alwyn C. Cashe is seen in this photo provided by the U.S. Army. Cashe posthumously received the military's third highest award for valor, the Silver Star, after sacrificing himself to save fellow soldiers trapped in a burning Bradley Fighting Vehicle near Samara, Iraq in October 2005, and a number of advocates have called for this citation to be upgraded to the Medal of Honor.
U.S. Army
Cashe suffered 2nd and 3rd-degree burns over some 72% of his body and ultimately succumbed to his injuries about three weeks later at Brooke Army Medical Center in San Antonio, Texas.
The translator and four soldiers ultimately died from their wounds as well, but the rest survived. Cashe was described as having "stayed a hero through it all."
"Sergeant First Class Cashe's heroic actions saved the lives of six of his beloved soldiers. He is truly deserving of this award," the citation reads. "His actions are in keeping with the finest traditions of military heroism and reflect distinct credit upon himself, Task Force LIBERTY and the United States Army."
While Cashe was swiftly awarded the Silver Star, the third-highest U.S. military decoration for valor in combat, his battalion commander, Brigadier General Gary Brito, later opted to upgrade the merit to the top Medal of Honor after he said he realized the extent of the fallen soldier's ordeal, after omitted details emerged about enemy fire and other factors that further clarified Cashe's already harrowing experience.
The campaign for this award has grown over the years to include influential allies seeking further recognition for Cashe. And all indications are that this will soon be a reality.
But the path toward Cashe's Medal of Honor has been an arduous one, spanning some three Pentagon chiefs over the course of just several months.
The first to formally back the nomination was then-Defense Secretary Mark Esper, who came out in support of the call in August after receiving a letter urging the move by Representatives Michael Waltz and Stephanie Murphy of Florida and Dan Crenshaw of Texas.
Protocol has it that the Medal of Honor must be awarded within five years of the heroic action, and Esper joined the chorus of voices urging a congressional waiver for Cashe.
President Trump ultimately removed Esper in November, initially stalling the momentum for Cashe's cause. But the following month, Trump signed the necessary legislature for waiving the constraints on Cashe receiving the award.
Esper's acting successor, Christopher Miller, also endorsed Cashe for the Medal of Honor, and, with restrictions lifted, increasing anticipation in early January that the ceremony would take place before Trump left office on the January 20.
The announcement never came, however, and national attention toward Washington was soon consumed by the set of mass pro-Trump demonstrations that stormed the Capitol on January 6, resulting in deadly clashes as protesters sought to disrupt the confirmation of President Joe Biden's victory by lawmakers.
With his Pentagon chief's approval for Cashe, it would be up to Biden to officiate the process. A fourth source with whom Newsweek spoke, a veterans advocate aware of the process, confirmed that the White House was in the ceremony planning phase for Cashe's Medal of Honor.
The White House has yet to announce any date for the ceremony, but once it does, Waltz, one of the three members of Congress advocating for Cashe to receive the Medal of Honor, confirmed to Newsweek it would mark the final step in the process.
Waltz described the movement toward Cashe receiving the Medal of Honor as "fantastic."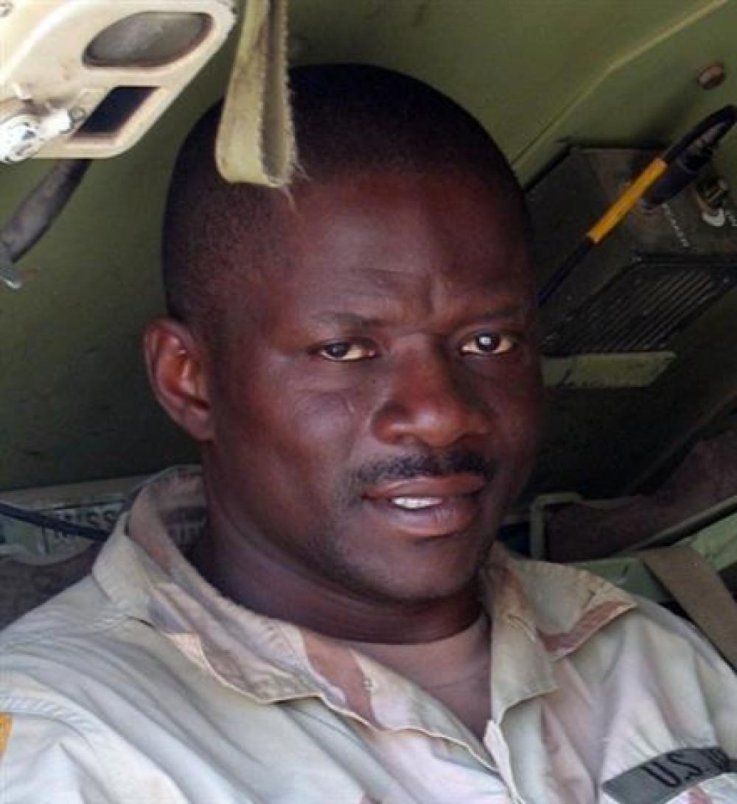 Sergeant First Class Alwyn C. Cashe is seen in this undated photo published by the U.S. Army.
3rd Brigade Combat Team/3rd Infantry Division/U.S. Army
"I think it's incredibly important to highlight these acts of heroism, and what fellow Americans are willing to do for each other," Waltz told Newsweek. "There's so much in our national discourse now about what divides us and this is something that should be unifying and should be inspiring."
Fellow Florida lawmaker Murphy, who has also championed for Cashe's, expressed excitement over the latest developments.
"I am overjoyed that Alwyn Cashe will receive the Medal of Honor," Murphy said in a statement sent to Newsweek. "I wish this amazing man were alive to receive it himself. I am so happy for his family and fellow soldiers, who fought for years to ensure that Alwyn received the recognition he earned, and it's finally happening. This nation is beyond grateful for Alwyn's service and ultimate sacrifice."
Members of Cashe's family did not immediately respond to Newsweek's request for comment.
Cashe's Medal of Honor citation would mark the first for a Black soldier for heroism in action since the Vietnam War in the 1960s and 1970s.
In 2014, former President Barack Obama bestowed the Medal of Honor upon retired Black Special Forces soldier Sergeant 1st Class Melvin Morris along with 23 other mostly Latino and Jewish servicemembers for their service in Vietnam as part of a congressionally mandated effort to correct citations overlooked due to historic discrimination.
Morris had previously received the Distinguished Service Cross, the second-highest award for combat valor.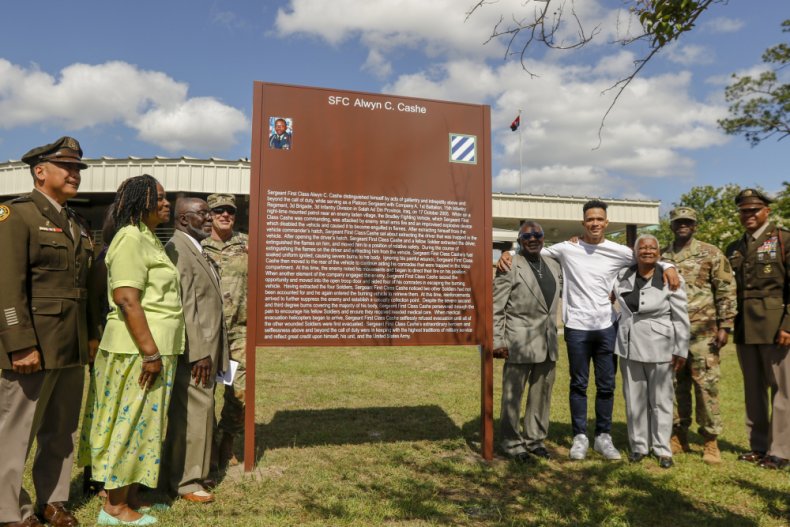 The latest developments in Cashe's case came as Biden puts Iraq-related affairs at the forefront of his agenda.
On Friday, Secretary of State Antony Blinken will host his Iraqi counterpart Fuad Hussain for the fourth meeting of the U.S.-Iraq Strategic Dialogue and Biden himself will meet with Iraqi Prime Minister Mustafa al-Kadhimi, part of the dynamic forged between Washington and Baghdad since the 2003 U.S.-led invasion that toppled longtime leader Saddam Hussein.
The invasion and the war that followed have elicited deep controversy over the years, but Cashe's own actions have been met with unanimous acclaim by those who've discussed his service in Iraq. In addition to his Silver Star, Cashe has been honored in other ways.
In July 2014, an Army Reserve center in Cashe's hometown of Sanford, Florida was renamed for him, as was the U.S. post office in Oviedo, where he grew up, in May 2019. In May of this year, the U.S. Army's 3rd Infantry Division, with which Cashe served, announced it would rename its Marne Garden ceremony area in Fort Stewart, Georgia to Cashe Garden.
"For the many of us who knew and served with Sgt. 1st Class Cashe, we know he wouldn't want any of this. He didn't need anything named for him," Command Sergeant Major Quentin Fenderson, said at the time. "He believed the only acknowledgement he needed was that his boys were safe."
This Friday will mark the anniversary of Cashe's son, Andrew Cashe, graduating from the U.S. Army's One Station Unit Training for Infantry at Fort Benning, also in Georgia.