Exclusive: More in Hong Kong Prefer Donald Trump, While Taiwan Leans Toward Biden, Polls Show
More Hong Kong residents support President Donald Trump to continue leading the United States after elections this November, while in Taiwan, Democratic nominee Joe Biden eked out a slight edge, an exclusive Newsweek poll conducted by London-based polling firm Redfield & Wilton Strategies showed.
In Hong Kong, a plurality of respondents, or 36 percent, said they would prefer Trump to win the 2020 election. However, the findings were close. About 33 percent of them said they backed Biden, while 31 percent said they did not know.
In Taiwan, respondents appeared to be largely indifferent about the race. About 44 percent of those surveyed said they did not know who their preferred candidate would be. But of those with an opinion, Biden slightly edged out Trump with 29 percent of those surveyed saying they'd prefer to see him take office in November as opposed to the 26 percent of them choosing the current leader.
The polls were conducted online for Newsweek among more than 1,200 Taiwan adults from July 15-18 1,000 and Hong Kong adults from July 19-21. Survey topics covered health, financial stability and geopolitics at a time when the Asia-Pacific was increasingly in the spotlight of a global strategic competition between the United States and China.
Washington has accused Beijing of expanding its control over semi-autonomous Hong Kong with a new national security law and of threatening to impose its will over self-ruling Taiwan, home to a rival government also claiming to represent China despite little international recognition. The central government in China has condemned these U.S. positions as attempts to interfere in its internal affairs.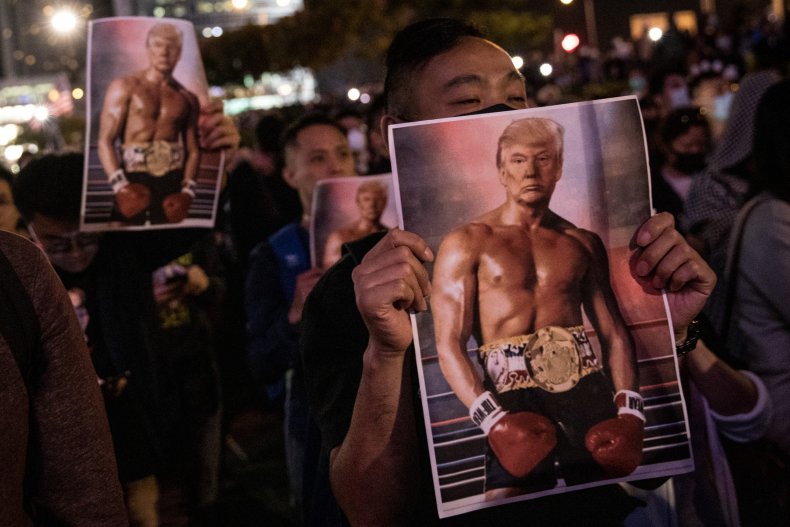 While it was former President Barack Obama—for whom Biden served as vice president—who initiated a "pivot" of U.S. foreign policy focus toward the Asia-Pacific region, the Trump administration has taken a decisively tough stance toward China. Washington and Beijing struck a phase-one deal in January as a ceasefire to their tit-for-tat war of tariffs, but tensions have since consumed the relationship between the world's two economies, with Hong Kong and Taiwan among the top issues.
The U.S. has supported Hong Kong opposition protesters who for more than a year have called for more independence from Beijing. The territory was granted limited self-rule as part of a "One Country, Two Systems" framework since a 1997 handover from the United Kingdom, but London has been joined by other former colonies the U.S., Australia and Canada in accusing China of deliberately eroding this structure, especially after the Chinese congress passed a law last month cracking down on separatism.
Both Trump and Biden condemned the move, which Beijing defended as a return to stability for the Asian financial hub. Trump earlier this month revoked Hong Kong's special U.S. trade privileges and has laid out new sanctions against officials in China's ruling Communist Party to which he said at the time Biden's "entire career has been a gift."
The two men have dueled over which one would be tougher on China in the leadup to the election. Both Trump's top diplomat, Secretary of State Mike Pompeo, and Biden stood up to Beijing in January by congratulating Taiwanese President Tsai Ing-wen on her re-election in a race not recognized by Chinese officials who claim sovereignty over the island.
The U.S. has recognized Beijing as the representative of China since 1979, four decades after the Chinese Communist Party forced nationalists into exile in Taiwan. Washington, however, maintains informal ties with Taipei and these have been expanded under Trump, who broke with processors in receiving Tsai's own congratulatory call upon his electoral victory in 2016.
With Chinese President Xi Jinping stepping up military activities in the South China Sea and the strait dividing Taiwan from mainland China, the U.S. also has increased its presence in the strategic region. The Trump administration announced last week, less than four months before the election, that it was officially challenging Beijing's widespread claims to the South China Sea as part of the president's push to counter the People's Republic.
As the U.S. continues to face the world's worst outbreak of a novel coronavirus that the Trump administration has largely pinned on Beijing, however, Biden accused his likely opponent of "blaming everything on China" and of employing a racially-charged mindset in his East Asia strategy.
"He's blaming everything on the Chinese and people don't make a distinction, as you well know, from a South Korean and someone from Beijing," Biden told the virtual Service Employees International Union event Wednesday. "They make no distinction, it's Asian, and he's using it as a wedge."