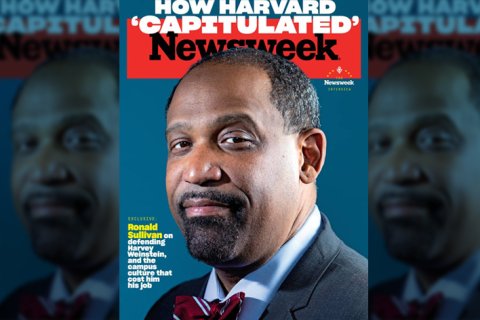 Last month, Harvard College told Ronald S. Sullivan Jr., and his wife that it would not renew their contracts as faculty deans of Winthrop House, one of the school's 12 residential communities. They had held their positions for ten years. When appointed, they were the first African-Americans to be named faculty deans at Harvard.
Their contentious departure was the culmination of a series of campus protests. The turmoil was unleashed after the New York Post reported in January that Sullivan—a clinical professor at Harvard Law School, the head of its Criminal Justice Institute and a nationally prominent criminal defense attorney—would be joining the team of lawyers representing film producer Harvey Weinstein. Since October 2017, when more than a dozen women first came forward with accusations, Weinstein had become the personification of power-based, sexual harassment and assault, accelerating the worldwide #MeToo movement. Sullivan would be helping defend Weinstein against a five-count indictment in New York State Supreme Court in Manhattan alleging rape and predatory sexual abuse.
Some students protested that the role on Weinstein's team was inconsistent with Sullivan's duties as faculty dean, and even that they felt unsafe with a dean who was aiding such a person.
In a Newsweek exclusive, Sullivan gives his first interview since his ouster. In it, he defends his decision to take the case and accuses Rakesh Khurana, the Dean of Harvard College, of "cower[ing]" and "capitulating" to the "loudest voices in the room."
"I certainly cannot dispute how some people feel," he says. "But I strongly believe that it's ... the job of the educator is to help students determine whether their feelings are rational... I would argue that a good educator would explore those feelings and help educate the student in a way where the student can exist in a diverse, heterogeneous environment."
Sullivan, 52, grew up in Gary, Indiana, where he attended public schools that were "100 percent" African American, he says. He graduated from Morehouse College in Atlanta in 1989 and Harvard Law School in 1994. After a year in Kenya, where he helped draft a model constitution for that nation, he spent three years in the Public Defender Service in Washington, D.C., and then went into private practice, including a stint with Skadden Arps where he assisted Bob Bennett in his defense of President Bill Clinton in the Paula Jones case. In 2000, he returned to the Public Defender, first as general counsel and, then, in 2002, as director. In 2004 he took a teaching post at Yale Law School and then, in 2007, at Harvard Law School.
Sullivan met his wife, Stephanie Robinson, when they were both students at Harvard Law School. She is also now an instructor there. She was formerly chief counsel to Senator Ted Kennedy; CEO of the Jamestown Project, a democracy-related think tank; and a national radio show host.
While serving as Winthrop House's faculty dean, Ron Sullivan handled many high-profile cases, though most were the kind that were apt to be seen as popular causes on a college campus. He represented the family of Michael Brown, who was fatally shot by a police officer in Ferguson, Missouri, in 2014. (The family won a $1.5 million wrongful death settlement in 2017.) In 2014, Sullivan designed and implemented the conviction review unit at the Brooklyn District Attorney's Office, which has since won release for more than 20 wrongfully convicted inmates, some of whom had served decades in prison.
In 2009, Sullivan and Robinson were named House Masters at Winthrop House. (Harvard changed the "House Master" title to "Faculty Dean" in 2016, after complaints about the term's associations with slavery.)
On May 13, a few days after Sullivan was told that his faculty dean contract would not be renewed, Sullivan withdrew from the Weinstein representation. He cited a judge's decision to postpone the start of the Weinstein trial from June until September, when it would conflict with Sullivan's teaching schedule.
NEWSWEEK: How did you come to join the criminal defense team representing Harvey Weinstein?
SULLIVAN: A colleague at the law school emailed me and asked whether I'd have any moral objection to representing Harvey Weinstein. When I got the email, I actually thought this was an ethics question—something she was posing to her class. I wrote back: Of course not. Every citizen has a right to a defense no matter how heinous the crime is or how unpopular the client. And then a few minutes later she wrote back and said, "He'd like to talk to you."
So quickly I figured out this was not a law professor hypothetical. This was an on-the-ground reality. So I told my colleague that it was fine, and to give him my cellphone number, and we talked, and here we are.
What was your thought process as far as your position at Winthrop House and the potential reaction of the students?
I must say that I certainly did not anticipate the reaction to the representation. And I should say "the reaction at the college to the representation." The law school was fine. We didn't hear much of anything from the law school. [Fifty-two current and former members of the Harvard Law School faculty signed a petition supporting Sullivan in the controversy.]
But I did not anticipate the reaction of the college, largely because of my history of these types of representations. Just the semester before, I was the lead prosecutor in the case against Eric Greitens, the then-governor of Missouri. And that case was all about an alleged sexual assault in the context of an invasion of privacy. So it's not as though I hadn't done a high-profile sexual assault case. But this one [the Weinstein case], appears to have been on the quote-unquote "wrong side" of the issue.
You had also done some potentially unpopular cases while at Winthrop House?
Oh, absolutely. I represented [former New England Patriot] Aaron Hernandez in a double murder case. In which I won an acquittal. He was an extraordinarily unpopular figure in Boston at that time. He had already been convicted of one murder when I represented him in the double murder.
Did you get any pushback for that representation?
No. There was no backlash or pushback for that representation at all. Indeed, students came to court to watch it. And, an interesting aside—later on, after I started representing Weinstein, a group of students asked if Winthrop House could rent a bus and take them to watch the Weinstein trial. Just making the point that there were still wide swaths of the student population that reacted the same way they had with the Hernandez case—or the terrorism case I tried. They wanted to see how the court system worked in action.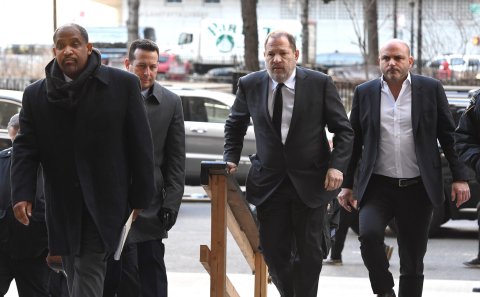 What was the terrorism case?
I represented the family of Usaamah Rahim. He was an alleged terrorist who was shot by Boston police and the FBI as they were attempting to execute an arrest warrant. And I represented his family on a claim of wrongful death.
That was controversial?
Yes, it was. The issue of terror evokes a lot of passion.
How did students respond to that?
In stride. No backlash whatsoever.
I take it, it was one of your duties as faculty dean, that if students feel they've been the victim of sexual harassment or misconduct, they would take that up with you or your wife?
In theory, they certainly could. The norm in all of the houses is that students would talk to either their tutor—the tutor is a residential graduate student who lives in the house—or to the CARE tutor [for Consent Advocates and Relationship Educators], which is the sexual assault tutor. They could also report to the resident dean, who functionally is the assistant dean.
I actually have seen some press making the claim that one of my principle duties is that students report to me about sexual assault, and it's just plainly erroneous.
That said, with respect to students who have come to me about the process, in 10 years there's never been a whisper that I've been anything but attentive to their needs.
How many times did that happen?
Oh, over 10 years I'd say, at Winthrop House, a half a dozen. And at the college, more widely, I represented, in Title IX proceedings [internal investigations conducted by the college] women who accused someone of sexual assault and men who've been accused of sexual assault.
So I've represented both sides.
How would those come about?
A student, after a complaint had been made, would seek me out because they know that I'm a lawyer and read the newspapers. And students are entitled to have what's called a personal adviser. So I would serve in the capacity of personal adviser to students. And even during this controversy there was a Winthrop student, a young woman, who I was representing in a Title IX proceeding, who accused someone of sexual assault. Now obviously I couldn't talk about it, because it was confidential. But the notion that I could not do both was demonstrably false.
Did she express any discomfort to you?
Not at all.
Over the 10 years, can you say how many you represented on one side versus the other, accused versus accuser.
I don't know in terms of gross numbers but it was roughly equal.
I assume a lot of your representations are pro bono or for not too much money?
Probably about 80-90 percent of my work is pro bono.
Was the Weinstein case a pretty lucrative assignment?
I don't discuss fees with respect to any of my clients. But Weinstein was not a pro bono case.
Let me just ask some basic things. Are there people you would not represent?
Yes. In theory, I am sure, we could come to a scenario where I would say, no, I would not represent this person. But I do not have categories of individuals that I say I would refuse to represent.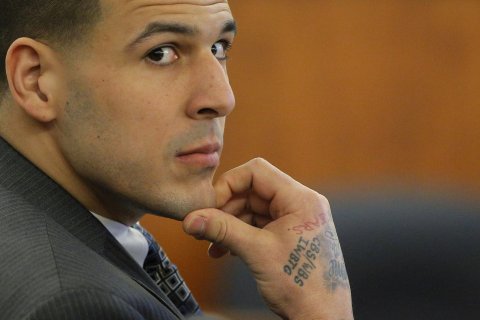 I saw you did a TEDx talk called, Can a Good Lawyer Be a Good Person. Why is it—and I'm not saying that Harvey Weinstein is guilty of crimes—but how can it be noble to represent guilty people?
It is noble to represent the guilty because that keeps our system honest. Representing the guilty ensures that the due process rights that you and I enjoy are actualized and realized. One very brief example: from all historical accounts, Ernesto Miranda was not a particularly nice individual. [Miranda had been convicted of kidnapping and rape before his convictions were overturned by the Supreme Court for not having been warned of his rights before interrogation while in custody.] But because of lawyers representing him pro bono, we now have one of the most central protections in our constitutional criminal law: the Miranda warnings. This is why we do this work.
What were the first negative reactions by college students that you became aware of?
Not surprisingly, it was social media. That's how the story began to mushroom around campus. People began to send me posts from social media from Harvard College students—mainly outside Winthrop House. That's when I became aware that people objected to it.
What did you do at that point?
I did two things. I convened a meeting of the house tutors, because I wanted to get a sense of what the mood at the house was. And I instructed the tutors to have what we call entryway meetings, meetings with the students over whom they have authority, and to talk to them about the representation and the case and to report back whether people had concerns. And the third thing that I did was have open office hours—two of them—where I invited students to come in and talk about it.
Did any of the tutors express concerns when you met with them?
Just one.
How many tutors are there?
Seventeen or so.
What did the one tutor say?
The one tutor created a category of responsibility for the faculty dean that she called "pastoral," and said there were concerns about my "pastoral duties" as faculty dean. To which I responded that that's the beauty of a university setting—that we can use this as a teaching moment. To talk about competing values and how we resolve tensions.
Even assuming there's no contractual provision that talks specifically about faculty deans performing a "pastoral" function, isn't that a reasonable thing to expect?
Yes, I was going to say, to the degree that there's a pastoral role, I served it well for ten years and could have served it well for the next ten years. With a more thoughtful response from the Harvard Dean's office, we as a community could have and would have worked through this.
Then, over time, there's a demonstration, with maybe 50 people. There's a sit-in at the Winthrop House dining hall. Graffiti is spray painted on the side of Winthrop House, saying: "Whose Side Are You On"; "Down With Sullivan"; "Outrage is our Self-Defense." Some students said they felt "unsafe." Some said they didn't want to receive diplomas from you. And the key thing they're saying is: This isn't about due process. They say they understand that Weinstein is entitled to due process. It's that there's a conflict between zealously representing this man who's become a symbol of long-standing, power-based oppression against women and being a faculty dean. They cite, especially, this "pastoral" type duty of the faculty dean. What would you say about that?
Well, there's a lot there. So I'll start with the protest. The one thing I'd point out is that the numbers were extraordinarily small. The paper reported 50 people. There were about 30 students at the protest. The rest were reporters and administrators and so forth. So it's 30 students out of a population of 6,000 or so. And very few were Winthrop students. The sit-in—once again, small number of students. A handful of students from Winthrop House. And a small group of students committed the vandalism at Winthrop House. So the notion that this was widespread, and there were hundreds of students protesting is factually incorrect. There was a small but vocal minority of students.
There was a petition for your removal that eventually gathered more than 300 signatures.
Right, there was a petition. And then a group organized itself as Students for Sullivan [i.e., students who defended Sullivan's conduct] and did a petition that had 1,100 signatures.
Now, the student newspaper also had editors on it who led the protests. So they would print that there's a petition with 300 students on there, but it was not newsworthy to point out that there was a competing one with 1,100 names on it. [The president of the Harvard Crimson, Kristine Guillaume, referred Newsweek to a statement she made in a Crimson article responding to Sullivan's criticisms of the paper's coverage of the dispute. "Our reporters and editors have done their due diligence in reporting and providing balanced coverage on this subject and all others," she said there.]
And what about the students who said they felt unsafe and didn't want to receive diplomas from you?
So, the feeling of being unsafe: I certainly cannot dispute how some people feel. But I strongly believe that it's the duty of an educator to ensure policy is not made as a function merely of subjective feeling. Rather, the job of the educator is to help students determine whether their feelings are rational. For example, a Christian student may feel unsafe with a Muslim head of house. I would argue that a good educator would explore those feelings and help educate the student in a way where the student can exist in a diverse, heterogeneous environment, and not run the Muslim head of house out. One can think of all sorts of examples. Does a Christian student feel unsafe with an atheist head of house? Does a right-to-life student feel unsafe with a head of house who's a physician who has done abortions? You can think of a lot of examples where a student may subjectively feel unsafe. But that in and of itself is simply not a good criterion to make university policy.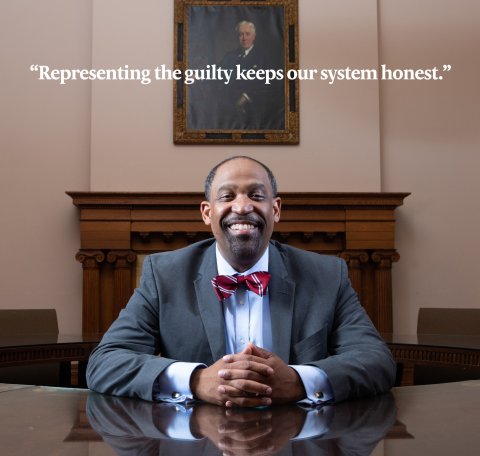 Two days after the Post reports that you're representing Weinstein, another publication, RealClear Investigations, reports that you're representing Roland Fryer, Jr. He's a superstar, African-American economics professor at Harvard who was being investigated, in a state anti-discrimination proceeding and an internal, Title IX proceeding, for allegedly having created a hostile workplace for women at his think tank. So, first, is that much true—that were you representing Fryer?
So, no, his lawyer is a man named George Leontire. But I don't want to be pedantic here. I'm very close friends with Roland, and I was interviewed for that article. I can say that Roland did immediately consult with me on the Title IX piece of the case when he was served. The substance of the Title IX I can't talk about until it's resolved.
In the article you were quoted as saying, "It shows what the current movement, some blood in the water, and good coaching [of witnesses] can produce." And some cited that later on as showing hostility on your part to the whole #MeToo movement.
No, the quote referenced a New York Times article that had just come out and an op-ed by a graduate student of Roland's. I was talking about a particular set of facts in a particular proceeding. To suggest that it was a commentary any broader than that is simply false.
What was the first you heard from Dean Khurana after your Weinstein representation was disclosed?
I don't recall. Within a week or so.
What did he say?
Our initial conversations were quite positive. He told me he wanted to work with me to ensure that we can work through whatever was going on at Winthrop House. He shared with me that the socialist students had told him that they felt unsafe with him because of his business school connections. He's a professor at the Harvard Business School [in addition to being a sociology professor at the University]. So this phenomenon of students feeling unsafe is not simply limited to the matter I was going through, but, rather, it's a broader phenomenon.
So he suggested that I do two or three things. And I did those two or three things. And I communicated the same to him. So that characterizes my first two or three interactions with Dean Khurana around these issues.
What are the two or three things he asked you do?
To write another letter to the House addressing head-on the claims that people feel unsafe. To broaden the role of the resident dean to give her more authority to deal with sexual assault matters. And to have additional office hours. And I did all three.
What happened after that? When do things seem to change with him?
As the student newspaper began writing successive, negative articles, Dean Khurana capitulated to that mood and became quite adversarial.
How did that first manifest itself?
It first manifested itself in an article I read in the Crimson where they quoted Dean Khurana who shockingly mischaracterized the friendly meetings that we had about the issue. He was quoted as saying that he had reminded me of my duties as faculty dean, which was just demonstrably a lie. So that's when I knew that Dean Khurana was beginning to cower to the loudest voices in the room. [The article quotes an email Khurana had recently written to Winthrop affiliates, stating: "I have also met with Professor Sullivan to discuss his responsibilities to the House and have communicated that the College believes that more work must be done to uphold our commitment to the well-being of our students." A message seeking comment from Khurana early Friday afternoon was not returned.]
When you saw that, did you contact Dean Khurana?
No.
Then, on February 25, he commences a "survey of the climate" at Winthrop House?
The day after Winthrop House was vandalized—
This was the spray painting?
The spray-painting—all at Winthrop House and most people of good will expected that the Dean of the College would denounce vandalism. That he would check on the health and the safety of the students at Winthrop House. He knows my children.
How many children do you have?
Two.
Ages?
Eighteen and nine at the time.
That he would have called to check on my children. The response, however, was that he wrote to all of Winthrop House that he was commencing a climate survey about Winthrop House—which was absolutely unprecedented.
Were you told in advance?
No. I just saw the email.
And then, finally, on May 10, there's a lengthy Crimson article which talks about problems between you and the staff, some of which had surfaced three years earlier. It says that 11 current and former tutors had signed a statement saying they felt a "climate of hostility and suspicion" at Winthrop House. What would you say about that article?
That article was a laughable hit piece. It regarded something that happened in 2016. It was a personnel issue with two members of my staff. Because I don't want to accidentally divulge their identity, I'm being purposefully vague. But two members of my staff in 2016. I do understand that several tutors were upset because I was taking a personnel action. I could not, did not, and would not share personal information about a staff member with the tutors. Had they known the issue I was dealing with, their reaction would have been completely different. But as a manager I respect the privacy of people who work for me and our personnel regulations demand that we not share certain information.
And the administration knows this, because they know what sparked it, and we had several meetings regarding the issue, and it was resolved in due course. So if I had done something wrong in 2016, the university would have taken action in 2016. Assuming they were too busy in 2016, they would have taken action in 2017. Or, surely, they would not have reappointed me in 2018.
Is it a yearly term?
Well, it's a five-year presumptive term, but it's year to year. You have an annual review every year, and you're renewed within that five-years every year. But the point here is that clearly the administration found that the personnel issue was warranted. Because there was absolutely no letter, no admonishments, no nothing. Nothing but reappointments for the next three years. This is brought up as an after-the-fact justification.
Students absolutely have a right to protest, and I will support it to my dying day. That's what students do. And they should do, and they should keep doing it. But the response from the adults in the room was extraordinarily disheartening.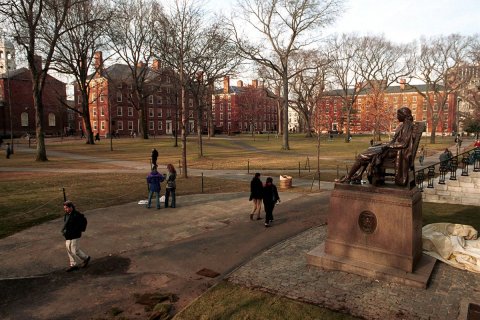 So it's the next day after that article that Dean Khurana notifies Winthrop affiliates that your contract will not be renewed. Did you get advance notice of that?
Yes, by minutes.
He says in the email: "Over the last few weeks, students and staff have continued to communicate concerns about the climate in Winthrop House .... The concerns expressed have been serious and numerous. The actions that have been taken to improve the climate have been ineffective, and the noticeable lack of faculty dean presence during critical moments has further deteriorated the climate in the house. I have concluded that the situation in the house is untenable."
Yeah, that letter was pure make-believe. It's interesting that Harvard never released the climate survey. They never released the climate survey, I submit, because it did not fit their narrative. I am confident that a majority of Winthrop students said they are just fine in Winthrop House.
You've been faculty dean since 2009, so were you nearing the end of your second five-year appointment?
Correct.
So June 30 is your last day?
Yes.
Did you give the students their diplomas?
I did.
Were there protests?
We allowed students to opt-out. I had a colleague from the law school hand out diplomas to students who opted out. We had 150-plus students graduate Winthrop. There were 30 on the opt-out list who received their diplomas from a different person.
What was really, though, hurtful to me about that, is that the organizers of the opt-out list put people on the list without their knowledge or consent. People came to me right after the graduation ceremony to say: "Will you take a picture with me handing me the diploma? I don't know how my name got on that list. I didn't put in on there."
After Dean Khurana made his announcement, there were some articles in your defense and some articles in Harvard's defense. One of the articles supporting Harvard was by Lucy Caldwell in the New Republic. It was called, "Harvard Was Right to Fire Ron Sullivan." She writes: "The professor is embracing public positions that make it impossible to carry out his obligations as dean ... [He] is not a victim of political correctness. He's a self-interested public figure who has privileged his professional and academic brand over the welfare of the students he was appointed to protect. ... Women on campus reasonably wondered how, as one student wrote in the Crimson, they could be "expected to live in Winthrop House under the authority of a man who ... has exhibited hostility to survivors of sexual assault."
I didn't read the article. Although the prose is very nice, the substance is just wrong. The supermajority of Winthrop students, and the supermajority of women at Winthrop House, were fine with me. Even during the Weinstein representation. So there simply is not data that supports that author's position.
I'll tell you another thing that the Dean's office did not share. We got information in terms of transfer students in the spring term that more women transferred into Winthrop House than transferred out of Winthrop House.
To be clear, they might have applied before all this happened?
I guess that's possible. I'd have to go back and look at the dates.
I suppose they could have cancelled, too?
Exactly.
Do you think race played any role in Harvard's treatment of you?
I have no idea. What I do know is that to my knowledge no master or faculty dean in the history of the institution has been treated as callously as I was. Whether it's because of race, my height, my profession—I don't know. And to be honest, I don't care. I care about the result. And to the degree that I can do anything, I'm going to spend some time to ensure that the university behaves better in the future.
Do you think Harvard violated any law or contractual provision in doing what it did?
I have not thought about it on that register.
Did you have discussions with them about the possibility of filing a lawsuit?
With Harvard during this time?
Yes. Either before or after the Dean's action.
Hmm. So that I'm honest — I don't want to make a misstatement. At this point, I'm not contemplating filing a lawsuit.
Did you reach a settlement?
[Pause.] The parties have resolved any disputes.
What are you hoping will come out of this? Why are you speaking to me now?
I'm hoping that what comes out of this is a better Harvard. I love Harvard. I'm a faculty member there. I'm an alum. And I'm a strong supporter of the students at Harvard for over a decade now. So I want to help make a better Harvard. A place where people dialog rather than engage in projects of demonization. A place where competing ideas can get sorted out in the marketplace of ideas. Rather than angry protests dictating policy.
The president of Harvard during the same period responded to protests about fossil fuels by saying that he responds to debate, not demands. I think that is the right sort of attitude. And the college would have done well to have listened to him on that and applied that principle to my situation.
In the end I have moved past what happened to me. I have an appointment at the Harvard Law School and will continue doing my work again, and I'll be just fine. But I will use this to ensure that this sort of thing doesn't happen to others.