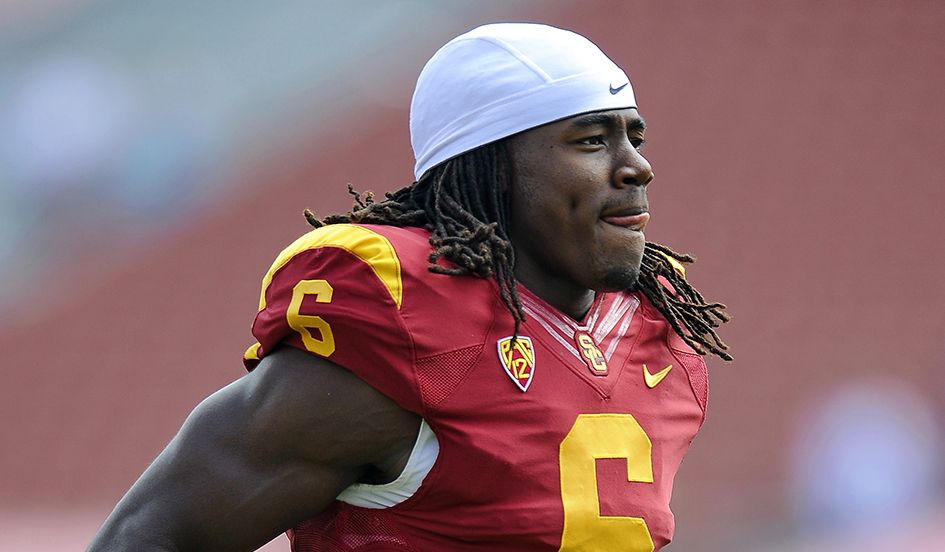 The faint aroma of skepticism that wafted through the University of Southern California athletic department last Monday morning has since been overtaken by the noxious stench of stunned disbelief. Josh Shaw did not just lie to a person in the Trojans' media relations department; he lied repeatedly to every major figure inside Heritage Hall, eye to eye.
The duplicity was pathological. Shaw enlisted others, and not just family members, to corroborate that lie. And when USC issued a press release on Monday afternoon proclaiming Shaw's heroic (and fictitious) tale of rescuing his seven year-old nephew from drowning in a pool, he even phoned them to correct an inaccuracy in the story.
That's correct: Josh Shaw noticed an error in USC's account of his made-up story about saving his nephew from drowning.
"With anyone else you might be a little more skeptical," says USC's inveterate sports information director, Tim Tessalone. "But of the 105 [football] players, if you line them up, Josh Shaw's carrying the flag. I mean, this is an exemplary guy. This is your out-front guy."
As you know by now, Shaw suffered high ankle sprains in both legs Saturday night after falling from a balcony. The tale he proffered was that he had leaped from a balcony in his hometown of Palmdale, roughly an hour north of USC's south-central Los Angeles campus, to rescue his young nephew, Carter, who cannot swim and was struggling in a pool. As you also know, by Shaw's own admission late Wednesday, that never happened. What is known is that, as Shaw's attorney, Donald Etra, has since said without elaborating, he "fell from a balcony" at the Orsini Apartment Complex located 10 minutes northeast of campus.
What happened next? Early Sunday morning Shaw visited a nearby hospital for treatment, where he was met by one of the Trojans' team doctors. Later on Sunday afternoon he visited USC's athletic training facility, the McKay Center, to undergo more treatment. By Monday morning Shaw, who had been voted a team captain not 48 hours earlier, was meeting with athletic department officials inside Heritage Hall.
"We met with Josh on Monday morning," says Tessalone. "Heard his story. Tape-recorded it. Asked questions."
It was a matter of the team's ultimate character guy relating what at first appeared to be a dubious story. Did Shaw really make it from downtown Los Angeles to Palmdale in under an hour? Wasn't it rather late for a seven year-old boy to be in a pool, alone? Why not run down the stairs as opposed to jumping from the balcony?
For every question USC officials asked, Shaw had what appeared to be a credible answer. Moreover, his story never changed. The fifth-year senior cornerback had already related this tale to teammates, coaches and training staff. Now, on Monday, he was sitting five feet across from head coach Steve Sarkisian, or athletic director Pat Haden, or senior associate athletic director J.K. Mckay, looking directly into their eyes, and repeating the story.
"I know of five or six people who had extended conversations with him," says Tessalone. "I think he got asked about it in 25 different sittings. 'Are you sure there's nothing incorrect in here?'"
Shaw, arguably the most respected player on the roster, was subjected to questions if not an outright interrogation. School officials told him that the story sounded "a little unusual" but he held firm to his story. Moreover, family members such as his older sister Asia, Carter's mom, corroborated it. So did non-family members who USC declined to name.
It was now Monday afternoon. Students and others might soon be noticing one of the Trojans' star players traversing USC's sun-dappled campus in a motorized cart. The next practice was scheduled for Tuesday morning at 8 a.m. With the Trojans just four days away from their season-opener and Sarkisian's debut as head coach against Fresno State at home on Saturday, reporters would definitely notice Shaw's absence.
How else was USC supposed to explain Shaw's bizarre injury when the only version it knew of was Shaw's? There was no mention of Shaw in any criminal activity; no incident reports from the campus police.
"We knew it was a feel-good story," says Tessalone, "but it was also going to be a news story."
USC issued a press release on its athletic website at 3:30 p.m. local time on Monday. Not long after, someone called to question the veracity of the report: Josh Shaw. In the story, since expunged from USC's site, Shaw is described as landing on the pool deck and then crawling to the pool. Shaw phoned to say that such phrasing was melodramatic, that he had not crawled to the pool, suggesting that the phrase "made his way to the pool" be used instead.
On Tuesday morning, about half an hour before practice was to commence, USC's athletic department phones started ringing like the last hour of a telethon. Numerous sources, local and national, had more problems with the account of Shaw's dramatic rescue.
The Trojans had planned to make Shaw available to the media after practice on Tuesday, but that plan was shelved. USC officials checked in with Shaw on Tuesday, and yet he remained adamant. In fact, another 24 hours would pass with Shaw, who graduated last May, maintaining that the story he had told, re-told, and re-told yet again to some of the most respected men at USC was the truth.
Until Wednesday. When it wasn't.
Why does one of the most trustworthy – if not the most trustworthy – members of the Trojan football team betray the faith that so many placed in him? How does he do it so unabashedly? And what, or who, was he trying to protect by placing himself in Palmdale, an hour's drive north of where he actually was, on Saturday night?
"That's probably a question for his lawyer," said one USC official.
One of many.
About the writer
John Walters is a writer and author, primarily of sports. He worked at Sports Illustrated for 15 years, and also at NBC Sports where he won two Sports Emmys for his on-air writing at the Athens and Beijing Olympics. He has also worked at AOL Fanhouse and The Daily, as well as waited at a popular Manhattan steakhouse. Walters is the author of The Same River Twice: A Season With Geno Auriemma and the Connecticut Huskies. He is the founder of mediumhappy.com, a pop culture blog that he updates daily. He holds a B.A. from the University of Notre Dame, where he studied pre-med and rowed crew.