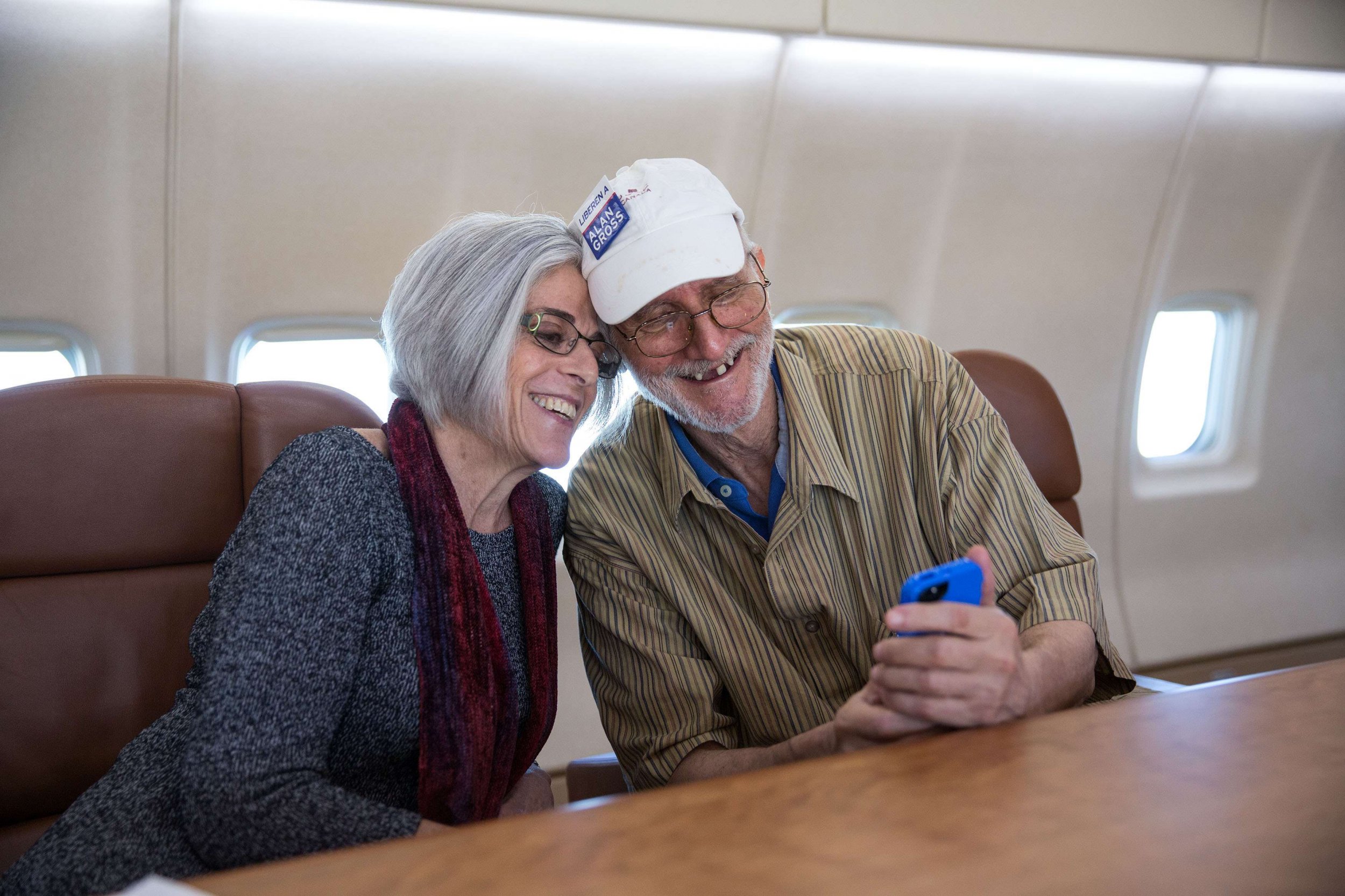 Updated |
On a rainy day last December, tens of thousands piled into FNB Stadium in Johannesburg to pay their respects at the memorial service for Nelson Mandela, the former South African president. Yet it was a gesture between two other world leaders that momentarily stole the headlines. As he strode to the microphone to deliver his eulogy, President Barack Obama paused to shake hands with Cuban leader Raúl Castro. It was the first time that the two had ever publicly embraced, and the move prompted a flutter of speculation about a possible thaw between the former Cold War adversaries.
The chatter eventually died down. But, as it turns out, behind the scenes the Americans and the Cubans had already been talking for six months about how to negotiate an end to their decades-long feud. Current and former White House officials told Newsweek the backstory, speaking on the condition of anonymity because they weren't authorized to be quoted by name. The talks, the officials explained, continued in Canada for another year. At one point, they nearly collapsed over the U.S.'s demand for the release of an American spy imprisoned in Cuba in exchange for three Cuban operatives.
But after a final, critical meeting at the Vatican under the direction of Pope Francis earlier this fall, the diplomacy climaxed with Obama's dramatic announcement that Washington would restore full diplomatic relations with Havana. Along with the previously proposed spy swap, what helped pave the way for the breakthrough was what both sides called the humanitarian release of Alan Gross, an American aid worker held captive on the island for five years.
The breakthrough development grew out of Obama's long-standing desire to improve relations with Cuba, the target of a crushing—and in his view—outdated American trade embargo that began in 1960. Over the next five decades, there were attempts to repair the relationships, but neither side really came close. Shortly after Obama took office in 2009, however, he quickly eased restrictions on travel and remittances to Cuba for Cuban-Americans and authorized U.S. telecommunications companies to establish satellite and fiber-optic links between the two countries.
But Obama's hopes of forging a better relationship with Havana were upended with the 2009 arrest of Gross, a contractor for the U.S. Agency for International Development (USAID) who brought illegal telecommunications equipment into Cuba. In 2011, a Cuban court convicted him of trying to subvert the state and sentenced him to 15 years in prison.
For the next four years, Gross's family and their lawyers pressured the administration to offer the three Cuban operatives in exchange for his release. Publicly, the U.S. refused such a deal, insisting Gross was not a spy. Privately, however, the State Department reached out to the Cubans in an effort to negotiate Gross's freedom. At first these talks seemed promising, but they soon became mired in domestic politics and strategic miscalculations. In 2011, for instance, the U.S. waffled over rolling back some of the controversial USAID programs that Gross had been a part of, angering the Cubans, who were looking for a gesture of good faith. But the Americans didn't know if the Cubans were serious about negotiating, and feared political blowback in the lead-up to the 2012 presidential election. In the end, diplomacy broke down, and the opportunity to free the American aid worker and move beyond decades of Cold War hostility seemed to pass.
In prison, Gross's health deteriorated, and he began telling wife he was considering suicide. In 2008, the 65-year-old development worker had volunteered on the Obama campaign. Four years later, he was still a supporter: From inside a prison hospital in Havana, he filled out his absentee ballot. But by early 2013, he began to lose hope that the president could make a deal with the Cubans.
Early that year, however, the landscape began to shift. As the news media continued to tell Gross's story, his case attracted the attention of two prominent Catholic leaders: Cardinal Seán Patrick O'Malley, the archbishop of Boston, and Cardinal Theodore McCarrick, the former archbishop of Washington, D.C. McCarrick is close with White House Chief of Staff Denis McDonough, and both cardinals enjoy good relations with leaders of the Catholic Church in Havana, as well as Francis.
In March 2013, the two cardinals flew to Rome to meet with Francis and brief him about Gross's situation in advance of Obama's meeting with the pope at the end of that month. When Obama met with the pontiff, fully half of their meeting was spent discussing the imprisonment of Gross—who is Jewish—as well as ways to improve the relationship between Washington and Havana. Francis followed up on the meeting by writing letters to both Obama and Castro, calling on them to resolve the cases of Gross and three Cubans spies imprisoned in the United States. In his letter, the pope also encouraged the United States and Cuba to end their years of estrangement and pursue a new, friendlier relationship. "There was interest in getting talks started, but there was skepticism too," one former White House official said. "The Vatican helped smooth the way."
Back in Washington, Obama lost no time in acting on the pope's recommendations. In April, he authorized two trusted White House aides—Deputy National Security Adviser Benjamin J. Rhodes and Ricardo Zuniga, the senior director for Western Hemisphere affairs on the National Security Council, to pursue higher-level talks with the Cubans. Utilizing contacts with Cuba's diplomatic interest section in Washington and its mission at the United Nations, Obama's aides worked with Canada, which has close relations with both countries, to facilitate direct talks with their Cuban counterparts. Their first meeting took place in June in Toronto.
Over the next several months, Rhodes and Zuniga flew to Toronto and Ottawa for a series of secret meetings with Cuban officials. Initially, the talks focused on a number of issues, ranging from Havana's request to be taken off the State Department's list of countries sponsoring terrorism to Cuba's objections to the U.S. Navy's prison at Guantanamo Bay.
Meanwhile, back in Washington, Gross's lawyer, Scott Gilbert, enlisted Senator Patrick Leahy, the liberal Vermont Democrat who chairs the Senate Judiciary Committee, to press the White House for a prisoner exchange. "He persuaded Leahy that the [three Cubans] were tradable and that it would not be a miscarriage of justice to use them in an exchange," one of the former White House officials said, adding that Leahy's support for a prisoner swap provided the administration with greater political space to maneuver.
For their part, the Cubans remained receptive to a change in their relationship with the U.S. In October 2013, during an appearance at Columbia University in New York, Josephina Vidal Ferreiro, a senior Cuban government official, emphasized Havana's desire for a thaw. In the few areas where U.S. and Cuban officials often interact—flight security and nabbing drug smugglers—she felt there had been good cooperation. "We would like to see progress," she said. "We believe there are now favorable conditions in this country and in Cuba to do that."
But the secret talks hit a snag over a new U.S. proposal to swap the Cuban spies for a jailed American operative—not Gross, whom the Americans refused to identify as a spy and wanted released on humanitarian grounds. "The biggest sticking point was the Cubans' turning over the intelligence asset," a former White House official said. "They did not want to do that, and that's what slowed things down and almost ended things on more than one occasion."
In the end, the White House said it was Francis—at a critical meeting of American and Cuban negotiators at the Vatican this past fall—who brokered the final agreement on the prisoner exchange, as well as the steps toward reestablishing full diplomatic relations. "The support of Pope Francis and the support of the Vatican was important to us," a senior administration official told reporters on a conference call, noting the respect the Argentine-born pontiff commands in both Cuba and the U.S.
A day before the announcement became public, Obama and Castro sealed the deal in a nearly hour-long telephone conversation, the first substantial one-on-one exchange between U.S. and Cuban leaders in more than half a century. That conversation was, by turns, businesslike and lighthearted, with the two leaders at one point laughing at themselves for talking too long. After apologizing to Castro for being so long-winded, Castro apparently responded with a joke about his brother, Fidel, saying, "You're still a young man, and you still have the chance to break Fidel's record: He once spoke seven hours straight," Obama later recounted at a press conference.
On December 17, a gaunt Gross arrived at Andrews Air Force base outside of Washington, accompanied by his wife, Judy; Leahy; and two other lawmakers, just before Obama announced the breakthrough in U.S.-Cuba relations.
Several years ago, as he was losing hope, Gross wrote Newsweek a letter, which his wife smuggled out of his prison hospital in Cuba. It lamented how Havana and Washington both seemed to be blowing smoke.
"Smoking is hazardous to my health," he quipped. Home for the first time in five years, he is now breathing fresh air.
Correction: This article originally incorrectly stated that the handshake between Obama and Castro took place at Mandela's funeral on a clear day in the village of Qunu, in front of a few thousand mourners. The handshake took place on a rainy day in Johannesburg at Mandela's memorial service in front of a crowd of tens of thousands.