Exclusive: How YouTube Facilitates the Persecution of TikTok Women in Egypt
YouTube is facilitating the persecution of women and girls the Egyptian state deems too immodest by rewarding prominent male influencers whose inciting videos—viewed millions of times—target the very same young women in tandem with prosecutors.
As these YouTubers touted claims of a symbiotic relationship with Egyptian authorities, at least a dozen women, some of them only teenagers, have faced arrest and jail. It is a lucrative market for influencers and YouTube—one campaigners want the video-sharing giant to take action against.
"It's a circle that feeds itself, it's like a self-fulfilling prophecy," Lobna Darwish, gender and human rights program officer at the Egyptian Initiative for Personal Rights (EIPR), an advocacy group based in Cairo, told Newsweek.
In their videos, these men—who style themselves as commentators or comedians—verbally lash women and girls with derision, lewd comments, and hateful rhetoric for activities such as dancing along with popular social media trends and wearing clothes they consider too revealing.
Many demand the jailing of women for perceived immorality. One YouTube influencer told women they "deserve rape." Another called for a couple to be executed by impalement.
Once authorities started to arrest the women, the YouTubers "were extremely empowered and emboldened," Darwish said. "Now, they think that the state [has] their back, and that the state is saying the same things they're saying: That this is indecent and worthy of punishment to the point of prison."
These YouTubers run verified channels. They boast hundreds of thousands—sometimes millions—of subscribers, and their content enjoys high levels of engagement.
"Creator Awards," which are commemorative plaques conferred by YouTube for passing subscriber count milestones, decorate their videos' backgrounds.
YouTube's criteria for awarding the plaques—also nicknamed "Play Buttons"—include compliance with its terms. The platform hands out Play Buttons at its sole discretion, adding every channel is "carefully reviewed to make sure that the criteria are met."
Darwish told Newsweek that "part of the struggle" in alerting social media companies of concerning content on their platform is the different standards of moderation between their regional offices.
"When you want to report something on social media—whether Facebook, YouTube, or Twitter—you report it to the Middle East office," she said. "And you get very different opinions on what is a violation, what is an incitement and what's not."
A YouTube spokesperson told Newsweek: "Upon review, we removed 5 videos surfaced by Newsweek for violating our Harassment policy, which prohibits content targeting individuals based on intrinsic attributes, such as their gender, or content that graphically sexualizes or degrades an individual. We're committed to rigorously enforcing our Community Guidelines, and in Q4 of 2021, we removed over 322,000 videos for violating our Harassment policy."
The spokesperson added that the company enforces its Community Guidelines regardless of speaker or location.
YouTube relies on both humans and technology to enforce its policies, with over 20,000 people around the world working to detect, review and remove violating content, the spokesperson said. Among them are individuals who access Arabic-language content.
YouTubers can monetize their videos through the platform's Partner Program, which allows creators to earn revenue from YouTube's pool of advertisers. Participants must abide by "advertiser-friendly" guidelines, such as refraining from producing content that is "hateful or derogatory" and "incendiary, inflammatory or demeaning."
It is unclear whether Egypt's male YouTubers take part in the Partner Program. If that were the case, YouTube would have approved their content following a review process involving automated systems and human reviewers.
Either way, advertising appears on the videos, meaning YouTube is profiting from the content.
These YouTubers do benefit, however, from sponsorship cash trickling down from companies such as Olymp Trade, a trading and investment platform, and the NOX Group, a mobile technology company.
A spokesperson for Olymp Trade, which sponsored three such Egyptian YouTubers, told Newsweek the company was not fully aware of the nature of its partners' content and has now terminated these relationships, requesting that the relevant videos be deleted.
They said Olymp Trade "does not accept and does not sponsor harmful content" that violates principles of tolerance and equality, calling these examples "exceptions" and pledging to "enhance its due diligence practices and strengthen its advertising compliance approach."
Newsweek has asked the NOX Group for comment.
'You Better Hide'
"Moka Hegazy is imprisoned, guys. And she was handed over successfully," goes the opening statement of a July video by Mo Selva, an Egyptian YouTuber who posits himself as a purveyor of "truth" to his some 824,000 subscribers.
Next to the cheery influencer is a still image of 16-year-old Moka Hegazy—star on the social video platform TikTok—in a sports bra. The video is part of Selva's YouTube series "Wholesale Scandals," which "exposes" influencers whose content he deems immoral.
Selva's series mostly features women.
"And just like Mawada Al-Adham and Haneen Hossam were jailed, the whole lot has to be imprisoned," Selva said, referencing the two cause célèbres of Egypt's crackdown on so-called "TikTok girls."
He adds: "They enter prison so that the country is cleansed a little."
Selva then patted himself on the back for generating 9 million views on his previous episode about Hegazy's content. In a clip from the older video, he admonishes the teenager for "baring almost her entire body," and announces he is "reporting on this girl so she can be jailed immediately."
"So the purpose was to make the security apparatus aware of a girl like this," Selva said. "Because she could be hiding among the many social media celebrities, so our task is to deliver her to them. So she could be imprisoned just like the others were imprisoned."
TikTok exponentially grew its user base in 2020, as the COVID-19 pandemic confined populations around the world to their homes. Egypt was no exception.
While largely conservative, Egypt is home to a glittery entertainment industry. Despite the state-backed vilification of dancing young women, belly dancers remain among the country's most popular performers.
The Egyptian government provoked outcry from human rights organizations in 2020 after multiple female TikTok stars were arrested under the state's cybercrime law.
Ratified in 2018, the legislation includes clauses that prohibit violations of the country's "family values"—punishable by a minimum of six months in prison—and sharing content that "violates public morals," which carries a penalty of two to five years in jail.
However, an attempt by two lawyers to have TikTok banned—their lawsuit argued the app promotes pornography, violence, and bullying—was dismissed by an administrative court in December.
In June, Haneen Hossam and Mawada Al-Adham, two prominent TikTok influencers in Egypt who had at least four million followers between them, were handed lengthy jail sentences by a Cairo court, which found them guilty of "human trafficking."
Hossam, 20, was the first of the pair to be arrested in April 2020 after promoting video-sharing app Likee, on which creators could get paid for broadcasting videos.
This is the basis for the human trafficking charge because authorities interpreted it as encouraging women to sell sex online. Police arrested Al-Adham, 23, in May that year.
A judge sentenced Hossam in absentia to 10 years in prison. Al-Adham got six. They were also fined 200,000 Egyptian pounds ($12,700).
Hossam is undergoing a repeatedly-postponed re-trial, now set for February 21. Al-Adham has filed an appeal before Egypt's Court of Cassation, the country's highest court.
Other women prosecuted over their TikTok presence include famed Egyptian bellydancer Sama El-Masry (currently serving a three-year jail sentence); university student Menatullah "Renad" Emad (appealing a three-year sentence); social media star Hadeer El-Hady (whose two-year sentence was upheld by an appeals court); and mother-daughter duo Sherry Hanem and Nora "Zomoroda" Hisham (sentenced to five years in prison.)
A few male Egyptian influencers have carved a potent niche out of these women's demise.
They criticize women and girls for filming themselves doing the very things TikTok is widely used for; dancing, singing, acting, demonstrating tutorials, giving opinions, or even staring into the camera without saying anything.
The comedy-oriented YouTubers mock the women while pelting them with insults and sexual innuendo. Their commentator counterparts deliver analysis on the purported societal rot the TikTok girls have wrought upon Egypt.
For the most part, the men openly call for the jailing of women and girls who post "filth."
Tone aside, the YouTubers' content is similar across the board. The men put together compilations of the very footage they deem pornographic and make brazenly lewd comments about the women they attack as obscene.
For videos that tar female internet stars as selling their bodies, the YouTubers have packed thumbnails with salacious stills of the same women in an effort to attract views.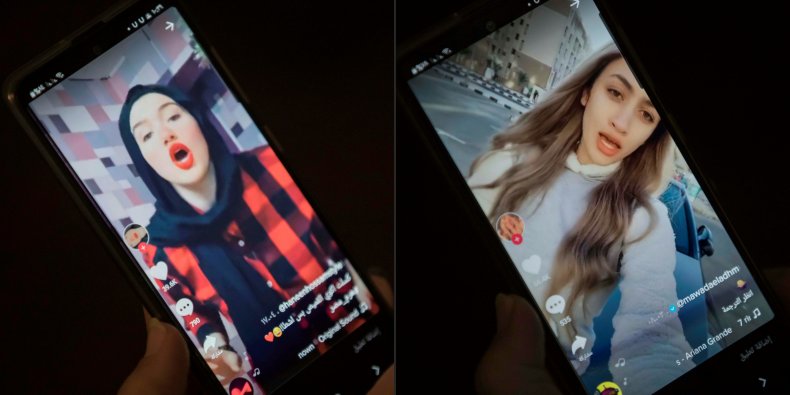 "You go to some of these channels, and the man would have no other content but content related to women's content and incitement," EIPR's Darwish told Newsweek.
"So basically, he has nothing to offer. He's making money. He looks puritan while he's showing the same photos that he is accusing these women of being indecent for showing."
Widespread backlash against TikTok girls—instigated in no small part by male influencers—raises their profile substantially, and may put them on the state's radar. Subsequent arrests and imprisonments leave the YouTubers feeling vindicated.
Prior to Hossam and Al-Adham's first arrests, YouTube comedian Mahmoud Eldeeb was among the creators who drew attention to them.
In late 2019, Eldeeb, who has at least 813,000 subscribers, shared a video that combs through Hossam's social media photos and TikTok videos as he makes thinly-veiled crude comments about the young woman's silhouette and choice of clothing.
"We should stand behind you, tie you up, and bury you alive," he said in the video, addressing Hossam.
Shortly after Hossam's arrest in April 2020, Eldeeb prayed Al-Adham would soon follow. He said this while attacking her for a TikTok video in which she showed off an embellished face mask.
"That thing in your hand is a pair of..." the YouTuber trailed off, appearing to imply the item either resembled a bra cup or a female breast.
"What's important, Mawada, is that you better hide these days, because the government will cleanse the country of you people," Eldeeb continued.
Al-Adham was arrested the following month.
While some male influencers attempt to instigate arrests, others seek direct involvement in sealing the women's fates.
Younes Mohamed told his one million YouTube subscribers in August that he would submit a report to the police and prosecutor general against an Egyptian woman who posted "routine videos," a subset of Arab social media content in which fully clothed women film themselves performing housework.
Multiple male YouTubers took issue with videos in which the women had their backs turned or were filmed from their side, making their rear ends visible within the shot.
Mohamed credited his channel for authorities' attention on the "routine" creators. "We were the first to tell you about the 'daily routine' channels and the videos that were made. Because of that, the police's movement was very quick," he said.
"The work of morality police officers has developed. Now, they sit on the internet, they watch YouTube, TikTok, all the live broadcasts. They follow, they watch who publishes things that aren't right."
Newsweek reached out to Egypt's Public Prosecution office by email but did not receive a response before publication. A message to its official Facebook page was left on read.
Most glaringly, Karim Alaa—another YouTuber with a subscriber count past the million mark—boasted about advising Cairo-based lawyer Ashraf Farahat, who is widely known for his pursuit of female personalities, including women on TikTok.
Farahat's numerous morality-based complaints to Egypt's prosecutor general are believed to have been the catalyst for multiple TikTokers' imprisonments.
In response to Newsweek's request for comment, Farahat described the goal of his "Purify Society" campaign as "the balance between freedom of expression and silencing the pollutive audiovisual voices" on social media.
He also denied his initiative is swayed by YouTubers, saying that his complaints are based only on evidence that a crime was committed under Egyptian law.
But on his relationship with Alaa, Farahat confirmed that the two coordinate if "there is something that is already posted that requires intervention," adding: "He tells me about it, we examine it, and if it constitutes a crime, we take the necessary procedure."
However, Karim Alaa told Newsweek Farahat officially holds power of attorney in his name, thus allowing the lawyer to open cases on the YouTuber's behalf.
In that same video, Alaa announced the launch of a new campaign named "Bel Mersaad," after an Arabic expression denoting the act of watching someone with close scrutiny, waiting to pounce upon any misstep.
As he went on to address a niqab-clad woman who was the focus of his video, the YouTuber's face beamed with excitement while he took a threatening tone.
"So hurry up, my dear," he said. "Either you hide or, God willing, you'll see what happens to you. And you will hang by the butt you are proud of and you expose us to all the time in this show."
In a July video, Alaa delivered an unsettling screed about a controversial social media couple: A woman identified as Yasmeen El-Fouly and a man known only as Osama. The pair was sentenced in September to three years in prison for "spreading immorality."
El-Fouly in particular had been a favorite target for righteous male YouTubers, who attacked her for outfits and seating positions deemed vulgar, and a video in which she says her bicep tattoo is not sinful in Islam.
Alaa said he would file a report to Egypt's prosecutor general, but admitted he wished the couple would be gruesomely executed instead.
"They shouldn't be imprisoned," he said. "Their punishment should be to bring them both and execute them like the ancient executions, which is impalement, which is [the object] enters from one end and comes out of their mouth."
Alaa told Newsweek his choice of language was only a "metaphor." He said his mission was not to get women incarcerated, though he does submit reports to alert the Public Prosecution of "dirty content that incites immorality and debauchery."
"It's not genuine content that would benefit people, but rather harm girls, when they see others dance and undress and ride in luxury cars with money and live without their family," he said.
"They will think the same way and leave their studies and their families as well."
'The Majority of People In Hell Are Girls'
While this sphere of male YouTubers preaches against supposed female depravity, several creators who expressed fears of social media corrupting children had themselves sexualized underage girls.
Moka Hegazy, for example, has been the subject of racy comments by a number of grown men. In a video about Hegazy's arrest, Alaa made a remark alluding to the teenager's figure.
"I don't know how she is 16 and has all this..." he trailed off. "All these 'friends.'"
Alaa said he toned down his language "because of the kids," but added older viewers would understand what he meant.
Another YouTuber named Abdulrahman Khaled—who boasts close to 1.5 million subscribers—used a video of a fully-clothed child lip-syncing to a song in a bathroom to caution families about young girls' online presence.
"This cute little girl entered the bathroom," Khaled said. "And took her clothes off and bared her shoulder and part of her chest, and in the future she will remove all of her clothes."
The YouTuber delivered a stern warning to parents.
"When the little girl, your daughter, is imprisoned, don't come crying, 'Why did they jail her? Where are the human rights?'" Khaled said. "No. Discipline your daughter well, go to her room and find out what she is filming and uploading."
Amr Eltmraya, a creator from Port Said with over 211,000 subscribers, runs a reaction channel, a YouTube genre that sees users reacting to a compilation of videos. For the near-entirety of his channel, Eltmraya plays women's TikTok videos and criticizes them.
In the YouTuber's own words, "the majority of people in Hell are girls. Which girls? The ones who take their clothes off."
One TikTok highlighted by Eltmraya saw a young woman stating: "Clothing is not a standard for respect. I will upload a photo with a bikini and I am [still] respectful."
"If clothing isn't one of the essentials of respect, everybody would have taken their clothes off and there would be rape on the streets," Eltmraya said.
"The reason why this issue has been contained in Arab countries is because men haven't taken their clothes off. If men took their clothes off as well, you will be the first one to die raped with your bikini."
Eldeeb, who also runs a reaction channel, went even further regarding women whose TikToks he disapproved of. On two separate occasions, the influencer told women they "deserve rape." One TikTok that spurred this reaction featured two women claiming men tend to be unfaithful. The other was of an influencer dancing in a red dress.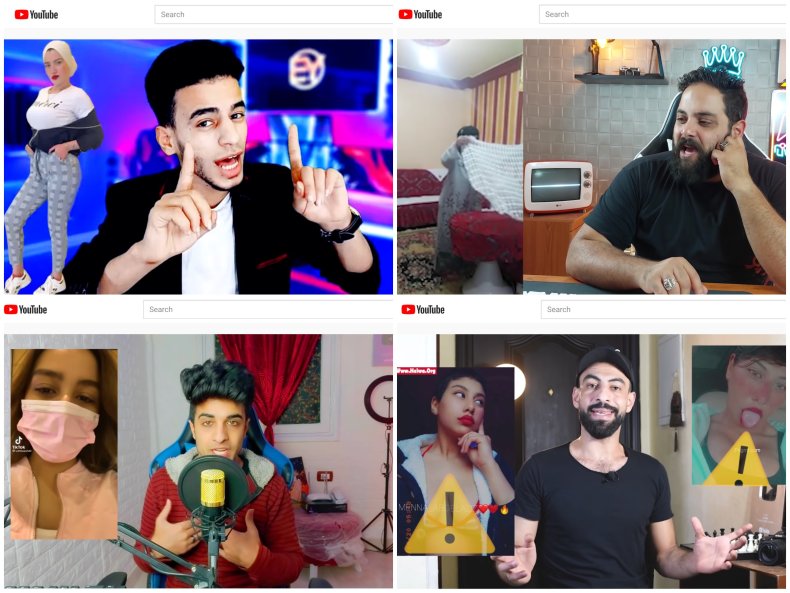 He also harangued virtually unknown TikTok users. In one unassuming video he handpicked, a woman showed off an unpolished dance routine at home. She was seated, swaying her arms and upper body while dressed in a full-sleeved top.
"And [women] get very upset when they are raped and they say that the percentage of sexual harassment has increased," Eldeeb said.
"I'm sorry to every one of my friends to whom I said 'respect yourself' when he catcalled a woman in front of me. If only I had respected myself and catcalled with you."
Newsweek has contacted Mahmoud Eldeeb, Amr Eltmraya, Karim Alaa, Mo Selva, Younes Mohamed, and Abdulrahman Khaled for comment.
Egypt has long grappled with a widespread sexual violence problem. A 2017 survey conducted by the Thomson Reuters Foundation found the capital Cairo to be the most dangerous megacity for women. Public harassment of women in Egypt is a perennial problem.
"Now you're in a position where most people ended up online, because that's the space that was available," Rothna Begum, women's rights researcher for the Middle East and North Africa region at Human Rights Watch (HRW), told Newsweek.
"And that's where men go to, again, shove women out of that space as well."
As the arrests of Egypt's TikTok girls made global headlines, so too did the country's #MeToo movement.
In May 2020, then 17-year-old TikToker Menna Abdelaziz appeared on an Instagram Live broadcast with a battered face, tearfully announcing that a group of influencer friends had raped her.
Abdelaziz's plea for justice gained widespread support, but the teenager's online videos and choice of clothing were also weaponized against her credibility or as justification for the attack.
While the assailants ended up arrested over the incident, Abdelaziz was also apprehended for charges of inciting debauchery and violating family values.
Two men, two women and an unidentified fifth person were handed three to 11 years in prison in May 2021. Abdelaziz was acquitted in late 2020, then sent to a women's institution for two months—including a brief stint in a psychiatric hospital after she attempted suicide.
Following her release, 18-year-old Abdelaziz eventually returned to posting videos, much to the dismay of those who believed she hadn't "learned her lesson" after the violent attack.
Male YouTubers cast doubt on Abdelaziz's story before and after the perpetrators' convictions. Since her online reemergence, there have been calls for authorities to arrest her once more—and keep her behind bars this time.
Eltmraya reacted to one of Abdelaziz's more recent dance videos by stating: "After the rape the bar with her is high. Of course, she just came back from jail, and it's clear she will be returning again."
Months after Abdelaziz's attackers were convicted, Eltmraya dedicated a video to mocking the young influencer's traumatic episode and portraying her as a promiscuous girl who looked to avoid jail time.
"It's clear from the beatings on her face that it wasn't just one man or two, no, there were a few," the YouTuber quipped, referring to Abdelaziz's viral testimony.
In July, Mo Selva publicly apologized for having defended Abdelaziz in the past.
"After Menna Abdelaziz's suicide attempt, she returned filthier than before and more excessive than before," he said. "Why isn't she pulled from the back of the neck and thrown in jail and sentenced to 6 years or 10 years?"
Begum said Menna Abdelaziz's particular case as a "public victim" could have a "chilling effect" on sexual assault survivors in Egypt.
HRW is aware of at least 12 women who are currently imprisoned in Egypt for TikTok-related infractions.
Aside from alerting authorities for prosecution, Egypt's alarmist male YouTubers could trigger additional life-altering events for their targets, according to Begum.
Women from disadvantaged socio-economic backgrounds risk losing their livelihoods. Families can inflict violence or exert restrictions on female members found to be publicly shamed on social media.
And, over time, consistent large-scale online harassment will harm the mental health of women and girls.
Begum said the algorithms of social media platforms push people towards extreme content they may not otherwise have seen, which is particularly a problem with Arabic content because "there's far less monitoring of it."
Social media giants, like any other companies, have obligations under United Nations guiding principles on business and human rights, said Begum, who urged them to properly moderate content in which men are inciting violence against women.
"Particularly where these men are getting more followers," she said, "Because algorithms might be redirecting people to them and then creating, potentially, the level of language and content that could leave women subject to violence in real life."
Update 02/11/22, 7:45 a.m ET: This article was updated to add statements from Karim Alaa.
Update 03/29/22, 4:40 a.m ET: This article was updated to include a statement from a YouTube spokesperson.