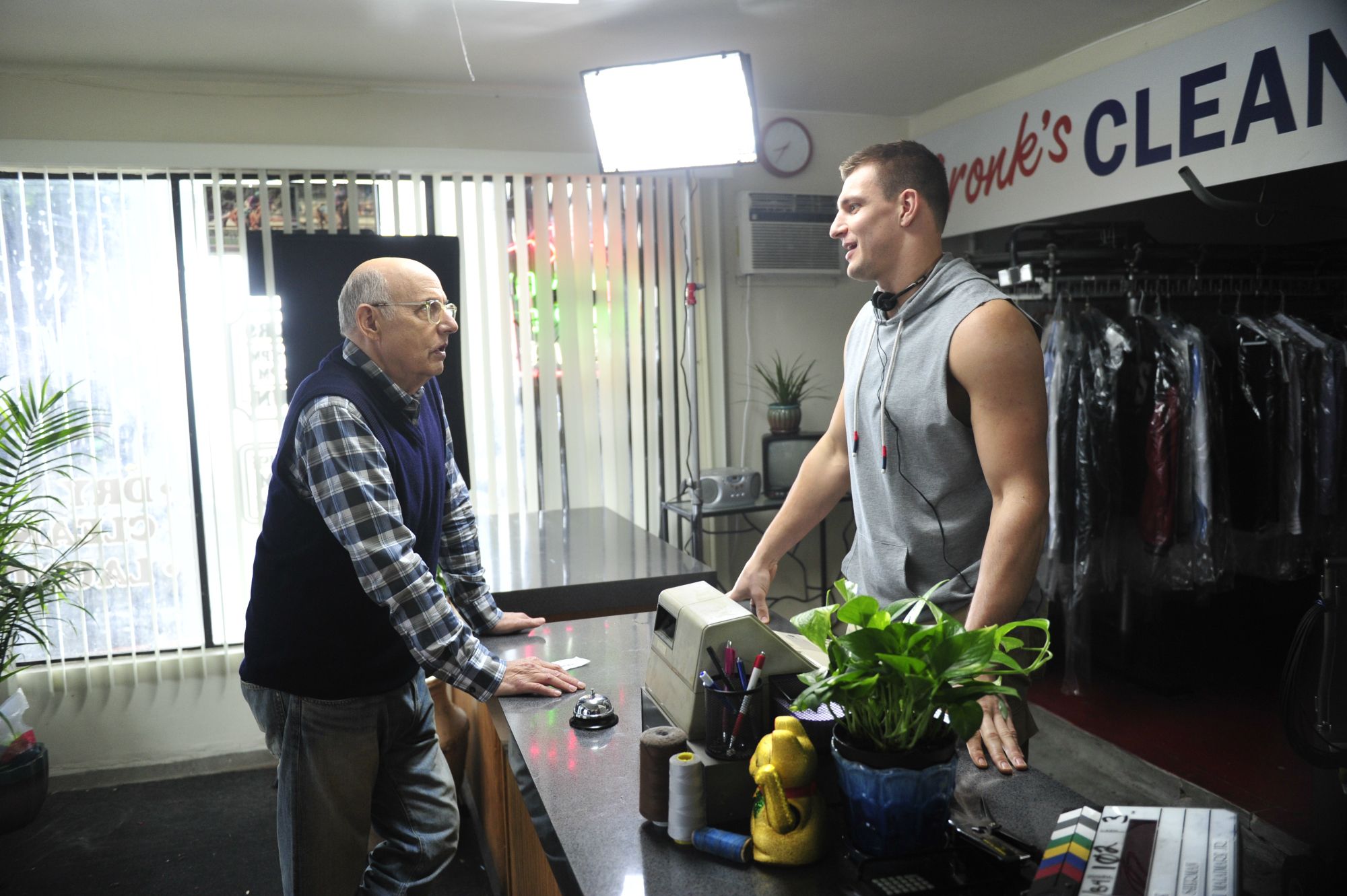 Emmy Award-winning actor Jeffrey Tambor's latest role is far removed from Transparent, the critically acclaimed Amazon dramedy in which he plays transgender character Maura Pfefferman.
As over 100 million viewers settle in for Sunday's Super Bowl, peppered with million-dollar commercials for the latest blockbuster movies, they'll also see Tambor in a spot of his own. The 70-year-old actor will appear alongside New England Patriots tight end Rob Gronkowski for laundry detergent Tide.
In the commercial, Tambor plays an unwitting customer at Gronk's dry cleaners, where the old adage "the customer is always right" doesn't quite ring true.
Newsweek spoke to Tambor Friday about his Super Bowl spot, Transparent 's fourth season and the impact the series has had for the transgender community—as well as rumors that Arrested Development's long-mooted fifth season could begin production this year.
Newsweek: Is doing a Super Bowl commercial a rite of passage in Hollywood?
Tambor: We were just talking about that. I was wondering when this surge of [big Super Bowl commercials started]. It's cool. I'm 70 years old and I'm in a Super Bowl commercial. And I'm with Rob Gronkowski, who's arguably a legend.
Gronk is trying his hand at doing some comedy. How would you fare on the football field?
Probably not as well as he fared doing comedy. He was very good. It was quite joyous to be around him.
I've got to ask about Transparent. When do you begin work on Season Four?
We've had our first table read. We start our fourth season on the 13th or 14th [of February]. I couldn't be happier.
[With] the table reads just recently, after we got through the first episode, everyone was applauding and in tears. The excitement—and I'm being very serious with you, I'm not being public relations—never really abates. It's a dream job I get to go.
When you accepted the best actor in a comedy award at the Emmy Awards last year, you said you wouldn't be disappointed if you were the last cisgender actor to play a transgender character. How far are we from reaching that point?
I think we're in the process. The train is moving, as it should. I can see it when I watch streaming television—the world has changed. Are we there? No. There's a lot that needs to be done.
With that in mind, do you feel like, four seasons in now, Transparent has done its job in putting a spotlight on transgender issues? Is there an endpoint…
No, I don't think there's an endpoint. This just keeps going and going. Every day is a new day, every experience is a new experience for Maura.
As I walk through Houston for the Super Bowl, I can see that people are aware [of the show] and what's happening in society. It's like having an arrow and that arrow went into this zeitgeist. The revolution was already there. It's very exciting, it's what I always thought acting is. Jill [Soloway, show creator] gave me the greatest role and responsibility of my life.
How long do you see the show running? Will it outlast your previous show, The Larry Sanders Show, which ran for six seasons?
I hope so, because I never want to put it down.
Speaking of The Larry Sanders Show, it's been nearly a year since Garry Shandling died in March 2016. What is your fondest memory of him?
I talk about him in my book, Are You Anybody? I have a chapter about him. My audition with him was one of the great auditions of my life where I was so nervous I moved a couch. I literally looked at a couch and put it front of [him]. As I did that I knew I got the role.
I miss him greatly. I saw him four-to-six weeks before he passed away. We had lunch with Judd Apatow. I love Garry—he changed my life.
There is speculation Arrested Development could begin filming season five this June. What do you know?
There is some chatter, but there's always chatter. I would just say—coyly—stay tuned.
It's rumored that half of the season will be a prequel…
I don't know that. I'm not kidding. I did not know that. Can you tell me my salary? How about billing?
Watch Jeffrey Tambor and Rob Gronkowski in Tide's Super Bowl commercial, Sunday, Fox.