Exclusive: Julian Castro: Family Detention An 'Abandonment' of Biden Campaign Promise
A former member of the Obama administration is strongly criticizing Joe Biden's immigration policy after White House deliberations to resurrect Trump era family detention practices were reported Monday.
Former presidential candidate Julian Castro, who clashed with Biden during primary debates in 2020 before backing him later, told Newsweek that while he understands it's not an easy issue to address, there are better ways to deal with an influx of asylum seekers than family detention.
"We haven't come this far to turn back to the kind of cruelty and inhumanity that Trump era policies represented," he said.
A New York Times report Monday detailed that while the Biden administration has not come to a final decision, it was considering returning to family detention practices it did away with earlier in Biden's presidency in an attempt to offset the effect of the May 11 end of Title 42—a public health measure used by the Trump administration and continued by Biden to quickly expel migrants.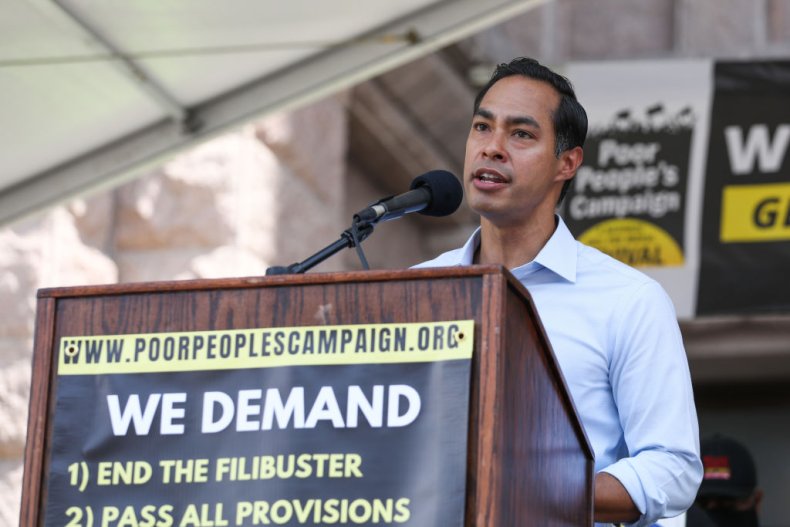 Asked for comment, the White House referred Newsweek to the Department of Homeland Security.
"No decisions have been made as we prepare for the Title 42 public health order to lift," a DHS spokesperson told Newsweek. "The administration will continue to prioritize safe, orderly, and humane processing of migrants."
Castro stressed that the answers the administration is looking for require nuance, and noted that it has already found an alternative that works, which is allowing people to live with relatives and report for their court dates while they seek asylum so they are not "subjected to the kind of family detention that can harm them in the long run."
But he also went further in his criticism of Biden, charging that he was turning his back on promises made when he faced Trump.
"It's more than a huge disappointment, it's an abandonment of what he promised during the campaign," Castro said. "There are many good things President Biden has done and I would not put him in the same category on immigration as Trump because Trump had a dark heart on immigration. But there's no way you could look at this and say that's what he promised."
During the campaign, Biden featured "The Biden Plan for Securing Our Values as a Nation of Immigrants," calling Trump policies that led to the deaths of a migrant father and his daughter a "moral failing and a national shame." He similarly described children who "are locked away in overcrowded detention centers and the government seeks to keep them there indefinitely."
But Biden allies push back hard on comparisons to Trump, arguing that while the Trump administration systematically dismantled the legal immigration system, the Biden administration has worked unceasingly to rebuild it. They argue that the immigration system under Biden looks nothing like what Trump was doing in 2019.
"From day one, this administration has expanded legal pathways for asylum and created a safe, orderly, and humane border processing system, and that work continues," a Biden administration official told Newsweek, before moving on to specific changes it has made like significant expansions of temporary protected status from Venezuela to Haiti.
"The Biden administration has increased work visas, including H-2A and H2-B for Central America and Haiti, restarted the Central American Minors program, created the Uniting for Ukraine parole program, expanded parole programs for Venezuela, Nicaragua, Cuba, Haiti, and expanded refugee admissions in the Western Hemisphere," the official told Newsweek.
Nonetheless, immigrant rights groups see the floated policy as a betrayal.
"What was wrong and ineffective when President Biden ran for office is still wrong now," Vanessa Cardenas, the executive director of America's Voice and a former Biden campaign staffer, told Newsweek. "Restarting the cruelty and failings of Trump is unacceptable and it would be a shocking turnaround from a candidate who spoke so eloquently about our values. We sincerely hope these news are not true."
Castro added that the evidence is clear that detaining children is not in their best interest, and that even though officials argue that the average number of days in a detention center is low, "over and over again we saw it was over that limit, so I have no confidence that if the policy returns, it will just be a quick waystation."
The former secretary of Housing and Urban Development argued that we're watching the Biden administration let Trump set the default on immigration and reset the "standard expectation" of the American people on what immigration policy should be.
"How many words did he utter on immigration at the State of the Union?" Castro asked. "He doesn't want to deal with it, he treats it as a political liability. But if you approach the issue this way it's going to eat you up."
Castro described the White House as continually backpedaling on immigration, and he directly addressed Democrats' fear of openly criticizing Biden due to the specter of Trump.
"People think you can't afford to criticize the president because we don't want to lose to Donald Trump," he said. "But what was wrong under Trump would be wrong under Biden. If we're not careful here, this philosophy is radically at odds with who we say we are as Americans."