Exclusive: Many in Taiwan See China Conflict Ahead And They're Split Over Who's to Blame
Nearly half of those living in Taiwan anticipate a conflict with China within a decade, yet they are largely split over who is to blame for worsening ties that divide the two rivals, an exclusive Newsweek poll has shown.
About 45 percent of respondents in Taiwan, a self-ruling island, said they believed the likelihood of a military conflict with mainland China within the next 10 years "is likely." Another 17 percent said this conflict was "unlikely" to happen and an additional 30 percent felt it was "equally as likely as unlikely" to occur, according to the poll conducted online with more than 1,200 Taiwan adults from July 15-18 by London-based polling firm Redfield & Wilton Strategies for Newsweek. It covered myriad issues, including questions about Taiwan's security, foreign relations and political status.
The poll also showed uncertainty over who is to blame for the deterioration between the governments of Beijing and Taipei, both of whom officially claim to be the rightful rulers of China since the former ousted the latter at the end of their 1949 civil war. A slight plurality of 31 percent assigned blame to Chinese President Xi Jinping, while 30 percent of respondents said they believed both Xi and Taiwanese President Tsai Ing-wen were responsible and 24 percent blamed Tsai.
Tsai has increasingly considered Taiwan an independent nation, while Xi has stepped up both political and military efforts to pressure the island into reunifying, potentially under a "One Country, Two Systems" framework that applies to the special administrative regions of Macau and Hong Kong. Calls for greater autonomy in the latter have sparked demonstrations largely supported by Taiwan and international powers such as the United States and the United Kingdom.
Newsweek's survey also showed that 46 percent of respondents in Taiwan said they backed the demonstrations in Hong Kong, with 34 percent saying they remained neutral and 14 percent said they opposed them.
As for their own political situation, however, most indicated they were adverse to change as 57 percent chose "maintaining the status quo" as their preferred path for Taiwan's governance. A formal declaration of Taiwan as an independent nation was backed by 32 percent, while reunification with China was supported by 4 percent and 7 percent said they did not know.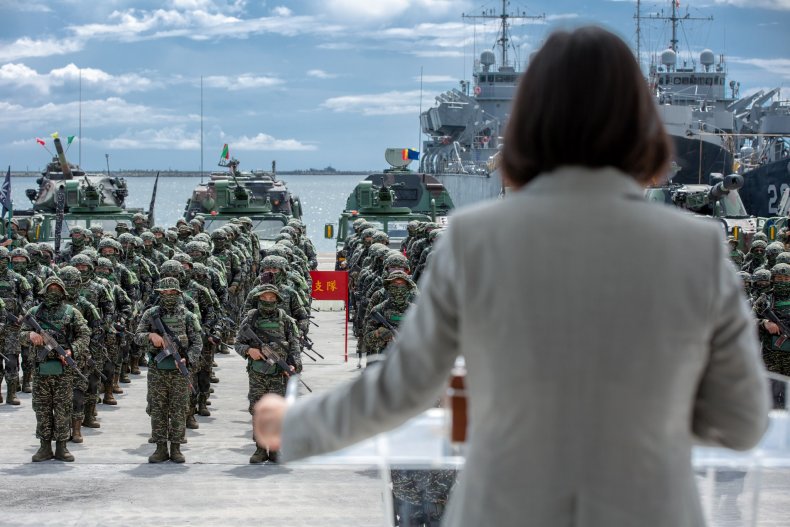 As it stands, only 14 nations—mostly in Latin America and among island states in the Asia-Pacific—and the Holy See have formal political ties with Taiwan. Taipei's foreign ties dwindled over the decades, especially with Western countries switching recognition to Beijing and the United Nations granting China's permanent Security Council member states to the People's Republic in 1971.
Washington officially accepted Beijing's One China Policy 40 years ago but retained unofficial ties to Taipei under the Taiwan Relations Act. These relations include military assistance and have been expanded under the administration of President Donald Trump, whose defense secretary on Saturday named China the U.S.' top strategic competitor.
The U.S. backed Taiwan during its two conflicts with China during the 1950s but did not intervene directly. Washington has always maintained a strategic ambiguity as to whether or not it would step in in the event of an all-out war between the two rivals, but rising tensions in the region have raised concerns that the policy could be put to the test.
While Taiwan has regularly answered more frequent Chinese exercises off its shores by scrambling military assets and staging drills of its own, 49 percent of those who responded to the Newsweek poll said they agreed with the statement that "the security of Taiwan depends on the United States." Presented with this same statement, 28 percent neither agreed nor disagreed and 19 percent disagreed.
Should conflict break out in the Taiwan Strait, 36 percent of those surveyed said they believed that the U.S. could be trusted to defend Taiwan, while 31 percent neither agreed nor disagreed that the U.S. would prove a reliable partner, while 29 percent disagreed that it would. Overall, 46 percent indicated they believed closer relations with the United States "would best serve Taiwan's long-term, strategic interests"—as opposed to 20 percent who said the same for China and 26 percent who said they did not know.
The Trump administration has so far bolstered U.S. military presence in the Asia-Pacific, especially by increasingly patrols near Taiwan and the greater South China Sea area, where the Pentagon has challenged territorial claims enforced by the People's Liberation Army.
Speaking to the Economic Club of New York on Wednesday, Secretary of State Mike Pompeo declined to answer a hypothetical question about what the U.S. would do if China asserted itself on Taiwan the same way it did in Hong Kong. "This administration has taken seriously its commitment to provide Taiwan with the tools that it needs for its own security," Pompeo said.
In Beijing, the position on Taiwan has always been clear: reunification by diplomacy or force. As Taiwan launched a five-day series of exercises Thursday, Chinese Foreign Ministry spokesperson Hua Chunying commented on reports that "Taiwan wants to flex its muscle through holding military drills."
"If Taiwan really thinks that way, then it is hugely overestimating its strength," she said. "China is rock-firm in safeguarding its sovereignty and security. Reunification of the People's Republic of China is the inevitable trend. Any force that seeks to separate China needs to be clear-minded about this. The 1.4 billion Chinese people will not allow an inch of the territory to be taken away."